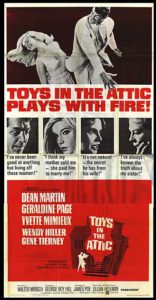 By Jessica Carson
In this article I'm going to talk about some of Dean's dramatic movies that were very good. One of them was 1963's Toys In The Attic, which was also a 1960 Broadway play by Lillian Hellman. The movie didn't stray far from the play. In fact, it was just like the play word for word. The plot was set in New Orleans and it was about the Bernier's two spinster sisters who were taking care of their no good black sheep brother Julian Berniers (Dean Martin), but when he returns home with his new innocent child like bride Lily (Yvette Mimieux) as a success after his shoe factory goes bankrupt saying that he saved enough money to live comfortably.
His sister Carrie (Geraldine Page) has a borderline incestuous affection for Julian and doesn't like Lily and when Carrie over hears how Julian's money was swindled from Cyrus Warkins (Larry Gates) and convinces the naive Lilly to betray Julian.
It's a really great dramatic movie that was kind of dark at times. Dean did such a good job with his character that it's a shame he was not at least nominated for an Oscar.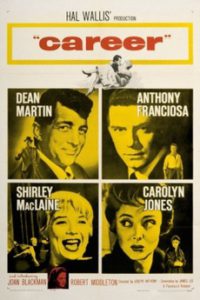 The next movie is a 1959 blacklist drama Career where Sam Lawson (Anthony Franciosa) is an ambitious actor and a World War Il veteran who was desperate and would do anything to get on Broadway. In the movie he is friends with Maurice Novak (Dean Martin) who was an aspiring director. They both work at a low budget theater and when Maurice becomes a big time Hollywood director he refuses to cast his friend Sam.
In retaliation Sam starts dating Maurice's girlfriend Sharon who was played by (Shirley MacLaine) however when the two men discover they were both blacklisted for their communist affiliation they both put aside their differences and work together on a successful play. It's such a great dramatic movie and I just love Anthony's character. He was a good guy, but I also love Dean's character who was such a scumbag and the crumb way he treated Sam was awful. Dean was so good at playing a bad guy in movies. He definitely deserved an award for his performance.
Martin was just a fantastic actor that I feel didn't get enough accolades for his movie career…
Contact the Feature Writers