By Jessica Carson
This is a story about Jerry's love for Dean. As you know, they had a true love story but what's not acceptable is the untrue rumors and blogs out there calling Dean and Jerry gay just because two guys happen to love each other and were affectionate! You can't put a 2000's view on something so innocent that happened in the 1950's. Besides you have to remember Jerry was only an 18-year-old boy when he met Dean in 1946. He was the only child of vaudevillians, so when he met Dean, he became everything to Jerry.
The best friend he needed. The brother he always wanted and the father figure he needed. Jerry thought Dean was the most beautiful man he had ever seen when he was young and he absolutely idolized him! Dean taught him so much like how to be your own man and philosophies on life late at night when they were in their room.
Dean would tell Jerry stuff he might need to know. Jerry said "Dean was one of the best comedians he knew and had the best comedic timing he had ever seen." "It was just in his bones", said Jerry. Martin was one of the sharpest minded people he ever knew. To include Dean knowing every move he made and every move everyone else made and he was no fool or buffoon like everyone thought.
On more than one occasion, Lewis said, "Dean was the love of his life" and nobody was more hurt then Jerry, when they broke up in 1956. Jerry often referred to their partnership as marriage and he always talked about Dean long after they split. I think Jerry was the only person that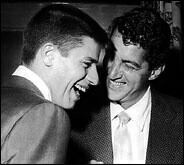 actually knew the real Dean and what he was deep inside, not just the sexy charmer with the cool laid-back personality.
Jerry said their act was lightning in a bottle. They had a hit radio show and were one of the favorite comedy teams to appear on the hit TV show Colgate Comedy Hour along with making 16 movies. They didn't talk or see each other much in 20 years after they broke up, but the love was still there! Love like that doesn't disappear just because they were not together and Jerry held on to that love long after his partner was gone!
It was just that strong, that's what I call special.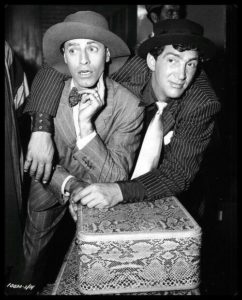 Contact the Feature Writers