Documentary Short Film Aguilas/Eagles Shines A Light On An Organization That Brings Closure To The Families Of Missing Migrants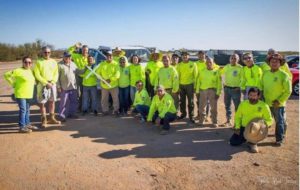 By Ty Ross
One of the perks of working at the El Paso Film Festival is getting the opportunity to watch films that I might otherwise never have seen or heard of. Impactful movies that may not fit into traditional Hollywood boxes of cinema.
Founded in 2018 by filmmaker, producer and El Paso native Carlos F. Corral, the EPFF is the premier film festival in the Southwest. Giving a stage and platform for independent and underrepresented filmmakers to share their vision and their voice with the world.
When the pandemic and lockdowns hit in 2020, the decision was made to move the festival to a completely online platform. But in 2021 amid declining covid cases in the city coupled with high vaccination rates, with safety measures in place, the festival made a return to in person screenings. All EPFF staff was required to be vaccinated, and masks were required indoors at all venues and during movie screenings. With hand sanitizer readily available.
While the festival was a more intimate and scaled back version of its previous live events, it was no less successful. Submitting and winning filmmakers, along with movie lovers, were eager to return to what's been described as one of their favorite film festivals. And the movies picked this year were a reflection of the creativity, depth and reflection inspired by a worldwide pandemic. A program as diverse in content as in its filmmakers shined a light on issues, encounters, situations and people whose stories may otherwise have never been told.
I saw some really great films. Narratives, documentaries, features and shorts. But one in particular left me not only intrigued but wanting to know more. Aguilas (Eagles in Spanish) is a bilingual short documentary film written and directed by Kristy Guevara-Flanagan. Co-directed by Maite Zubiarre, Aguilas is the story of the non-profit search and rescue organization: Aguilas del Desierto. Searching the Arizona desert along the US/MX border for missing migrants.
The movie begins in Spanish, with a call from a woman searching for her brother. She hadn't heard from him after he fell ill and wasn't able to continue traveling with the group of migrants he was with. Even if you don't speak or understand Spanish, the fear and worry in her voice is all too recognizable. Call after call comes in. The names different, but the stories the same.
Volunteers are prepped for a long, hot and grueling day of searching the AZ desert. Equipped with walkie-talkies, backpacks, water and all wearing neon vests for visibility, the search begins. They start with the last known coordinates of those missing.
In 2012, Aguila del Desierto's co-founder Ely Ortiz received a call from his brother and cousin who were left behind by the group they were traveling with. Ely tried, unsuccessfully, to get assistance to find them. Frustrated, he set out on his own. Combing the desert. He never heard from them again. After five months of searches that came up empty, he recovered their remains. The catalyst for the creation of Aguilas. In the beginning, Ortiz would go out once a month. Find and bury the bodies found. Marking their graves with a white cross. Honoring and recognizing those lost to the unforgiving desert.
Over the years, Aguilas has grown across four states. California, Arizona, New Mexico and Texas. The 11 co-founders and volunteers committed to finding the bodies of missing migrants and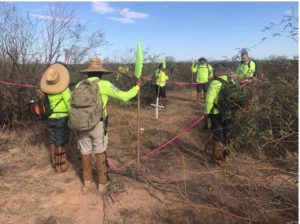 bringing them home to their families. So that they can be buried with dignity, and the family members have closure.
With the help of a grant from Angela Spirituality Center Services, an organization that not only serves migrants but ministers to the poor and homeless, Aguilas were able to form additional search parties. Today volunteers go out twice a month from Friday to Sunday and cover 10-15 miles a day. Weather is not a deterrent. Whether it's raining or in three digit heat, Aguilas are out there searching.
In 2019, more than 1900 calls were logged. Calls from families of migrants crossing too afraid to call the authorities for fear of retribution and unfair consequence to their family members for crossing illegally. 24 bodies were recovered and miraculously, 27 lives were saved. In 2020, 94 migrants were found alive in the desert and 97 bodies recovered.
When remains are found, the spot is market with a white cross, authorities are called and the body repatriated. The Pima County Medical Examiner helps identify the bodies. A recently formed relationship with the Tohono O'odham Nation, allows Aguilas to perform searches on Native land. With the Tohono Nation lands covering over 2.8 million acres (approximately 4400 square miles on the AZ/MX border this increases the chances of finding the bodies of those unaware that they have wandered onto Native lands when crossing the desert.
Intelligence from smuggling operations and US Customs Border Patrol, along with the use of satellite imaging and GPS mapping increases the volunteers' chances of recovery.
Clothing and personal items from the migrants help with primary identification that will later be confirmed by the medical examiner. The documentary ends with the Aguilas discovering clothing in the desert matching the description of a missing migrant. They belong to that of a child.
I was completely overwhelmed when the credits rolled. Not just because my heart ached for the families of those missing, but that I had never heard of Aguilas del Desierto before. As someone who lives on the border, it's something I would expect to be more widely known. The work they do is incredibly important.
The reasons migrants come to the US varies, but the desire for a better life for themselves and their families is pretty universal among them all. Fleeing violence, gangs, corruption, starvation and drought are all contributing factors to those migrating north. A long, dangerous and brutal journey. Those who are unable to complete the keep up due to fatigue, dehydration, illness or injury get left behind. Vulnerable to exposure. Their families, though worried, hesitate to call the authorities out of fear. So they turn to Aguilas del Desierto.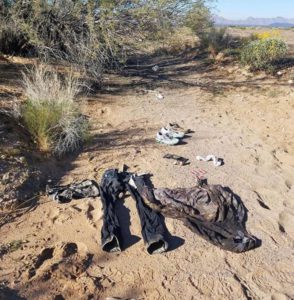 There is a lot of disinformation distributed amongst those looking to come to the US. Leaving them misinformed and unaware of the true dangers that await them on the journey. Coyotes lie to them. Telling them that it is only a two day walk to safety and civilization. That a few gallons of water is all they will need. When the harsh reality is that it is a 10-12 day walk across approximately 120 miles in triple digit heat that can reach 130 degrees in the summer. At least one gallon of water per person, per day is needed.
It is this information that Aguilas wants to convey to migrants, so they have devoted time to going to migrant shelters in Mexico and Central America to educate them. They spend about five weeks per year in those countries doing an awareness campaign. Working with the consulates in El Salvador, Honduras, Guatemala and Mexico. Handing out pamphlets, going over the length of the journey, climate conditions. Sharing photos of rescue towers and call boxes they can use to call 911. To wear comfortable clothing and shoes and take enough food to last 7-10 days, and the importance of electrolytes to stave off dehydration. To rotate cell phone use to preserve battery life, and text rather than call. Those with smart phones will send off coordinates, which are used to search for those missing and in need of help. Aguilas doesn't encourage migrants to make the trip, in fact quite the opposite. They do acknowledge that those intent on migrating to the US are going to do so with or without their help, so they do all they can to insure it's as safe a journey as possible and those migrating are mentally prepared and understand it will not be easy.
Since its founding in 2012, Aguilas del Desierto has mostly covered the California and Arizona deserts, but in 2020 recovery calls from Texas has increased dramatically. With living conditions getting worse, those desperate and fleeing hopeless and increasingly violent situations means the dangers of the journey are worth the risk. Even the hardened immigration policies under the Trump administration wasn't enough to deter them. In fact, Texas saw a 477% surge in migration. In 2018 just 31,561 were detained at the Southwest border. Just a year later, that number had ballooned to 182,143. But unfortunately, the surge in migration also means an increase in deaths on the SW border. Which went up almost 500%.
Aguilas del Desierto has increased awareness and visibility with partnerships with the South Texas Human Rights Center, BORSTAR (Border Patrol Search Trauma and Rescue Unit) and data from the Missing Migrant Project which reports that 60% of those reported missing or dead since 2014 were on the border between Mexico and the United States.
Had it not been for the El Paso Film Festival including Aguilas/Eagles in its program, I may never have heard of them. The film industry is more than glitz and glamour, but a way for those in the industry to use their platform to amplify voices that have been quieted and go unheard. To bring awareness to issues, people, causes and situations that tend to go unnoticed or ignored all together.
If you live in the California, Arizona, New Mexico or Texas area and would like to know more about Augilas del Desierto or wish to volunteer, you can go to aguilasdeldesierto.org. The documentary can be viewed on YouTube.
Check out Ty's book THE POWER OF PERSPECTIVE. It's a collection of affirmations she wrote to get her through a difficult time in her life. Words of wisdom that apply to anyone, and everyone, to get through the hard times. If you're questioning yourself, and need a reminder that you are in control… Click HERE to order your copy.
[si-contact-form form='2′]