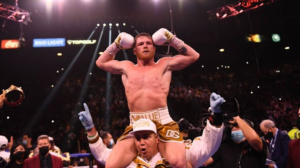 source: The Athletic
After his resounding and undisputable defeat of latest challenger Caleb Plant last Saturday the whole boxing world is eager to know who Saul 'Canelo' Alvarez will face next, with options at more than one division as the man himself even hinted at a possible shot at cruiserweight.
The 31-year old Mexican routed his opponent in an 11th-round knockout to clean up the super-middleweight class just as it looked like he could have finally suffered defeat, making history in becoming the first ever undisputed champion in the division in front of a watching world which included some of the greatest fighters of yesteryear and today, not least Manny Pacquiao and Alexander Usyk.
Since bursting onto the fight scene as a 15-year old in Guadalajara, Canelo has claimed 57 wins, two draws and just the one loss – coming against Floyd Mayweather eight years ago. Not only is he now a champion in four different weight divisions, Saturday's victory means he is only the sixth fighter ever to become undisputed champion since the WBO began sanctioning world-title fights.
Now he has announced a much-needed and well-deserved break from boxing having gone through four fights in the past year on his way to the undisputed crown, but Alvarez will have had one eye on weighing up his potential options for his next bout, and it has now been announced.
Up next for the Mexican will be Congolese cruiserweight world champion, Ilunga Makabu. A fight that has been sanctioned by the WBC and will see Alvarez looking to make history, as just the sixth man to become a quintuple world champion. But doing so could mean one of his toughest fights yet.
Makabu has an impressive record with 57 wins, 39 by way of knockout, recording just the one loss and two draws along the way. But even that one loss will give Alvarez the confidence he needs to go and claim yet another title. And it seems bookmakers are already on his side, knowing the power he can pack in his left hook.
Alvarez is the standout favorite, with odds having ranged from -400 to -1200 since the fight was announced, it seems like no one is giving Makabu a chance. But the Congolese fighter does have his own strengths too, and once again, looking at that record, he won't be an easy push over. If anything, this fight could go all the way. So make sure to utilize good sportsbook deposit bonuses if you're getting in on the action
The next question after this fight, is who will be next after that? It is likely he will have to defend one of his existing titles already, or risk losing it, so whilst it may not be another title on the line for him to pick up, it could still bring some interesting contests. We take a look at some of the potential opponents for after the Makabu fight, who could face Canelo starting with two American fighters who could provide the real challenge to his abilities that he will crave…
JERMALL CHARLO
The current middleweight champion posts a record of 32-0 (22 KOs) so will definitely prove to be a real tough challenge for Canelo to face and certainly more so than Plant, however there is an a argument to be had that Charlo has not quite faced many tough opponents on his path to glory so far – a potential bout between these two will provide a good opportunity for the American to stake his claim against an opponent of a higher level.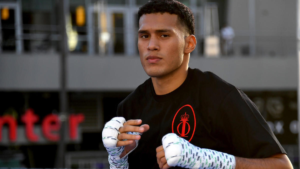 Source: David Benavidez lies in wait for the Canelo challenge (source: www.cbssports.com)
DAVID BENAVIDEZ
Ranked as one of the best super-middleweights by most governing bodies, Benavidez can offer quick hands and power in the punch to challenge Canelo who may see this potential bout with an unbeaten fighter (24-0, 21 KOs) as a perfect opportunity to assert his dominance in the class. Many are calling Benavidez the biggest threat to Canelo's dominance due to his abilities – and at just 24 years of age and 168lbs he has already suggested he would fight at light-heavyweight if it means taking on and taking down the undisputed champion. This is the fight that most want to see and it is likely to be the fight that we will get to see.
The only issue for the Mexican is he is already king of the super-middleweights and may see Benavidez as an obstructive stepping stone to move into a different weight category – there is an argument to be had that a fight against this opponent will not really deliver progress now he has been crowned undisputed champion in the weight division. However, one big bout between the two biggest names in the class could prove a huge money-spinner and excite the crowds.
ANTHONY DIRRELL
One man who has already thrown down the gloves and made his intentions clear by calling out Canelo for a match-up is the 37-year old who proved there is still fire in him with a huge one-punch fourth round KO of Marcos Hernandez on Saturday and his record of 34-2-2 (25 KO's) is proof of providing the potential challenge that Canelo is looking for. Dirrell had the experience and knowhow to finish off a fight that had threatened to heat up and used the post-bout pressers to make a case to challenge Canelo.
DMITRY BIVOL
Moving into the light heavyweight category, two Russians could offer Alvarez more than just a one-off bout. At 30 years old, Bivol is undefeated over 18 fights with 11 KOs and continues to improve as he gains ever more experience. A WBA belt holder at 175lbs, Bivol is a fairly complete fighter who can provide Canelo with the opportunity to start another path to undisputed greatness in a different category.
ARTUR BETERBIEV
The other Russian light heavyweight is IBF and WBC champion Beterbiev who lays claim to an astonishing 16 KO victories out of 16 fights – and will arguably provide a greater challenge than his compatriot at 175lbs. Canelo has already hinted at building a legacy in another weight category, and taking on and beating both Russians at 175 would earn him even more respect, especially if he can overcome Beterbiev who will undoubtedly provide his toughest challenge at this weight.
JOE SMITH JR
Meanwhile, WBO light heavyweight belt holder Joe Smith Jr. is a determined fighter who could also provide the dollar of a big watchful crowd as well as a stepping stone up to the two Russian giants. He doesn't quite have the overall boxing acumen as they have but his punching ability is fast improving.
GENNADY GOLOVKIN
Finally, the chance of a long-awaited return to the same ring as GGG to compete in a third matchup may also be one for Canelo to consider – the bouts in 2017 and 2018 sparked seriously heated debate amongst boxing fans that persists to this day and a third meeting could end the debate once and for all. At 39, it could be the last chance GGG meets Alvarez to settle the scores but although it may not provide him with the paydays and longer-lasting legacy challenges he will surely be looking for, the opportunity to overcome the second-ranked pound-for-pound boxer could be too good to turn down, especially to end the argument after the first two fights between the pair.
So who will Canelo look to to provide his next bout next year? The most likely opponent still remains David Benavidez but knowing the Mexican's checkered career so far he may decide to move quickly to extend his legacy into other weight categories. What certainly does not surprise us, is Canelo is full of surprises. Watch 'his' space…