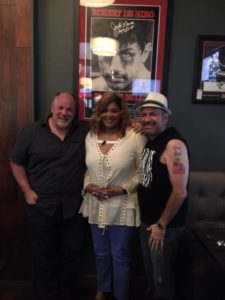 By "Bad" Brad Berkwitt
What do Frank Sinatra, Robert De Niro, Jake LaMotta, Rocky Marciano, Engelbert Humperdinck, Larry Holmes and Gerry Cooney all have in common? They adorn the walls of Bobby Hitz's new restaurant Giglio's Chicago at 825 S. State Street in Chicago Illinois. Hitz 56, a born and bred Chicago guy whose half Italian and German, has brought his magic touch to his new Italian restaurant that had their Grand Opening this past Friday.
Debbie and I attended Bobby's Grand Opening. From the minute we walked in, we were greeted by the hostess who immediately seated us in a booth.
As we looked around, you could feel the excitement in the room from the outstanding staff and Hitz himself, who is always on the premises. We ordered our appetizers (Deb had Sausage and Peppers – which she loved and you can see in the picture with her smiling) and I had the fried calamari. Being a lover of all things Italian, being that I am half, calamari is always one of my favorites. Many times, though, I find in restaurants it's over fried or has far too much batter on it. At Giglio's, it was on the money as you can see in the picture of me devouring it!
For our main courses, Debbie had the spaghetti and meatballs and I ordered Rigatoni with Vodka Sauce. The food was served fast, and it was absolutely delicious! Throughout our dining experience, the staff all worked our table and Hitz has them doing something that many restaurants no longer do and that is have water for you. Everytime our glasses of water got half empty, the young lady came around and filled them right back up! That is old-school folks and trust me, I grew up with a dad who worked in the finest restaurants in New York and on Miami Beach who taught me the business.
To cap our dinner off… Debbie had a piece of Cheesecake and I had a piece of Tiramisu! I have lived in Italy and this piece of Tiramisu was not only the biggest I have ever had, but the best tasting as well. Even the Pastry Chef came to our table to see how we enjoyed it.
Hitz has a bar as well in the restaurant and flat screen TV's all around to add to your dining experience along with a music machine.
Giglio's Chicago doesn't just get a #Fuggedaboutit from me, but a #DoubleFuggedaboutit!
So, you read my review and your mouth is now watering and your stomach is growling… Well, what are you waiting for? Head over to Bobby Hitz's Giglio's Chicago and tell him "Bad" Brad sent you…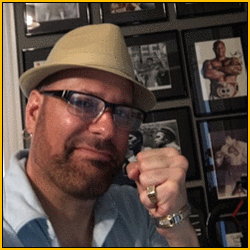 Contact the management team