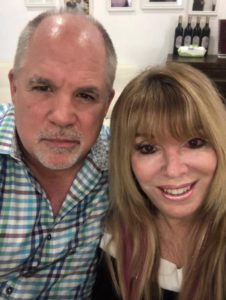 Exclusive Interview by Anthony "Zute" George
(Bobby Hitz & Jackie)
"As my manager, I couldn't have asked for anyone better. Jackie wouldn't take no for answer and always fought hard for fighters. Outside of boxing, she's as solid as they come. She treats the bellhop and the CEO of a Fortune 500 company the very same. Kallen is a class act and that's why, she is 'The First Lady of Boxing'."—Bobby Hitz, Boxing Promoter and Owner of Giglio's State Street Tavern in Chicago
The history of the planet has a tradition of not being kind to the female species. Here in the good ole USA, women were treated as such second-class citizens that they did not enjoy the right to vote until 1920. While the 19th Amendment earned women suffrage, suffering for the female species did not end there. Not something to be proud of. The world of boxing has not been all that kind to women over the years as well. Considering that, how Jackie Kallen got her start in boxing and proceeded to knock down many barriers, is an astonishing story that is not fully appreciated today. Jackie, one of the most successful boxing managers and hardest workers boxing has ever seen, has also beat to her own drum and has been a trendsetter the boxing world should be proud of.
The roots of Jackie's prosperous journey began when she was a wide-eyed teen and had nothing to do with the sweet science. Her love for show business was combined with a skill to scribe, "I was always a writer, I loved writing. That was my refuge", Jackie said. In high school, her gift for pen to paper earned her a date with the famous singer Ricky Nelson, "They had a contest to win a date with him, and I was only thirteen, so I don't think it was the date he was hoping for…you had to write a letter to say why you wanted to meet him. I guess my letter was interesting enough to get me the dinner date."
At only 13, Jackie explains there was sort of an awkward gap between her and Ricky, "but he thought I had a great personality and asked all the right questions, and he said I think you should be a reporter," Jackie explained. Ricky reiterated to his young date that she had all the ingredients to make an excellent reporter, guts, personality, and the ability to ask intuitive questions.
Jackie took Nelson's advice and ran with it. She began writing for her high school newspaper and pursued celebrity journalism once she graduated. She chose that because "I realized I can talk to anybody. I had absolutely no trepidations or any kind of nervousness, so I thought, well, maybe this is what I'll do. And I did it for 30 years," Jackie explained.
In her 30 years of celebrity journalism, Jackie was in a lucrative position to interview some of the most iconic names in show business history. "I ended up going to New York back in the'60s and became the editor of a Rock n Roll magazine called Blast, and that was great. At 19, I basically had the run of the city. My reporter's pass gave me free access to Bob Dylan, and The Beatles and The Rolling Stones, Kiss…everyone from Elvis to Sinatra. I met everyone I ever wanted to meet. It was a dream come true. My idol was Barbara Walters, and I wanted to emulate her. That was my dream, and I was living it."
Like her idol, Jackie had a keen knack of making these icons feel comfortable around her. Jackie explained that her dream also included being married with children, which was considered a big detractor for women in the working world; and to some degree, that dynamic still exists. But Jackie made it work, as she would invite the big acts to her house to get her scoop, even offering to pick them up. Jackie's hospitality and openness allowed her to tap into the secret garden of some of the most beloved celebrities of all time. "Somehow when you bring someone into your home, around your kids, around your husband, around your pets, they open up," Jackie added. When you can tap into the psyche of the elite, then you become much more than just a journalist.
One particular connection Jackie made that she was extremely prideful of was with Bob Dylan. Dylan, a brilliant storyteller with his songs, was also one of the biggest recluses of all-time. But besides having a unique flair for letting people feel comfortable, Jackie had another ace in the hole when connecting with Mr. Highway 61, they love for boxing. "I first met him in 1965 in New York. Then I ran into him again many years later. When I moved to Los Angeles, he owned a boxing gym. So, I would go to the gym and see him spar with people like "Boom Boom" Mancini, and we would sit and talk boxing. Some people do not know is that he loved boxing so much.
He is a brilliant, thoughtful, insightful man who was given a huge gift. Our love for the sport of boxing always gave us something to talk about," Jackie said. Of course, Dylan was a real boxing fan and not an attention whore, which explains why he is one celebrity not seen front and center at boxing matches, "I am sure he watches it at home on pay per view with his family and friends. He never appeared to me as being an overly gregarious, be out there in the Hollywood party's type. It is just not his thing. He is a very quiet, introspective man and I do not think he ever got caught up in that Hollywood glamour," Jackie said of Dylan.
Over the years of a sports journalist, Jackie speaks of one entertainer who stood out for her, as someone she did not get a chance to see their true self, Elvis Presley, "He seemed so lost, and so trapped in his own fame. I just felt some sort of a connection and wanted to help him in some way or spend more time with him. But he passed not too long after I met him. To me, he was a tragic figure. I felt the same way when I met Michael Jackson. He seemed to be a victim of his own fame. When you reach a point in your life when you cannot go anywhere, Michael would have to rent a whole movie theater out if he wanted to go to a movie. Your life was not your own anymore. People think that it is so glamorous, but in actuality, it's a trap."
Concerning boxing, one movie icon also stood out for Jackie, "Sylvester Stallone was a major highlight. When I first saw Rocky, that movie just really touched me. I always had a soft spot for the underdog, and that was the ultimate underdog story. I always wanted to meet him. I ended up becoming friends with his brother Frank in 1980. Through him, I met Sylvester. He was just somebody that I really admired. He had a dream and held out until it got made. That kind of person always appealed to me. I also have that spirit of never give up, and I admired that in him. Never dreaming that we would end up working together on The Contender years later."
While Jackie was enjoying her career as a respected entertainment journalist, boxing entered her life in the mid-70s. In the form of an explosive thin man from Detroit. A bond that still remains today. "I met Tommy in 1978. He opened up another door. I was sent to do an interview with him when he turned pro. He was such a dichotomy of what I imagined a boxer to be like. He was so quiet and shy, and then he would get into the ring and turn into this really ferocious person who would just take your head off. Then he would step through the ropes again and be this shy little teenager. That intrigued me. I just became fascinated with the sport. How does someone turn the switch on and off like that?"
Thomas Hearns is one the most unique, successful pugilists of all time, and Jackie had a front- row seat to the festivities working as Tommy's publicist. Among her most memorable moments with the "Hit Man", was the unification fight with one Ray Charles Leonard. A fight that Jackie shares the same unpopular opinion as I do about the stoppage, it was a premature stoppage that would have never occurred had the roles been reversed, Leonard would have had to finish flat on his back for Hearns to win in stoppage fashion, "I never bet on fights, but I bet on that one. I thought it was a little premature. Leonard was America's sweetheart, no doubt that would have bent a little bit more for him.
But no one knows that for sure. I am just so proud of Tommy for the performance he put up," Jackie offered. The Roberto Duran fight ended with a much more desirable result for Team Kronk and was just as memorable, "That was a pretty impressive knockout," Jackie opined. On the war with Marvelous Marvin Hagler, Jackie offered, "They call it the three most exciting rounds in boxing, it was not exciting for Tommy's people. I don't care how exciting people say it was, he didn't win."
As Tommy and The Kronk Gym became famous, Jackie became the proverbial boxing sponge, "I learned how to wrap hands, how to stop cuts, how to find the right sparring partner, styles make a fight. I did not just write press releases and set up press conferences. I learned the behind the scenes of the sport. That is because I wanted to, no one made me do it. That is what led me to want to manage. I thought this was something I could do. It has been 41 years, and my passion for the sport has never waned."
These boxing life lessons were absorbed by Jackie, and she had a great mentor along the way. Emanuel Steward, "Emanuel was like a guru. He was the most interesting and educated boxing mind that I have been around. He goes back to the Eddie Futch's and the Georgie Benton's…and Bill Miller, the guys who really studied the sport. They weren't just cornermen, they weren't just cheerleaders, they really taught guys how to fight. They showed them the tricks of the trade. I used to watch Emanuel with different fighters, and he did not just have one way to train everybody. He really would look at each individual fighter and try to figure out what's the best strength and weakness that that fighter had to offer, and how could he bring that out. That was pretty impressive. Most trainers just train one way. He was a master at what he did, and I was grateful to watch and learn from him," Jackie stated.
As a boxing manager, Jackie was an anomaly. As a boxing manager serves as the nuts and bolts of the boxing business, something tradition says women lack competence. Let us call it a harsh bias. Jackie's venture into that side of the sport came with mixed reactions, as far as her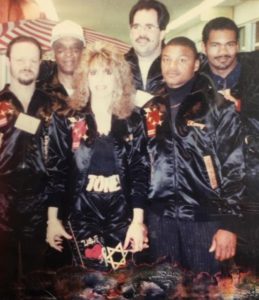 fighters go, "Bobby Hitz opened the door for me. He let me manage him. He was not afraid to walk into the gym with a woman as his manager. He did not care what the other fighters said. That is how I met other fighters. They saw how I cared for, and treated Bobby and they asked me if I would be interested in managing them." But those handling the daily duties of the squared circle had a different reaction, "After my fighter would win, I would want to get up into the ring, and they would say to me, 'no women in the ring, no girlfriends,' I would say, no I am the manager, and they would look at me and say, 'well, who is the real manager, your husband?' By the time I pull out my manager's license and talk to them, they clear out the ring, and my fighter is coming out of the ring. I was told several times to be a ring card girl, 'go put on a bikini if you want to get in the ring.' That bothered me. It was so sexiest. It made me feel objectified for some short-sided males, it was hard for them to believe Jackie was the brains behind her fighters. But Jackie was always smarter than most, and she obtained a second's license, so there was no question about her being in the corner of her fighters.
Jackie managed many fighters, but it was her work with James Toney that was the most successful as well as the most volatile. But Jackie has nothing but fond memories of her relationship with "Lights Out". "My perspective was that James was just another son to me. He was the same age as my kids, they became friendly. We traveled together. We did all kinds of things as a family. I was so proud of James, and I will still say that James was probably the most talented fighter of his era. His defense was impenetrable. He just knew how to fight. I have nothing bad to say about him. He and I put each other on the map, and whatever transpired, transpired, that is just life. Whenever I see him now, I am happy to see him, and I wish only the best for him."
Being a manager in boxing means having to deal with boxing promoters. Who indeed, have been portrayed as evil men bent on grabbing with both hands, leaving mere crumbs for the fighters. Jackie with promoters. However, Jackie described a simple, yet pragmatic formula that has worked for her over the years, "A lot was based on which fighter you had. If you had what they want, they kiss your butt and treat you like a queen.
If you are trying to work with them with somebody new, that they don't know yet, they are a little bit more difficult to work with…I just try to do my best to have a good product, and when I go to a promoter with a fighter, I try to bring them talent that I think is going to go to the top because I think that is all they want… I want to bring them someone who is going to show up and be at weight, be easy to work with, so I am easy to work with. I just try to do my job and get along with everybody. I never had an issue. I never been sued. I never had any kind of arbitration…I try to not burn any bridges…I want to help young fighters get a chance to get off the street and make something of themselves."
Jackie's career was the subject of a Hollywood movie, Against the Ropes. But as is often the case in Tinseltown, the truth comes with significant liberties, "The movie was fictionalized, it was twisted and turned. It was supposed to be based on a true story; I made them change that to inspired by a true story. Because it was not based on my story at all." Jackie explains that the stripping of reality to her story happened because Dave Madden, the man she sold her story to, and wanted to depict the true story of Jackie Kallen, was removed from Paramount Pictures, taking his act to FOX Studios.
Dave did not take Jackie's story with him. Paramount's new producers had a different idea for the story, one that suspended reality beyond belief, "It wasn't even my story anymore. It wasn't a married woman with children, it was a single woman. It wasn't Detroit, it was Cleveland. They just completely mutilated the story. It was inspiring to see that a woman could do that. It just wasn't my story anymore," Jackie explained.
Jackie has survived cancer and is just as prolific as ever. She hosts a podcast with Thomas Hearns that airs every Saturday live 2pm to 3pm eastern time and can be heard on the Facebook page 910 Superstation. She also hosts a podcast called Four Real that can be heard on the Four Real Podcast Facebook page.
But Jackie's main love is boxing, and her manager's hat is still worn proudly. Jackie manages undefeated welterweight prospect, Mykquan Williams, who is fighting November 14th at Foxwoods. Williams is going for his 16th win against no defeats.
Life has been good for Jackie Kallen, as well as for those who have followed her work, and benefited from her boxing prowess. A true pioneer that has gotten where she is at with hard work, determination, and shrewd intelligence.
Contact the Feature Writers