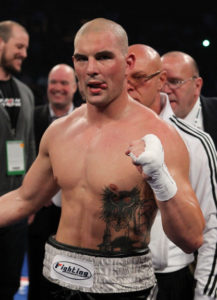 By Jackie "The First Lady of Boxing" Kallen
I always get excited when I'm contacted about a new boxer. In this case, it was former "Contender" contestant Jimmy Lange's dad John who did the matchmaking. He ran into former Baltimore Raven player Tommy Zbikowski and somehow the subject of boxing came up. When Lange heard that the former football player-turned-cruiserweight was looking for help with his boxing career—my name came up. Zbikowski called, and I liked him and what he had to say. The result of that connection is coming to fruition in early March, when Zbikowski fights on Bobby Hitz's card in the Chicago area.
"I have to admit that this is the first time that I truly feel 100% ready I'm in my prime and have the right people with me. I feel I'm in a great place mentally, physically, and spiritually. It's all coming together," says Zbikowski, who is 8-0, 5 KO's as a pro boxer.
From Park Ridge, Illinois, he grew up in Arlington Heights, Illinois and was a standout quarterback at Buffalo Grove High School. He set school records in scoring and rushing. His personality and good looks added to the package.
Zbikowski went on to play college football at Notre Dame where he was named Walter Camp Defensive Player of the Week following a game against Michigan State where he had a team-high 9 tackles, forced a fumble and returned it for a 75-yard TD and recorded his first career interception.
He played in The Fiesta Bowl and won Associated Press All-American honors. He was a semi-finalist for the prestigious Jim Thorpe Award and he graduated with degrees in sociology and computer applications.
Professionally, Zbikowski played for the Baltimore Ravens before then moving on to the Indianapolis Colts. In 2013, he decided that football wasn't for him.
"Football got old to me. I enjoyed my first two years in the NFL because it was a challenge. I was playing with the best. But after awhile you don't care whether you win or lose because you're still getting a paycheck. I enjoyed high school and college much more."
Following football, Zbikowski joined the Chicago Fire Department, but now the 34 year-old wants to focus 100% on boxing. His career has been sporadic. He turned pro in 2006 at Madison Square Garden with a 1st round KO. After a 5-year break, Zbikowski fought three times in 2011, winning all three fights. Another five years went by and Zbikowski fought (and won) three times in 2016. His last fight was in November 2017.
At the age of 34, Tommy realizes that this time around he has to go big or go home. This has to be his full-time passion and career. He is training harder than he has ever trained and is living the lifestyle of a committed athlete. He won't be satisfied until he accomplishes his goals in boxing.
Promoter Bobby Hitz is very high on Zbikowski and his potential.
"I've known him since he was 6 years old. He's always been a very driven athlete. The fact that he always keeps coming back to boxing, shows me his dedication to the sport. He's a high-achiever and has proven that he can do whatever he sets out to do. I'm looking forward to working with him and his team."
It will be fun seeing what the future holds for Tommy Zbikowski. It's been said that 'If you believe it—you will achieve it." That's what we're counting on.
Contact the Feature Writers