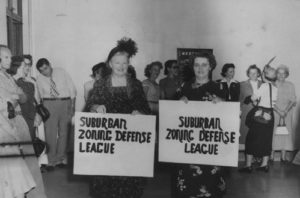 By Kristen "Super Crip" Milefchik
Photo Credit (Darin Givens)
By this time, it is probable that you've heard at least a bit of the argument for defunding the police and have an opinion about it, even if your mind is not completely made up on the subject. My mind is entirely made up, however, and I'm 100% for the defunding of police and the redistribution of those funds to social programs and services that would actually prevent crime and mitigate the harmful effects of it. Defunding the police and the prison industrial complex and investing that funding into community mental health services, crisis intervention services, substance abuse treatment, sexual assault specialists, child advocates, public education, etc, etc, etc, sounds like an excellent idea to me because it is a solution that actually addresses racism at the systemic, structural level and is also preventative, rather than reactive to the problems that currently depend, inappropriately, on police intervention. But here is one social service that has a tremendous impact on structural racism that often slips under the radar – public transportation.
If there are a bunch of question marks floating above your head right now, don't feel badly. Learning about the impact of transit (public transportation) on social mobility and about the political blocking of transit to prevent upward mobility along ethnic and racial lines was surprising to me too. I knew the impact of transit on the quality of life and upward mobility of the disability community because I, myself, have a disability that makes driving impossible. Not having access to transportation isn't just a problem for those who can't drive though, it's a problem for those who can't afford to own and maintain their own vehicles – hence, poor, urban communities that are predominantly Black and POC.
Being a lifelong wheelchair user who missed out on a lot of the social opportunities of my high school and early college years and then employment opportunities due to a lack of ability to drive and lack of public transportation in the areas I lived, transit became an area of great personal interest. When I first visited a friend of mine in Chicago as an adult, taking a train from Michigan and then using buses to ride all over the city once there, I was struck by the exhilarating sense of freedom that the availability of accessible, affordable transit gave me. My mobility was so limited back home that I hadn't even been able to imagine what just being able to get out and GO felt like. Once I was zipping around Chicago, never more than a wait of 10 or 15 mins to catch a fully accessible bus to get to a museum or restaurant, or anywhere I wanted to go, it dawned on me that so much of the struggles of my daily life in Michigan hinged on my lack of mobility in an entirely car-dependent part of the state.
This realization led me to devote much of my independent research to the impact of transit (or lack thereof) on the lives of the disabled population. Not only did I end up finding out that transportation issues are the number one cited problem for people with disabilities in the U.S., I learned that access to transit is strongly correlated to quality of life outcomes, employment, and social mobility for most marginalized populations, including the Black community. Once again, the intersection of social justice issues among various marginalized populations fueled the fire for my personal advocacy efforts and gave me even more reason to publicly advocate for transit expansion and improvement in my community. So as a major part of the discussion of the Black Lives Matter movement is focused on defunding the police, I want to take this opportunity to emphasize what an incredible impact doing so could have when those funds are at least partially redistributed to transit.
First and most importantly, we need to consider the damaging stigma of public transportation use in this country. So much of our western culture is based on the automobile industry and the myth of "the freedom of the open road." The reason that pleasant-sounding saying is a myth is that too many people don't have that freedom because they are either too old, too young, cannot afford, or are physically or cognitively unable to safely drive. Think about that. When you combine all of these people you are looking at about a third of society whom that "freedom" does not apply to. Not only that, but the absence of ability to drive, as well as the expense of owning and maintaining of a vehicle, are responsible for keeping millions of Americans in captivity. Living in a primarily car-dependent nation that invested heavily in highways over transit is literally the opposite of freedom in the U.S. Even those who do drive are spending far too much of their incomes on their vehicles, their insurance, maintenance, and fuel, to really be able to enjoy any freedom that driving may grant them.
The fact that the U.S. is a primarily car-dependent nation is perhaps the most important factor embedding transit into the structural racism in our country. Structural Racism 101 teaches that the poverty of Black, urban communities as structurally designed to benefit white people who tend to live in more affluent suburban communities. White flight, the dissolution of labor markets, the rise of illegal drug markets and the subsequent "war on drugs" to imprison and enslave Black prisoners to do "prison labor" for corporations who pay them sweat shop, pennies-a-day wages to make their products, are all part of the white supremacist social structure. Transit stigma and the lack of public transportation funding is also a part of the white supremacist social structure.
Here are some statistics to highlight how: A Harvard University study conducted in 2015 found that commuting time is the single strongest factor in the odds of escaping poverty – The longer an average commute in a given county, the worse the chances of low-income families there moving up the ladder. The study also found that the relationship between transportation and social mobility is stronger than that between mobility and several other factors, like crime, elementary-school test scores or the percentage of two-parent families in a community (NY Times article source). An AARP Policy webinar from 2017 revealed that the poorest fifth of Americans spend 42% of their annual household budget on automobile ownership which is more than twice the national average. The same webinar also indicated that "Nearly 25 percent of African Americans do not have access to a vehicle, compared with 7 percent of non-hispanic whites. Communities of color are far more reliant on public transportation to get to work and school."
The link between transit and poverty is clear – the less transit available, the higher the poverty and lesser the chance of escaping it. The lack of funding for transit and the harm to Black and communities of color is hardly coincidental, however. There have been targeted, discriminative efforts by white people from predominantly white neighborhoods to block transit expansions and improvements in favor of segregation, specifically in keeping Black and people of color out of the suburbs. Consider the article How Racial Discrimination Shaped Atlanta's Transportation Mess for further insight into this facet of transit's role in structural racism in America.
As a proud Detroiter, I'm especially concerned with raising awareness about the role of transit (especially the lack of it) in intergenerational poverty and structural racism. The metro-Detroit region has less transit funding per capita than nearly any major metropolitan region in the country. trailing not just New York and Chicago, but Atlanta, Georgia; Sacramento, California; Cincinnati, Ohio; and even San Juan, Puerto Rico. A blog by Motor City Freedom Rider's, Joel Batterman, reveals that, "in 2019 the DPD [Detroit Police Department] got an astonishing $294 million in general fund dollars, more than five times DDOT [Detroit Department of Transportation]'s $57 million." Imagine how much better spent that money would be in getting the beautiful Black community of Detroit where they need to go, including work and school, rather than on over-policing the city and sending largely non-violent offenders to prison to become prison slaves.
Police brutality and the prison industrial complex is never going to be "fixed" by tiny incremental changes to policing because the underlying, structural issues that fuel its existence are due to misplaced funding and a need to feed the capital machine that benefits the privileged white. Defunding the police and redistributing the funds to preventative social programs and services, like public transit, is the only solution that will truly prevent crime while also putting an end to structural racism.
Contact the Feature Writers