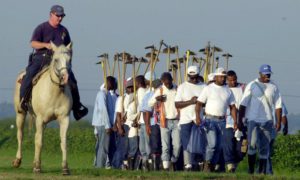 By Kristen "Super Crip" Milefchik
If you think slavery in America is over, I regret to inform you that you are mistaken. Even possessing a master's degree in social work and having an advanced education in systemic oppression and racism didn't prepare me for the recent discovery of just how corrupt our country's prison system is. Don't get me wrong, I knew it was corrupt. I knew that the disproportionate number of Black and POC in prison was a result of systemic, structural racism. I knew that the disproportional higher arrests, convictions, and harsh sentencing of Blacks and POC was a product of systemic, structural racism. I even knew that a lack of coordination between the public mental health system and criminal justice system and the bloated budget of police departments compared to other social safety net services is driven by systemic, structural racism. What I didn't know is that many of the products we consistently use in our homes and daily lives are being produced by the free, or nearly-free labor of Black prisoners. In other words, prison labor is the modern-day slavery.
In a couple of my previous articles, I've mentioned what Black, feminist activist Angela Davis refers to as the prison industrial complex. According to Wikipedia:
"The term 'prison–industrial complex' (PIC), derived from the 'military–industrial complex' of the 1950s, describes the attribution of the rapid expansion of the US inmate population to the political influence of private prison companies and businesses that supply goods and services to government prison agencies for profit. The most common agents of PIC are corporations that contract cheap prison labor, construction companies, surveillance technology vendors, companies that operate prison food services and medical facilities, correctional officers unions, private probation companies, lawyers, and lobby groups that represent them."
What this means is that corporations have found a loophole for legal slavery through prison labor. If you weren't previously convinced that the over-patrolling of neighborhoods of color, the dissolution of workers' labor market power, or the War on Drugs were specifically designed to back Black and POC into the crime and punishment corner, then maybe learning about the corporations that profit off prison slave labor will. If you're like me, the long list of those corporations that rely on exploited prison labor will make you cringe. I am willing to bet money you've been a loyal customer to many of them because I know I try to be a socially conscious shopper and I had no idea how many of the companies I do business with are part of the prison slavery racket. According to Maxey, many of these companies even used manipulating "Made in America" labels to appeal to customers' morals. For instance, prior to being exposed in 2015, Whole Foods used a label reading, "from sustainable American family farms" on a $12-a-pound bag of tilapia that was actually produced by Colorado prisoners making 74 cents a day or less. Whole Foods and the Colorado Department of Correction reaped the rewards of their so-called "sustainable American family farms" labor.
Rather than list all the corporations that are involved with the prison slave racket, I will provide hyperlinks at the bottom of this document for that information. Instead, I want to use this space to analyze the arguments for, and against prison labor and what it means in the larger context of the BLM movement and the call for defunding the police.
First of all, I wouldn't be doing my due diligence if I didn't present and analyze the opposing side of this argument – that is the argument in favor of prison labor. When researching the topic further for the purpose of writing this article, I was actually surprised to find an L.A. Times op-ed written by a former inmate of the Connecticut, York Correctional Institution, Chandra Bozelko, in support of prison labor. I soon found that Bozelko, a Princeton graduate who began her syndicated column and website, "Prison Diaries," while serving her time, was a pretty well-known voice for prison life and inmate rights. The L.A. Times op-ed emphasized how any escape from the prison cell, including prison work, was a welcome one and that only people who hadn't experienced imprisonment would label prison labor as slavery. Bozelko also defended prison labor as a means of "fulfilling [her] existential duty to society" and the work being less about wage than "an expression of humanity." Bozelko did acknowledge that there were problems with prison labor but denied that they had anything to do with prison labor incentivizing high incarceration rates, stating that less than half of the prison population is doing prison work. Bozelko also made a comment about prison labor being called the new Jim Crow because of the disproportionate number of Black and POC in prison and referred to this as a "facile," (or an easy/convenient) way to argue against prison labor. I felt uneasy about the nonchalance of this assessment, especially because Bozelko is a white woman. While I don't think her personal experience of being an inmate should be completely discredited on the basis of her whiteness, when talking about the effects of prison labor on structural racism I felt like her direct experiences may fall short.
On the other hand, Kevin Rashid Johnson, is a leading Black voice against prison labor and while Bazelko was imprisoned for less than 7 years, from December 2007 to March 2014, Kevin Rashied Johnson has been serving a lifetime prison sentence since 1990. Johnson is a confessed former drug dealer who was arrested and convicted for murder in 1990 despite his ongoing claim of innocence. While there is nothing special or unique about that part of his story, what separates Johnson from so many other Black men convicted at a young age is his revolutionary social activism surrounding the rejection of modern slavery – prison slavery. In his op-ed for The Guardian, Johnson claims his refusal to do prison labor and his attempt to expose prison labor for the slavery that it is, landed him in solitary confinement. Johnson also claims that slavery was never abolished in the United States, just reformed. He is referring to the 13th amendment that was introduced at the end of the Civil War that states:
"Neither slavery nor involuntary servitude, except as a punishment for crime whereof the party shall have been duly convicted, shall exist within the United States, or any place subject to their jurisdiction"
Johnson claims that he has always refused to do prison labor, even while drastically penalized for his refusals, but that he has seen plenty of it. "The most extreme were in Texas and Florida, where prisoners are forced to work in the fields for free, entirely unremunerated." Johnson is not the only inmate who has been punished for not doing prison labor or for exposing corrupt practices of the corporations that contract cheap prison labor either. Though it happened back in 1997, a California prison put two men in solitary for telling journalists they were ordered to replace "Made in Honduras" labels on garments with "Made in the USA." (Winter)
Let me be clear, there are ethical prison labor programs that exist for rehabilitative purposes and not to exploit inmates and even pay competitive wages. I'm not opposed to their existence or the existence of programs that meet a set of minimum standards that would ensure tangible benefits to the worker. I'd even go so far as to say, prisons need such programs to reduce prison idleness and to reduce recidivism by teaching valuable job skills that can be used after release (common arguments for prison labor programs). The problem is that the vast majority of prison labor is "household" jobs like laundry, cooking, cleaning, and facility maintenance that do not teach marketable skills and that have no tangible benefits that carry over post-release. Even programs that are considered rare and more "meaningful", like the California fire camps that pay inmates to put out wildfires, have inmates who have expressed feelings of exploitation. "one inmate named "T.C." remarked that his work as a firefighter is reminiscent of legalized slavery, while a camp officer named "Rick" supported T.C.'s sentiments by adding in that he believes that the inmates who help put out the fires work the hardest and do the bulk of the "nitty gritty" work, yet are under-appreciated in comparison to firefighters which he perceives to not do nearly as much work as the inmates" (Littletree-Holston).
And although there's been some evolutionary improvements to prison labor since it began as a way to legally continue slavery after the end of the Civil War, the United States government is still using it as a means to exploit marginalized people. According to a New York Times article, "In the United States, the value of prison labor to the economy continues to add up — though not for inmates. The Bureau of Prisons operates a program known as Federal Prison Industries that pays inmates roughly 90 cents an hour to produce mattresses, eyeglasses, road signs, body armor and other products for government agencies, earning $500 million in sales in 2016."
From a structural standpoint, however, I think the most disturbing part of prison labor is the fact that so many that end up in prison, especially Black and POC, are there for poverty related crimes in the first place. From involvement in the illegal drug trade to homelessness crimes, such as loitering and trespassing, and the inability to pay exorbitant fines, people are literally sent to jail for being poor every single day. To be sent to prison for being poor and resorting to illegal activities to stay afloat because of a lack of gainful employment options, only to end up working in prison for subminimum wages seems suspicious and contrived. Add to that that corporations also play a serious role in the development of the laws that send poor Black and POC to prison. The Ava DuVernay's documentary "13th," "looks at how ALEC, the American Legislative Exchange Council, has played a central role in the expansion of the U.S. prison system. ALEC has worked with states to write legislation promoting the privatization of prisons in addition to pushing for harsher, longer sentences." (democracynow.org) ALEC is, essentially, a corporate-funded bill machine. "Through ALEC, corporations hand state legislators their wishlists to benefit their bottom line. Corporations fund almost all of ALEC's operations. They pay for a seat on ALEC task forces where corporate lobbyists and special interest reps vote with elected officials to approve 'model' bills." https://www.alecexposed.org/wiki/ALEC_Exposed.
I admit that the history and debate around prison labor is long and complex and I am not here to try and simplify it or diminish the nuances on both sides of the argument. However, when researching it, I can't help but be reminded of the horror I felt when I learned about how several Goodwill Industries were paying subminimum wages to people with disabilities. Like the 13th amendment loophole for unpaid prison labor, a loophole in Section 14 (c) of the Fair Labor Standards Act allows disabled people to be paid below minimum wage if they are judged to be less "productive" than an abled person doing the same job. Again, on the surface, this may not seem so bad because at least people who may normally not be able to work or make an income at all get to make some money, even if it's not much, and give something back to society…right? Coming from someone who is disabled (me)… no, not right.
To explain, I remember when I was first entering adulthood and looking for a job. I was turned down for every retail and fast food, typical first-job type position I applied for because my condition, a form of muscular dystrophy, didn't permit me to do the physical aspects of those jobs. I also applied for clerical and receptionist type positions but was turned down for them as well, supposedly because I didn't have previous work experience although I had the sense it had more to do with employers only seeing my wheelchair when they met me, wrongly assuming I was incapable. So, when I contacted an agency that was supposed to help people with disabilities, specifically, find employment, I was crushed to find out that their clients were mostly employed by sheltered workshops. Sheltered workshops also pay subminimum wages to do menial tasks like janitorial work, laundry, document shredding, assembly of plastic products, etc., but again, many rich corporations, like Whole Foods, Walmart, and Home Depot, contract with them for parts and services. I did not take a job in a sheltered workshop because I knew that I was worth more than the pennies a day wages that they pay and I was not going to accept that that was the best I could do just because there were employers that had positions open more suited to my skillset that wouldn't hire me.
Like inmates, many people working in sheltered workshops are exploited by pitifully low wages and no chance of upward mobility or training toward higher level employment outside these programs. Take Michael Denoewer who has epilepsy and autism and held a job in Marysville, Ohio, unpacking and organizing instruction manuals for new Honda automobiles making an average of $1 to $2 an hour for 7 years, According to Aron at Fairwarning.org, he has now sued his employer over unfairness of those wages. Like prison labor contractors, the contractors of disabled workshop labor are also profiting huge. The founder and director of Social Vocational Services, which is actually classified as a nonprofit, was making 1.1 million in salary and bonuses, while his wife, listed on the tax forms as "associate executive director" was making 800,000 In 2016. Not only are the contractors who are supposed to be doing "charitable" work by employing disabled people getting filthy rich off their slave wages, the workplace conditions of these segregated workplaces should be on high watch after the exposure of the severe physical and verbal abuse of 32 men with intellectual disabilities who worked for Henry's Turkey Service, pulling out turkey guts for $2 a day. Slavery is the only way to describe what these men endured, but you can judge for yourself.
"Many people with disabilities have spoken out about how subminimum wages keep them trapped in dead-end jobs and segregated in sheltered workshops" Willison states. In her "The Mighty" article she explains that disabled people want to work but, in a system where places can pay them subminimum wages, there's no incentive for employers to place disabled workers in positions better suited to their abilities. She also clarifies that even people with significant intellectual disabilities can work at competitive wage jobs, which research proves, but those that are supposed to be their allies, like parents, vocational rehab agencies, and "charitable" nonprofits are often the ones creating barriers to their employment. This happens because oftentimes people who identify themselves as "allies" think they know what is best for us or they are profiting off of our inability to get a better (fair pay) job. Meanwhile, disabled people are often backed into a familiar corner; take what you can get and be grateful for it, or don't work at all and suffer people thinking you lazy or incapable.
I do not think being disabled is comparable to being Black or a POC. I know whiteness has given me privilege that Black people simply don't have even if they are abled. I am just making the connection of, if there's an opportunity for rich and powerful people to exploit marginalized people, they will, and I do not underestimate the extent that greed corrupts people at the expense of others. While I can see some of the benefits to ethical prison labor programs that pay a decent wage when inmates have bargaining power within them, I mostly just see prison labor as a way to perpetuate the structural racism within the criminal justice system. From the laws that result in more arrests and harsher sentences of Black and POC, to the largely uncompensated work they do inside prison walls, the system was built by corporations who profit off mass incarceration.
Cutting off the prison industry's main access to their slave workforce begins with defunding the police. Redistributing funding to social services, including workforce training and educational services, is a systemic change that attacks structural racism at its foundation. We must keep pushing for it. Ending structural racism requires revolutionary, drastic change and we cannot settle for anything less.
Additional Info:
Worth Rises 2019 Report: Exposes 4,000 corporations that profit from mass incarceration PBS Newshour: Cheap Labor Means Prisons Still Turn a Profit Even During Pandemic
Contact the Feature Writers