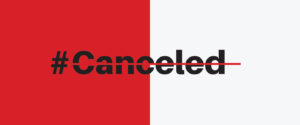 By Kristen "Super Crip" Milefchik
When I first heard the term "cancel culture" I didn't even know what it meant. It was used in a NY Times article entitled "Ivanka Trump Blames 'Cancel Culture' for Pulled Speech. College Says It Took a Stand." The article pertained to the virtual graduation ceremony of Wichita State University Tech in which Ivanka Trump's pre-recorded speech was supposed to play a prominent role. The school's refusal to allow the speech's use in the virtual graduation that took place during the aftermath of the killing of George Floyd, stemmed from the school's backlash against "the divisiveness of the administration in which Ms. Trump serves as a senior adviser." While I didn't realize it at the time, the title of this article perfectly encapsulated the debate around cancel culture – that the rich and privileged blame it, while the "little guys," including disenfranchised and marginalized people, tend to be the beneficiaries of it.
Part of the reason I wasn't even familiar with the term cancel culture is that I had not become a true part of the Twitter community until a couple of months ago. I had a Twitter account that I made, unenthusiastically, as an expectation that came along with winning the Ms. Wheelchair Michigan pageant in 2015, and the associated goal of having an online presence. My problem then, and still is that I really suck at reducing my platform as a disability rights advocate to the Twitter maximum character length of 280 characters. I tried for a minute in 2015, and then decided to use Facebook as my primary platform, where I was not limited in the length of my explanations of disability rights issues and my platform of advocating for home and community based services over forced nursing facility placements of my people.
My mission for popularity has never truly been about popularity because I'm actually more of an introvert by nature, but about my ability to get my perspective out there amongst the general population. I dislike the idea of having people know who I am and how to investigate my personal life, but at the same time, I want people to listen to what I have to say and to consider the somewhat unique perspective I have in society as someone who was born with a significant, visible, physical disability. I wasn't able to meet that goal on Facebook because its platform seemed more devoted to promoting far-right, fear mongering conspiracy theories than it did giving more liberal and progressive users the opportunity to use it as a platform for promoting social justice. After exhausting myself for years in the quest to admonish fellow Facebook users about the harmfulness of the memes and YouTube videos that minimized the expertise of those with high academic and professional clout over self-important people with zero credibility but a fair amount of charisma (or obnoxiousness), I decided to finally give Twitter a real go. I was pleasantly surprised at the results.
Within a month on Twitter I had thousands of followers and was writing for this very publication. The entire atmosphere on Twitter differed from Facebook in that on Twitter, I see more people discussing politics and current events rather than posting selfies and bragging about how their lives are better than yours; I found that people are more up-to-date in what is happening in the U.S. and in the world on Twitter due to a network connected to accounts who get the news fast, first, and unabridged. I also noticed that on Twitter, there is a culture of accountability.
What I mean by that is that you can't get away with tweeting offensive, bigoted, anti-factual stuff without getting called out for it. This is especially attractive to disenfranchised populations who have spent the majority of their lives screaming for accountability in pop culture, policy, and other sectors of human existence where their voices have been stifled or altogether silenced. For instance, whenever I've, personally, seen someone tweet "Twitter, do your thing" its attached to a video or some other proof of someone doing something so deplorable, so inexcusable, that you cannot help but want to be a part of the movement to expose the person, or entity, for the enemies of humanity that they represent. Take Lindsay Clarke, for instance, who after an exceptionally disgusting, racist monologue that concluded with "We GAVE you freedom, you dumb, ungrateful, pieces of shit (…) Burn a flag, burn a black person, I say" earned her a top placement in so-called "cancel culture." Twitter called out her incredibly sick rant that resulted her being fired from her job as a 24-Hour Fitness personal trainer. No one with an ounce of morality would take pity on this person. She not only chose to be racist and hateful; she chose to publicize her views for the world to scrutinize.
One might try to argue that the crimes of some cancel culture targets are not nearly as serious as others and that patience and forgiveness should be promoted over social media "attacks." After giving it a lot of thought, I have come to the conclusion that I disagree with this logic though. The reason being most of the high-profile targets of cancel culture already have the large amounts of money and social standing to make them incredibly powerful and influential, while the targets of their bigoted or harmful views, as a marginalized section of society, usually have very little power and influence. Cancel culture, much as it has been diminished to a form of cyber bullying, gives members of these marginalized groups a form of leverage against this bigotry that didn't exist before. As a member of the disability community, I find it comforting that social media gives me a way to connect with other members of the disability community and its allies, and provides a means to join forces with others in fighting ableist rhetoric. While I've heard social media activists unflatteringly labeled "keyboard warriors" the fact remains that the ability to collectively put pressure on people, whether they be politicians, athletes, artists, or other types of celebrities, to be respectful and inclusive of normally disenfranchised groups is extremely useful; Especially because many of these disenfranchised groups experience challenges around formally organizing due to financial and mobility limitations that are removed in an online environment. A great deal of the disability community is mobility challenged and a lack of access to affordable, accessible transportation can make it difficult to do traditional protesting or other forms of in-person activism, for instance. The disability community has always recognized the value of the internet and of assistive technology in being able to more fully engage with their community, and I believe that the so-called cancel culture movement is actually an extension of that in the activism world.
Still though, people who have been "cancelled" do not actually have their free speech denied them. Take J.K. Rowling, for instance, whose transphobic comments have made her a target of cancel culture. Despite the massive pushback, she has not stopped defending her anti-trans rhetoric, and she and other massively rich, famous, influential people even went on to get an open letter published in a well known publication, Harper's Magazine, that sought to end cancel culture because of its supposed interference with free speech. If censorship was the real concern, however, would the elite voices that signed this letter be able to get it published in such a popular and prestigious magazine? Are the thought-police imprisoning rich and powerful people for their offensive and bigoted speech? No. People are free to go right on saying whatever the hell they want to even if they get a lot of backlash for it. That's called criticism. For that matter, no one held a gun to J.K. Rowling's head and forced her to talk about her views on transgenderism, so if she didn't want to be critiqued on her opinions about it, why did she publicize them?
Furthermore, just because a person has been called out for bigotry does not mean that they can't be forgiven. Jimmy Fallon was "cancelled" over a blackface skit on SNL in 2020, but instead of defending himself, he apologized and thanked his criticizers for calling him out: "I made a terrible decision to do an impersonation of Chris Rock while in blackface," he tweeted. "There is no excuse for this. I am very sorry for making this unquestionably offensive decision and thank all of you for holding me accountable." While many have been traumatized enough by racism that they probably didn't forgive Fallon, many did, simply because he chose to apologize without making excuses, and Fallon's career is far from over. Rowling, on the other hand, has chosen to dig the hole she has dug for herself deeper and deeper by continuing to layer on increasingly offensive comments about trans women in a, what seems to me, a desperate attempt to excuse herself from criticism.
It's saddening to me, as an admittedly huge fan of Harry Potter, but I cannot imagine how painful it is for so many in the trans community who are Harry Potter fans. U.K.'s only trans philosophy professor, Sophie-Grace Chappell told Rowling through an interview with The Guardian, that Harry Potter helped her become a woman and that "it's only those on the right who are benefiting from the row over trans women." Many people from marginalized populations, myself included, found a special connection to the characters in Harry Potter because so much of the storyline is focused on identity and having to be brave and authentic in a world that can be cruel and selective. Millennials, who predominately make up Harry Potter fandom, as described in an article in The Atlantic, see transgender rights as "the social-justice cause, their generation's revolutionary idea." It's no wonder that it's heart-wrenching for so many to acknowledge Rowling's behavior as totally contrary to the anti-discrimination message that Harry Potter embraces, but that's all the more reason calling her out for it is justified. In a world where social media platforms did not coexist with Rowling's anti-trans statements, her fame, fortune, and stature would surely have ignited anti-trans rhetoric in the mainstream, as it still has in reality, but without the mitigation of the voices of trans, LGBTQ+, and allies who have no elite positions to amplify them; just each other and social media.
I've had to fight off feelings of pity for Rowling and others who have been the targets of cancel culture because its instinctual for me to be forgiving, sometimes to a fault. I was reading a New York Times article earlier today in which a disabled actress, Ali Stroker, stated, "I have to educate people about my disability sometimes, but I view it as an opportunity to connect. I don't expect people to know what they don't know. Some people might think that's overly accommodating, and at times I've wondered too." I relate to this on a deep level because I'm trying my best to be an advocate for others in the disability community and sometimes that calls on me to do some really uncomfortable calling out of others' behavior. I have to remind myself not to act too apologetic about telling someone that the words they're using, or the idea they're promoting, is ableist and harmful. I know that you can be firm without being aggressive too, and I definitely take a gentler approach than some fellow disability activists do, but I do not fault them for having less patience or, to put it more colloquially, gives-a-fucks about it because some of them have been doing it for a lot longer than I have and they just have zero gives-a-fucks left. It's exhausting to have to explain to people more privileged than you, whether it be because of a physical or cognitive ability, sexual orientation, gender orientation, or race, that that thing that they're doing right now is just not okay…over…and over…and over again. I just might scream at the next complete stranger that walks up to me at the grocery store and asks if they can pray for me on the spot because they assume since I'm in a wheelchair, I must want to be "healed." I'm not saying that we shouldn't try to educate people who made a mistake when they are showing an effort to learn, but that starts with actually listening when someone tells them that they fucked up and not reacting like a fragile butterfly, denying responsibility.
Furthermore, with immense popularity, comes immense responsibility, like it or not. If you like people watching you act, or reading your writing, or following you on Twitter, then you better be prepared to keep your eyes and ears open and learn about social change. Do not retreat into your cozy echo chamber of outdated philosophy, get the facts and listen to the people who have lived the experience that you have decided to formulate an opinion on. Until we can all agree that that should be the standard, I think cancel culture is less of a form of bullying and more of a form of necessary social activism.
Contact the Feature Writers