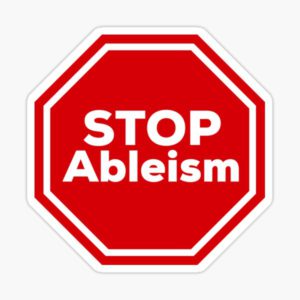 By Kristen "Super Crip" Milefchik
When you think of the word "stupid," it's actually ludicrous how we use it as a synonym for virtually everything "bad." One could almost call it laziness to not more accurately describe the object of criticism through more precise language. Not only that, but "stupid" is a slur used in the abuse of people with learning disabilities. No one with an ounce of reason would argue that all people with learning disabilities, or a lack of cognitive functioning, are "bad" people. I know people with intellectual or learning disabilities that have more compassion and emotional intelligence in their pinky fingers than Donald J. Trump has in his entire being. So why do we use the word "stupid" to insult people of whom we disapprove? Let's examine that.
First, I want to mention that because I have a disability, I always try to write with a disability conscientious voice, or one that considers the thoughts and feelings of people with a wide range of physical and social challenges related to their conditions. I don't have a learning disability and so I haven't experienced the harassment of being called stupid nearly as much as, I'd assume, many who do have learning disabilities or cognitive impairments. I have been teased and called stupid a small number of times in my childhood, simply because I use a wheelchair and because I'm "different." Even in those limited experiences, however, I remember how much it stung to have a word with such an ugly connotation attached to it hurled at me. Even when it was used jokingly, the condescending, high-handed conveyance in which it was used told a crueler story.
Nonetheless, growing up hearing "stupid" used as a synonym for a whole plethora of unsavory adjectives desensitized me to its harmfulness. Unlike those who have been repeatedly subjected to the verbal abuse of its usage, I was able to separate myself from the term and protect myself from its viciousness by staunch denial that it applied to me. In so doing, I inadvertently slipped into "othering" people with learning disabilities who are unfairly subjected to abusive, ableist rhetoric. Realizing this, at a time when ableist slurs against Donald Trump are constantly being used by the left, is extremely disconcerting. After all, I consider myself a Democrat and a far-left leaning one at that, but frankly, the left's ableist rhetoric lately is getting embarrassing.
In examining why we automatically jump to ableist slurs like "stupid" or "crazy" to describe people, or things about people that we dislike, we need to consider our human instinct to always ask the question, "why?" WHY is Donald Trump constantly saying hurtful, racist, misogynistic things? WHY can't he answer simple questions about his gross negligence of science and facts and concern for the American people? WHY does he refuse to listen to the governors and mayors about their not wanting his "help" with handling their state's/city's protests? The easy, one-size-fits-all answer and the one that requires the least insidious explanation is that the president is simply "stupid." Reducing the explanation to cognitive impairment, however, is not only inadequate, its extremely insulting to people with cognitive impairments or intellectual disabilities who are not completely bigoted, egotistical, manipulative, self-serving assholes.
While this may seem obvious on its head, the need to explain and simplify bigoted, prejudicial, racist behavior by a person's level of "intelligence" has been going on for decades. There is still a push to prove a scientific link between a lack of intellectual functioning and offensive attitudes: specifically, racism. Numerous studies have been done on the topic and the results are quite interesting. While several studies linked lower IQ and other measures of so-called "intelligence" to prejudicial and racist attitudes, another more recent study showed that link to be superficial and misleading. The Oxford University Press study, entitled, "Are Smart People Less Racist? Verbal Ability, Anti-Black Prejudice, and the Principle-Policy Paradox" examined an alternative hypothesis called the "ideological refinement" perspective. The study explains:
"It is commonly hypothesized that higher cognitive abilities promote racial tolerance and a greater commitment to racial equality, but an alternative theoretical framework contends that higher cognitive abilities merely enable members of a dominant racial group to articulate a more refined legitimizing ideology for racial inequality."
In other words, the study examined whether people with higher cognitive abilities practice what they preach or if they are just better at covering up their racism with highly sophisticated language and the ability to manipulate their true prejudice by using their higher cognitive ability to overelaborate their justifications for it. The study found that indeed, people with higher cognitive ability, specifically verbal ability, demonstrated more tolerant, less prejudicial beliefs in principle, but not in practice. The study's exact words are: "high-ability whites are less likely than low-ability whites to report prejudicial attitudes and more likely to support racial equality in principle. Despite these liberalizing effects, high-ability whites are no more likely to support a variety of remedial policies for racial inequality." Turns out that people with higher intelligence from the dominant group (white in this case) are not willing to sacrifice their privilege and status in the social hierarchy any more than lower intelligence people and it's their actions, not words, that reflect that need to protect their privilege.
Another telling study out of Belgium showed that people tend to think they are a lot more intelligent than actual intelligence tests indicated. Not only that but the more people believe they were of superior intelligence, the more associated racism tests indicated they, in fact, were more racist those with a lower self-perceived intelligence.
The reason this is all kind of humiliating is that the intelligence tests and prejudiced attitudes in conservative politics is a link that left-wing proponents have been trying to prove for decades. Yet, trying to prove that link is, in itself, prejudicial and ableist. This isn't to say that there isn't a link to right-wing politics and lower intelligence, that much has been pretty well-established. It seems that that has a lot to do with conservative policies being more predicated on "absolute truths" and an inability, or unwillingness, to understand that most issues are complex and don't have one-size-fits-all solutions. Judging by the majority of black and POC voters on the left, it seems racism is more prevalent on the right, but intelligence doesn't have anything to do with it. It's a correlation, not causation fallacy to draw such a conclusion. Racism on the right has much more to do with a majority-white base and party values that directly align white supremacy and the conservation of white privilege. Attributing prejudice and racism to lower intelligence alone is misleading and harmful. As Lori Brown, professor of sociology at Meredith College in Raleigh, N.C., explains, race, itself, is a complex issue that involves more than intellect:
"Prejudice involves what we believe to be true, affective feelings [like] likes and dislikes," and instinctive needs, whereby "some people 'need' to be prejudiced [because] they feel so bad about themselves it makes them feel better to hate others," Prof. Brown explains. "So, better educated or 'smart' people may know facts but may still not like people who are different."
As a member of the disability community, I feel a deep responsibility to help protect people with learning disabilities and cognitive impairments from the abusive othering that current left-wing political rhetoric is condoning. As a member of the Democratic party and the left, I also feel a responsibility to call it out, not to cause embarrassment or pain for anyone who has participated in it without understanding its impact, but because I believe that the prejudices that we all have, myself included, are so entrenched in our thinking and behavior that we sometimes NEED to be called out in order to acknowledge it exists. We need to be reminded of our privilege in all spheres, whether it be in our skin color, our economic class, or physical or cognitive functioning.
If you're worried you might still slip, don't. You will. That's alright because mistakes happen and even all of us in the disability activism world have slipped up before. As I've noted in previous articles, the diversity and intersectionality of the disability community is immense, so even being a member of the disability community doesn't protect you from forgetting to be cognizant to the feelings and challenges of people with disabilities that are different from yours. I no more understand the physical challenges experienced by someone who is blind, or deaf, or autistic, than an abled individual because my disability's functional limitations are completely different. What I do know, however, is the social challenges involved with being othered due to having a different way of functioning than those in the dominant, abled, group. I may still mess up and use an ableist slur because I forget about the impact a certain word or idea has on a subpopulation of the disability community that I don't belong to, but I am going to welcome being called out on it if I do. Why? I'd rather know how I'm being ableist so I can stop doing it than perpetuating harm to any group of people, disability-related or otherwise.
That's another reason I'm writing this. The left is supposed to be all about social inclusion and progressive change. If they really want change to happen, however, they have to want it for all marginalized groups, not just the one in the spotlight at the moment or the one that they, as a member of the democratic left, belong to. I decided to focus this article on the ableist rhetoric being used against people with learning, or intellectual, disabilities rather than about the ableist rhetoric being used on people with physical disabilities like mine for this reason. Yes, I could, again, point out that using ableist jokes about Trump's perceived inability to walk down a ramp or drink a glass of water using one hand is harmful to anyone who has been underestimated or made fun of due to a physical impairment. However, I didn't want to just point out ableism from my own, more subjective perspective, but from a perspective of intersectionality. No, I'm not a part of the learning disability community, but I am a part of the broader disability community. I'm a mother, like the many mothers of children with learning disabilities who have seen those who function like them mocked on T.V. and called hurtful names they have been called. I'm a woman, like the millions of women with learning, and other disabilities, who have been raped or sexually assaulted at astoundingly higher rates than the already high rates of abled women who are.
Martin Luther King, JR. truly understood how intersectionality worked when he said, "A threat to justice anywhere is a threat to justice everywhere." To put it in more relatable terms for the present and in the context of the BLM movement, "Black people are more likely than white people to have chronic health conditions, more likely to struggle when accessing mental-health care and less likely to receive formal diagnoses for a range of disabilities. By dint of how others react to their complexion, they are also nearly three times as likely as white people to be killed by police. The combination of disability and skin color amounts to a double bind" This quote is from Talila A. Lewis, a community lawyer and volunteer director of Helping Educate to Advance the Rights of Deaf Communities (HEARD), cited in a recent Times article entitled "Black, Disabled and at Risk: The Overlooked Problem of Police Violence Against Americans with Disabilities." The left's supposed support of Black people in ending police brutality and murder-by-police of Black people is illegitimate if they continue to engage in ableist rhetoric that others disabled persons because Black, disabled lives matter, not separate from, but as part of Black lives. If we understand racism and other forms of oppression as systemic, we should understand that the solution must also be systemic and not isolated to consideration of just one oppressed group.
If you're worried about how you can criticize and insult Donald J. Trump in a non-discriminatory way, have no fear, I got your back. First of all, when you find your blood pressure rising watching him speak, take note of what exactly it is he said, or did that made you so upset. I think you'll find that the real answer is never, simply that he's unintelligent. Here's some words that will likely work to fill in the blank more accurately:
amateurish, incompetent, unqualified, immature, childish, petty, petulant, whiny, ignorant, insensitive, unrefined, morally depraved, fascist, attention-hungry, egotistical, spiteful, malicious, antagonistic, evil, manipulative, disgusting, racist, ableist, misogynistic, ridiculous, laughable, crude, obscene, perverse, divisive, callous, conscienceless, murderous, dishonorable, treasonous, orange, excuse-for-a-human
This is just a small start. Build your own Trump-insult glossary. It's educational and fun…
Contact the management team