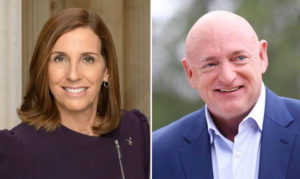 By Robin Edgell, LMSW
From today until the election, I am going to be focusing on GOP Senators that are up for re-election in Swing States and their opponents. Because these Senators have been complicit in their silence and voted 'nay" on the Articles of Impeachment, through their inaction and silence, have proven themselves to be no friend of the people of the United States.
Because it's my adopted home state, and I am unabashedly biased, let's start with Arizona.
Sen. Martha McSally v. Capt. Mark Kelly
This year is a special Senatorial election for AZ. The current Senator, Martha McSally, was appointed to the Senate after her 2018 general election loss to fill Sen John McCain's seat after his death. This situation has triggered a special Senatorial run-off election to finish out the term that Sen. McCain was elected to in 2014.
Senator McSally is an accomplished woman, indisputably. As an Air Force Veteran myself, I have to admire her accomplishments in the USAF. She served for 26 years, from 1984-2010, graduating from the Air Force Academy in 1988. She achieved the rank of Colonel (O-6) during her time in and left the military as the first female to be Commander of a fighter squadron, right here in Arizona at Davis-Monthan Air Force Base. She was also the first woman to fly an official combat mission, flying A-10's in combat patrol and Close Air Support (CAS) in the Iraqi and Afghani Theaters of Operation.
Her first political run came in a 2012 special election to fill the seat left vacant after Rep. Gabby Giffords was forced to resign due to an assassination attempt on her life that had serious health repercussions. McSally lost this special election and tried again in the 2012 General Election. She lost to the Democratic Incumbent by less than 2,000 votes.
In 2014, she decided to run again for the House, winning the GOP primary in AZ-2 by more than 70% of the vote. On election night, she was declared the winner by 167 votes in the last federal election of the cycle to be called due to its close count. She won re-election in 2016 in a walk.
In 2018, she decided to run for the Senate against Kyrsten Sinema (D). Sen Jeff Flake (R) had decided to retire and his seat was up for grabs. As with many of the GOP politicians at that time, McSally had originally been very vocal against Trump, calling him disgusting and refusing to endorse him in 2016. However, when she ran for Senate, she knew that to win she would have to appeal to the GOP base. She started aligning herself with Trump's views and toeing the party line in her stump speeches. All of this, plus an endorsement from AZ Governor Doug Ducey, enabled her to win the GOP nomination for the vacant Senate seat.
McSally lost the General Election but was appointed by Gov. Doug Ducey to Sen John McCain's seat after McCain's death in 2018.
Since her oath-taking in 2018, McSally has voted with Trump 94.8% of the time, including voting against the two Articles of Impeachment brought by the House.
She is endorsed by the National Rifle Association (NRA), National Right to Life Committee (an anti-choice organization), the Citizens United Political Victory Fund, the Campaign for Working Families (a conservative think-tank) and Winning for Women. This last one is fun. Taken from their website: "Winning for Women is building an infrastructure that will allow right-of-center women leaders to succeed in their pursuit of leadership opportunities."
Suffice it to say that this is not a group that would support me, should I ever run for office.
Captain Mark Kelly is also a military Veteran, having served in the US Navy. He flew 39 combat missions in Operation Desert Storm (1991) during two different deployments with the USS Midway. He was selected to become a Space Shuttle pilot in 1996. He flew four missions in the Space Shuttle, twice as pilot and twice as commander. He was the commander of STS-134 in 2011, the final mission of the Space Shuttle Endeavour.
2011 was also the year that his wife, Representative Gabby Giffords, was the victim of an attempted assassination. This year would also see Capt. Kelly retire from both the Navy and NASA. Since his retirement, Kelly has focused on helping his wife continue to advance in her recovery and has partnered with her in political activism. In 2013, they founded Americans for Responsible Solutions to promote solutions to gun violence in partnership with the General Public and elected officials.
Capt. Mark Kelly (D) is endorsed by the Arizona Education Association, Demand for a Livable World, End Citizens United, Everytown for Gun Safety, Human Rights Campaign, NARAL Pro-Choice America, National Organization for Women, National Education Association, Planned Parenthood Action Fund, Sierra Club, Stonewall Democrats of Arizona, The Coalition to Stop Gun Violence, United Auto Workers and VoteVets.org.
For those of y'all that have read my past articles, I know you can guess who I has won my vote.
Capt. Mark Kelly is an honorable man, one who supports me in all my identities: woman, mother, bisexual, Veteran and Social Worker. I know that Capt. Kelly is going to work for what is best for ALL of us, not just a select few.
Sen. Martha McSally has proven to me, through her voting record and her words, that she is aligned with the current President. Which means that she does not stand for me in any of my identities. Her voting record bears this out.
The choice is yours. Choose wisely.
As a reminder:
It has been 13 days since the story broke in The Atlantic about Trump calling those that serve in the military "suckers" and "losers." Not a single GOP politician has rebuked him for it.
It has been 81 days since the Russian Bounty story broke. Trump has made no comment.
Endorsement Information was retrieved from justfacts.votesmart.org
McSally voting record retrieved from www.govtrack.us and projects.fivethirtyeight.com/congress-trump-score
Specific voting records for Articles of Impeachment retrieved from www.senate.gov
You can visit Sen. McSally's campaign page www.mcsallyforsenate.gov
You can visit Capt. Kelly's markkelly.com
Contact the Feature Writers