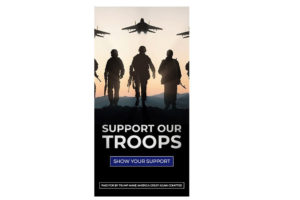 By Robin Edgell, LMSW
Just days after it was revealed that Fuhrer Trump called our service men and women "suckers" and "losers," the money pit that is Trump's re-election campaign ran the following digital marketing ad:
The only problem? The digital ad folks failed to fact-check. At all.
The troops? Russian models
The planes? Russian MiGs
The sky? Russia
The mountains? Greece
The ground? French
Why do I feel like there's something pithy here I could say about how this really represents so much of this administration?
As a reminder:
It has been 13 days since the story broke in The Atlantic about Trump calling those that serve in the military "suckers" and "losers." Not a single GOP politician has rebuked him for it.
It has been 81 days since the Russian Bounty story broke. Trump has made no comment.
Contact the Feature Writers