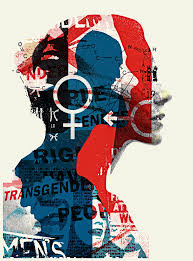 By Robin Edgell, LMSW
Hello. My name is Robin and I'm a Potterhead.
No, not pot – although that's nice, too. Very nice.
Potterhead. Harry Potter. As in, I had a discussion with someone the other day about how Severus Snape, Harry Potter and Voldemort were the three brothers from the Tale of the Three Brothers and Dumbledore was Death and how I know which of them is which brother and why Snape is a bully and not a nice person and his love isn't pure for Lily…..
I could go on.
I went to midnight releases. I remember spending hours sitting in one place finishing the last book while ignoring my in-laws.
I still have the books. I no longer have the in-laws. The books were worth keeping.
It has taken me the better part of a year to understand that I can love the beautiful world of Harry Potter while accepting that the woman that created that world actively dislikes, and works against, my trans brothers and sisters.
JK Rowling is a TERF – a Trans-Exclusionary Radical Feminist. These people believe that if you were not born with a vagina and two X chromosomes, if you were not assigned "female" at birth by dint of your external and internal biological organs, you are not female.
Feminism, as defined by Merriam-Webster is "the theory of the political, economic, and social equality of the sexes." (Notice that it does not mention genitalia.)
Feminism is intersectional.
Feminism is about freedom of choice to be who you are, believe what you believe, and not being judged for those things. If you want to be a sex worker, a true feminist will help you explore options for doing sex work safely and fight to legalize it so that you do not have to do back alley transactions. If you want to be a porn star, you can do that legally in certain places (and safely) because feminists helped to make that industry legal and safe.
Feminism should not be excluding anyone, especially anyone from a marginalized community that identifies as female.
But TERFs? They are transphobic, defining everyone by what is between their legs. They deny anyone the opportunity to define who they are. It would be like me introducing myself as Robin and you saying, "No. You're Tiffany" because that is how YOU identify ME. TERFs refuse to validate a person's self-identified identity because they refuse to understand that there is more to a person's identity and gender than genitalia.
The author of the Harry Potter novels has created a conundrum for those of us that are part of the LGBTQ community and/or support feminism and validation of a person's identity and Potterheads.
How do you love something so much when it was created by someone so horrible?
Rowling, by her own admission, has read a lot about trans folks, academic writings about them, etc. She released a statement on her blog on 10 June 2020 that would have made any politician proud. She pseudo-shucks, explains how she has done this research, and still is a TERF. She uses the blog post to rationalize why she is hating on an entire population of folx that are hated and marginalized in every way.
That makes her an educated horrible person.
Why is this a thing? Why am I writing about it? Why should you care?
In 2020, 28 transgender people were murdered in the US by August, surpassing the total for all of 2019. Of those, 23 were transwomen.
JK Rowling, with her educated hatefulness, can be used as an argument against transgender people, justification for the hate and violence they face on a daily basis. In fact, just 9 days after her blog post was published, it was quoted by an Oklahoma Senator to block Senate consideration of the Equality Act, which would amend civil rights bills to include "sexual orientation" and "gender identity" to their lists of protected classes.
Every person that is taken too early from us is a person that could have changed the world. Whether they are taken by death or because society has shunned who they really are.
I know this, personally. My life was changed by my friends who are trans and nonbinary. My horizons were expanded, my life made more beautiful, my heart opened.
I would not be the person I am today without those people in my life.
I still read Harry Potter. Many nights, I fall asleep to the dulcet tones of Jim Dale narrating one of the books. Why do I do this when I obviously hate everything that Rowling stands for?
Because Harry Potter has grown beyond the limiting beliefs of the woman who birthed him, much like a child outgrows their parent and becomes more than their childhood. Harry Potter has grown into an inclusive community, with fan-fic and head cannons, and ships that have taken Harry Potter into realms that Rowling could have never imagined with her limited understanding of the beautiful and strong people in the world. Harry Potter is a community that loves and welcomes everyone.
Even those that stand Dramione.
So, I will gladly continue to read my Harry Potter books, listen to their narration. I will continue to search for meaning in a story that means so much to me. When I want something to add to my collection of Harry Potter things, I will shop from independent artists that create things for the love of Harry Potter, not how much they can cash in on it. I will continue to be a part of the beautiful community that Harry Potter has become, despite who birthed it.
Hello. My name is Robin and I am a Potterhead. Come as you are and be welcome.
No TERFs Allowed.
As a reminder:
It has been 14 days since the story broke in The Atlantic about Trump calling those that serve in the military "suckers" and "losers." Not a single GOP politician has rebuked him for it.
It has been 82 days since the Russian Bounty story broke. Trump has made no comment.
Contact the Feature Writers