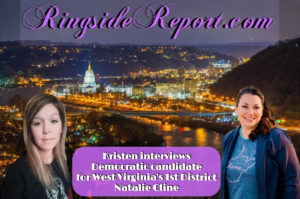 RSR Press Release
Image by HRAJ
The Kristen "SuperCrip" Milefchik Ringside Report Show hit YouTube just 3 weeks ago, on August 20th,2020, with an exclusive interview with Democratic candidate for Louisiana's 3rd District, Rob Anderson. Kristen, the Assistant Editor and a Feature Writer for Ringside Report, is using her show to spotlight disability culture and bring attention to social and political issues through interviews with political candidates, entertainers, artists, and more. Already, in addition to Rob Anderson, and "Rural Ranch Democrat" candidate for Oklahoma's 3rd district, Zoe Midyett, Kristen has interviewed big names like disabled comedian, writer, and actress Maysoon Zayid, and 30 yr. federal prosecutor and legal analyst, Glenn Kirschner.
Kristen's intimate brand of interviewing continues this week when she talks with Democratic candidate for West Virginia's 1st District, Natalie Cline tomorrow. If you're interested in getting to know the Democrats who are running in this monumentally important election year, you won't want to miss these episodes. Subscribe to Kristen's channel and stay tuned for more exclusives on the Kristen "SuperCrip" Milefchik Ringside Report Show!
You can also follow Kristen on Twitter.