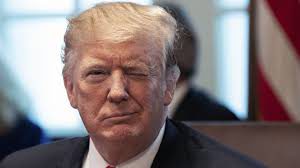 By Robin Edgell, LMSW
I owe taxes for the 2019 tax year.
According to TurboTax, I owe the federal government around $2600 for last year and around $600 to the state of Arizona.
Why do I owe money to the IRS and the state tax agency? Apparently because my name does not rhyme with "rump," "frump," or "dump."
Before you send me tax advice, know that I have most of my income is considered "independent contractor" streams that do not get taxed like regular income and I need every single penny I make off of that to eat.
I have a powerful need to eat.
Yesterday it came to light (through the diligent and dogged reporting of the New York Times – yay free press!) that Trump had paid less than what I owe for one year over the course of two years, 2016 and 2017. He had to pay $750 in each of 2016 and 2017.
Do you know what my taxable income for last year was?
$25,398.00
That was my taxable income working Grubhub, Starbucks, receiving alimony from the ex, and working as a short-term independently contracted project manager for a university in my town.
Do you know what the national poverty level for one person in 2020 is? $12,760.00 a year.
I made less than twice that last year and I owe a total of over $3000 in taxes.
I am not telling you this to make you feel sorry for me. It sucks, yeah, but it is what it is, right? I will figure out a way to pay it because that is my duty as someone who lives in this country.
Hearing that Trump has paid less than that for two years because of "creative accounting" that seems to only apply to the rich people makes me a little angry.
Especially since, as a tax payer, I have been paying for his:
– Numerous golf trips around the country
– Grown ass children to have Secret Service coverage while they do personal business
– Secret Service agents to stay at Trump properties at higher-than-market price
– Wife to live in NYC for an extra 6 months after he became the guy in the White House
Need I go on?
Last month, the IRS took their first payment for what I owe. I got a notice from them saying "Hey, you owe us money and we're gonna start taking that soon," in August. It was vague, as all things from the government are, no indicator as to when the payments would actually be taken out of my account.
I had my budget right on, ready to go for September and they took the money without warning. More than my agreed upon monthly payment because "fees and penalties" apparently added $50 to my monthly payment.
But I did not have the $100 in my account to cover the payment, so a $100 payment to the IRS actually cost me $138 because it overdrafted my account.
I had to work 8 hours of Grubhub to get back to a positive balance of $5 in my bank account.
I don't have a 9-5 job. I lost that back in April when the pandemic started hitting hard. I was finally offered a job last week because finding a job during a pandemic is next to impossible. However, my new job does not start until the background check is done – which is slowed down because of the pandemic.
So, like many Americans, I have turned to gig economy and other ways to make ends meet. But it's only us working poor that need to do things like gig economy and donating plasma to make ends meet, obviously. Apparently if you play at being rich, if you're propped up by a bank or two (who cares where they are), you can not only bilk charities and plunder campaign war chests, but you can get away with paying next to nothing to the IRS.
Forgive me if I sincerely wish that Trump would just fuck all the way off.
Now, if you will excuse me, I need to get back to being on hold with the IRS to see if we can figure out a better payment plan.
Maybe they'll let me pay $750 and call it even?
As a reminder:
It has been 26 days since the story broke in The Atlantic about Trump calling those that serve in the military "suckers" and "losers." Not a single GOP politician has rebuked him for it.
It has been 94 days since the Russian Bounty story broke. Trump has made no comment.
Contact the Feature Writers