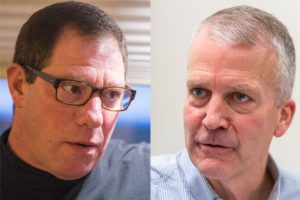 By Robin Edgell, LMSW
Every Tuesday until the election, I am going to be focusing on GOP Senators that are up for re-election in Swing States and their opponents. Because these Senators have proven, through their inaction and silence, to be no friend to the people of the United States.
Well, I never thought I would be writing about Alaska in this column, but here we are. I don't know why I'm so shocked. It is 2020 after all – anything can happen, apparently.
But when I heard yesterday that the Alaskan Senatorial race was in a dead heat, one that Dems weren't even paying attention to because they never thought it could happen, I figured I would throw my hat in the ring and chat about them.
FiveThirtyEight shows Dr. Al Gross (D-challenger) and Dan Sullivan (R-incumbent) in a statistical dead heat – 45% – 46% respectively – as of 29 September 2020.
If you're like me, you don't really think about Alaska. For me, Alaska represents one of 5 states I have left to visit, is the home state of a friend of mine where she met her husband and they named their son after a peninsula up there, and it's cold and dark for part of the year. Oh! And they get a payment as Alaskan residents every year from the oil fund. It is a beautiful, and dangerous, place where the hardiest of the hardy live.
Dan Sullivan, the incumbent Republican, has been in office since 2015. He was Alaska's Attorney General and the Commissioner of the Alaska Department of Natural Resources. He headed a statewide program as Attorney General called "Choose Respect," designed to combat the high rates of domestic violence and sexual assault in Alaska. He is currently a colonel in the US Marine Corps Reserves. He has held staff billets and, in 2004, he was called to active duty to serve for 18 months as a staff officer in the Middle East. In 2013, he was called to active duty again, to serve in Afghanistan. Sullivan served under Sec of State Condoleezza Rice as the US Assistant Secretary of State for Economic, Energy, and Business. His focus was on fighting terrorist financing and Arctic issues, among others. Senator Sullivan currently serves on four Senate committees: The Committee on Armed Services, The Committee on Commerce, Science and Transportation, The Committee on Environment and Public Works, and The Committee on Veterans Affairs.
Senator Sullivan has been endorsed by the National Rifle Association, the National Right to Life Committee, the SEAL PAC and the Huck PAC. The Huck PAC states that "Our candidates are committed to keeping our government's promises to our Veterans, seniors and hard-working Americans. We support less government, more liberty, the Fair Tax, traditional marriage and we are unequivocally pro-Life."
In other words, the Huck PAC cares about Veterans, seniors and folks that have never been poor nor have needed welfare. They support less government in the form of slashing social programs, they want the right to carry guns wherever they want, the Fair Tax which removes taxes on income and lays all tax responsibility on sales tax, they don't agree with same sex marriage and they don't think that women should have agency over their own bodies.
I don't know about y'all, but the Huck PAC sounds like something that is unequivocally against everything I stand for and rings the Handmaid's Tale bell. Is that just me?
Senator Dan Sullivan has voted with Trump 91.5% of the time over the last two Senate sessions. Sen Sullivan voted to not provide humanitarian aid for the US-Mexico border, voted to not block the sale of arms to Saudi Arabia and the UAE three times, he voted yes on the nomination of William Barr to be attorney general, voted to permanently ban the use of federal funds for abortion or health coverage that includes abortions, supported the nomination of Brett Kavanaugh to SCOTUS, and voted "Not Guilty" in the Impeachment case against Trump.
Senator Sullivan's challenger is Dr. Al Gross. Dr. Al, as he bills himself, grew up in Alaska. His dad was Avrum Gross, the Alaskan Attorney General under Governor Jay Hammond. His dad, along with Governor Hammond, helped create the Permanent Fund and Permanent Fund Dividend, that annual payment I mentioned above. Dr. Al paid his way through college by commercial fishing all over SE Alaska, the Gulf and Bristol Bay. Dr. Al met his wife in 1986 on their first day of medical training in Seattle. They married in 1990 and they both went to Univ. of Michigan to complete their training. Dr. Al is an Orthopedic Surgeon and Dr. Monica Gross is a pediatrician. They have four children and all four have followed in their dad's footsteps, commercial fishing to finance their collegiate careers. In 2013, Dr. Al and Dr. Monica (how they refer to themselves), left their private practices, went back to school and received their Master's degrees in public health from UCLA. They returned to Juneau to advocate for better health care at a lower cost for the residents of Alaska. They helped to create a public healthcare option that will give Alaskans the choice to buy less expensive insurance through the healthcare exchange.
Y'all, his campaign website has a fishing boat on the left-hand side that rides the waves as you scroll down. It's cute and so very Alaskan.
Dr. Al has endorsements from Demand Universal Healthcare, End Citizens United, Planned Parenthood Action Fund and NRDC Action Fund. That last one is built to "support candidates who stand up for environmental protection, and we expose those who side with polluters rather than the public good."
I'm sure you know who I would be voting for if I could.
I am sure you are wondering why you should care about the Alaskan election. This is a fair question. Alaska just kind of is, right? We know about it, but we don't hear about it very often here in the lower 48. But, from a military point of view, Alaska is very important. During the Cold War, it was understood that Alaska should not be ignored in our military defense strategy. As Russia becomes more aggressive and China continues to build up their defense apparatus, we must be cognizant of what Alaska could mean for our national defense. For the last 3.5 years, Trump has diverted monies from these Alaskan defense projects to build a wall along the southern border that cannot stand against a stiff wind. This not only hurts our national security, but hurts the people of Alaska and enriches one or two contractors that are Trump allies.
Sen. Dan Sullivan has proven to me, through his voting record, his words and his actions, that he is aligned with the current President. Which means that he does not stand for me in any of my identities. His voting record bears this out.
The choice is yours. Choose wisely.
As a reminder:
It has been 27 days since the story broke in The Atlantic about Trump calling those that serve in the military "suckers" and "losers." Not a single GOP politician has rebuked him for it.
It has been 95 days since the Russian Bounty story broke. Trump has made no comment.
Contact the Feature Writers