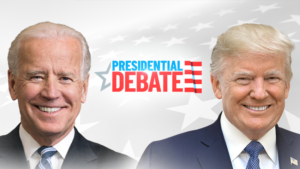 By Robin Edgell, LMSW
Every parent recognized that tone that Joe Biden put into his question to Trump, "Will you shut up, man?" Every parent has used that tone when their child has asked 1,538,952 questions that day and you have reached the end of your rope. You feel like your head is gonna explode if you must answer one more question. Finally, you use that tone of voice to say, "I don't know why grass is green/the sky is blue/birds poop while flying."
We feel you, Joe. We ALL feel you.
What a waste of time, for everyone. That debate was 90 minutes of our lives that we will never get back. It was 90 minutes of global reputation that we will never recover. That was 90 minutes of absolute crap packaged as a debate.
I am utterly embarrassed that our sitting President behaved in a manner that was not commiserate to the office he holds. Not surprised, but embarrassed. I am also embarrassed that he aired out his crazy for everyone to see. I mean we all knew he was crazy. Now we KNOW he is crazy.
I did not even watch the whole debate. I saw enough to see Trump totally disrespect Joe Biden and his son Beau, who died of brain cancer. I saw Trump try to bring Hunter Biden in to embarrass Joe Biden and Joe did what every father should do: stood for his son and proclaimed his pride in him, even with his missteps.
I listened to Trump bully the moderator, Chris Wallace. Chris Wallace who had one job: moderate the debate. He utterly failed at moderating that "debate." Instead, he nominally presided over a debacle.
I listened to Trump pull his "rake the forests" and "exploding trees" excuses out.
I heard Joe Biden call Trump "Putin's puppy" – which is not yet trending on Twitter and I cannot figure out why it is not.
I heard Trump given the chance to decry white supremacy and he refused to do so, telling the Proud Boys to "stand back and stand by." Apparently, the white supremacists are listening and have already made this comment a rallying cry.
Trump is the worst of this country on display. He enables and emboldens those that seek to wreak havoc and chaos on this country in the name of "patriotism." Trump displayed his willful ignorance on any subject other than Breitbart and/or QAnon conspiracies. Trump consistently showed his disdain for America and Americans.
This "debate" was a shitshow, from start to finish.
Joe Biden needs an award for not walking off the stage.
Chris Wallace should take a bottle of Jack to bed with him tonight because it is the only thing that understands him.
And Trump? He is going to take off his $70,000 hairpiece, climb into bed and tweet about what a great job he did and how he made Joe Biden look "sleepy" and "weak."
Right now, 40% of the country agrees with Trump which scares me more than anything that Trump said tonight.
And I have but one thing to say to the Cult of Trump: Will you shut up, man?
It has been 28 days since the story broke in The Atlantic about Trump calling those that serve in the military "suckers" and "losers." Not a single GOP politician has rebuked him for it.
It has been 96 days since the Russian Bounty story broke. Trump has made no comment.
Contact the Feature Writers