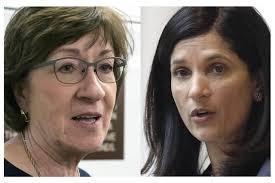 By Robin Edgell, LMSW
You know, I try to respect people's positions in the world. As a Veteran, I remember being taught that you should respect the rank/office when you could not find it in you to respect the person holding the rank/office.
2020 has pretty much eliminated that for me. There are so many people in offices that Americans have been taught to respect: office of the President/Attorney General/Vice President/Senator/Governor. I am actively working to get a President out of office, unseat several Senators and recall my Governor.
Respect seems to be in short order in 2020 even while chaos seems to be in abundance.
This week, I decided to highlight Susan Collins, someone I have less than zero respect for. How does one manage to have less than zero respect for someone? Well, let's just say it's a symptom of 2020 and leave it at that.
I could do what I have done with past Tuesday Traitors and give you the run down of Sen. Collins from Maine. I could spend the time that I have set aside tonight digging into her past and giving you a fairly comprehensive picture of the woman, as I've done with Martha McSally and that dude from Alaska whose name I can't remember. (I do remember his opponent, Dr. Al Gross who killed a grizzly. The other dude? Not that memorable.) But I have decided that I am just going to hit the high points as to why Susan Collins is a horrible person. Let's get started, shall we? In bullet format, as it is easier to read:
– Voted in Trump's favor an average of 67.5% of the times a bill came to her desk in the Senate over the last two Senates seated
– She flipped on promising to keep individual mandate
– She flipped on her stance that a SCOTUS nominee should not be vetted and voted on during an election year
– She flipped on her promise to lower health-care premiums
– She flipped on not lowering taxes for the rich, originally stating the tax rate should not be lowered and then voting to lower said rates
– She flipped on eliminating the estate tax
– She flipped on her support a bill strengthening US elections against foreign powers
– She voted to confirm Brett Kavanaugh
As I did my research into Susan Collins, I realized that she has absolutely no spine of her own, no ideas of her own. She tries to stand on her principles, as when she voted "no" on the confirmation of Betsy DeVos, but she only stands on them when she is sure that the GOP will get their way regardless of how she casts her vote. She realized after her vote to confirm Kavanaugh that she had lost the support of her moderate Dem supporters in Maine and she tried to get them back, lowering her pro-Trump voting percentage to 46.2% in the 116th Congress, down from 77.4% in the 115th Congress.. She is so unpopular in her own state, and so in danger of losing her seat, that almost all of the donations to her political campaign in 2020 are from PACs that are not even located in Maine.
It seems that Mainers have lost respect for her, too.
Collins has said that she will not vote on the nomination of Covid Super Spreader Amy "Handmaid's Tale" Bartlett, that the next President should have that honor. But she only made that concrete after Mitt Romney said that he would support the nomination, thereby ensuring that the GOP would be able to place another conservative justice on SCOTUS. Her comment previously was so open and interpretable that it could have been a painting in the Museum of Modern Art.
Collins has lost the support of her constituency and, as of today, it seems that her opponent is going to handily win.
Sara Gideon, is currently the Maine House of Representatives Speaker of the House. She has served in the state House since 2012, elected as Speaker in 2016. She has supported Medicaid expansion, overrode a veto of the bill that made naloxone available over the counter, and has worked to lower energy costs and has promoted clean energy in Maine. Gideon has also sponsored legislation to expand abortion access in Maine.
As of last week, Gideon leads in the polls by 8 points.
Susan Collins has tried to play the midline her entire Senatorial career. She has been successful at it, for the most part, until the Cult of Trump came in and took over the GOP. I do not believe that she cares about anyone but herself anymore. I think her sole focus is on keeping power for herself and the GOP. For her, as with all our traitors, it's Party Over Country every day of the week.
Sen. Susan Collins has proven to me, through her voting record and her words, that she is aligned with the current President. Which means that she does not stand for me in any of my identities. Her voting record bears this out.
The choice is yours, Maine. Choose wisely.
As a reminder:
It has been 34 days since the story broke in The Atlantic about Trump calling those that serve in the military "suckers" and "losers." Not a single GOP politician has rebuked him for it.
It has been 102 days since the Russian Bounty story broke. Trump has made no comment.
Contact the Feature Writers