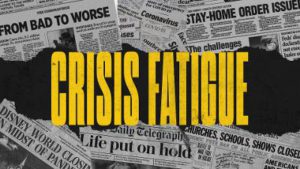 By Robin Edgell, LMSW
This year has been horrible, hasn't it?
January: Australia is burning and Kobe Bryant died.
February: 28 days of relative calm before the storm. Not a lot of bad news, unless you're a 49ers fan.
March: We start hearing about countries overseas closing down due to Covid-19.
And there's where it begins, right? Things don't seem to get any better throughout the rest of the year. From the Trump Administration bungling the emergence of Covid-19 throughout the US, to the economy collapsing, to the deaths of Jerry Stiller and Chadwick Boseman, the amazing Sen. John Lewis and the irreplaceable RBG, to the injustice of the losses of George Floyd and Breonna Taylor, Rayshard Brooks and Daniel Prude and the amazing social justice movement that their deaths strengthened and grew, to the lockdown and isolating from work, family and friends, to the chaos of the entire political arena in a national election year.
This year has been exhausting.
For me, like so many others, I was laid off at the beginning of the pandemic and finally started a new job yesterday. Compounding the stress of being unemployed, I was diagnosed as being menopausal, because what every woman wants when she is unemployed is for her ovaries to retire. This caused me to go into a deep depressive episode because, apparently, menopause and bipolar don't go together too well.
On top of all of that, I gained the Quarantine 15.
As exhausting as this year has been I, like so many others, have had issues sleeping. Worries about being unemployed, the pandemic, the economy, the politics of the country, worry about my family and friends in the midst of all of this….
It's like a carousel from hell that wouldn't stop turning and playing its diabolically cheery music.
Have you felt that? The unsettled feeling? The feeling of being overwhelmed? Irritated? Disappointed? Powerless? Frustrated? Angry? Do you feel yourself overreacting to small things? Reaching boiling point much sooner than you normally would? Or, conversely, not getting worked up about anything because it's just all so pointless?
You may be crisis fatigued.
Most of us are equipped to handle one major crisis at a time. We are not built to handle a global pandemic, collapsing economy, threat of homelessness, crippling debt, unemployment, a wannabe fascist dictator as our "elected" leader, mass recognition of racial injustice, countrywide climate change repercussions, the sudden loss of beloved political leaders and famous personalities, etc. We can't do it all at once and we certainly are not equipped to handle these issues as they come at us in the steady rhythm of a funeral dirge.
Crisis fatigue is not an official diagnosis that you'll find anywhere in a psychiatric manual. But those of that work in the mental health profession recognize it as an actual thing that affects everyone. We see, and feel, the exhaustion, disgust, despair, anger, loss of control. We see it and feel it just like everyone else.
Unlike the crisis fatigue that may be caused by a single tragedy, for example a hurricane or earthquake where there is initially a huge effect from the crisis then steady improvement, there has been no improvement in 2020. There is no clear way out, yet, and no steady hand on the tiller.
So, what to do?
Well, first and foremost, get the hell off of social media. Limit your time there. We have become a culture that is plugged into social media in a way that is not healthy. Limit your use of any kind of social media, giving yourself a mental break. Find a book or movie or television show and lose yourself in there for a moment. Choosing a favorite movie or show to watch again is comforting, like that pair of yoga pants you've been wearing to Zoom meetings. I've been binge-watching "Bones" and re-reading the Eve Dallas series. It's like visiting with old friends in a time when I can't visit with friends.
Secondly, make that effort to connect with people. Whether you do this through text message or watch parties or game nights, make that effort. Yes, it will seem like a lot of work to do to make it happen, but I promise that you'll feel so much better when you do. And no, work meetings do not count as connecting.
Third, be very deliberate with where you put your energy. You may feel that you want to help with a political campaign. Perfect! Choose one way to do that and set aside time to make it happen. I'm working with Victory2020 and AccountableArizona.com. Both of these are very easily adaptable ways for me to participate in the local and national political conversation without becoming overwhelmed. Finding the one or two things that you can do to make you feel engaged and productive in the larger conversation will help you feel empowered and offset that feeling of despair that you may be feeling.
Lastly, for the purposes of this piece, make deliberate time for you to pursue things that you love to do and to exercise. Lordy, the bitching and sighing I heard as you read that! Listen, do you like being outside in nature? Take a walk. There ya go! Two for the price of one. Do you like to bake? Great! Bake something and then take a walk. What I've been doing that's been helping is getting back into cross stitch and dancing around my house to some of my favorite tunes.
Yes, it's hard right now, it really is. I know it, we all know it. Even Michelle Obama knows it. We will make it through. And know that if you ever need anyone to speak to, you can reach out to me through my Twitter and we can chat. If you're feeling like you want to harm yourself, please contact the National Suicide Hotline at 1-800-273-8255. There will always be someone there to speak with.
We will make it through. Together and deliberately, we'll get through all of this.
As a reminder:
It has been 37 days since the story broke in The Atlantic about Trump calling those that serve in the military "suckers" and "losers." Not a single GOP politician has rebuked him for it.
It has been 105 days since the Russian Bounty story broke. Trump has made no comment.
Contact the Feature Writers