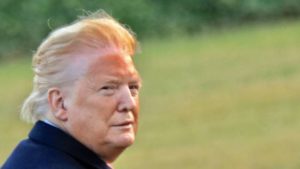 By Robin Edgell, LMSW
Back in 2016, when we were naïve enough to believe he could NEVER win, Trump promised that he was going to surround himself with "the best people" in his administration and "drain the swamp" in D.C.
To quote one of my favorite movies: "You keep using that word. I do not think it means what you think it means."
This week, in an example of the best people, the Taliban endorsed Trump in his run to a second term.
The Taliban – the group that has had an alliance with al-Qaeda since 2001 and helped Osama Bin Laden evade justice for 9/11. More recently, the Taliban has collected bounties for killing American soldiers, something that Trump still has not condemned.
But why should we be surprised that the Taliban endorsed Trump? I am actually more surprised that the Trump campaign declined the endorsement. I mean, they did not decline the endorsement of Osama bin Laden's niece, Noor Bin Ladin. This is a man and a campaign that has been surrounded by criminals since the beginning of his administration, and further back than that. Let's refresh our memories, shall we?
– Steve Bannon, former chief White House strategist, arrested August 2020, for fraud related to crowdfunding the Southern Border wall.
– Roger Stone, official of the Trump campaign, arrested Jan 2019, indicted with relation to Russian meddling in the election, possible collusion between the Trump campaign and Russia and lying to Congress. He was convicted at trial in November 2019 and had his sentence commuted by Trump.
– Michael Flynn, first national security advisor, pled guilty in 2017 to lying to the FBI. This one is still up in the air, as there is some discussion about whether the case should be dismissed.
– Paul Manafort, former campaign chairman, convicted in 2018 for tax crimes in his first trial. Pled guilty before second trial of conspiracy charges. Sentenced to 7 years
– Rick Gates, employed by the campaign and inaugural committee, was sentenced to 45 days in jail for conspiracy and false statement in 2019.
– Michael Cohen, (former Trump attorney who still calls Trump "The Boss"), pled guilty in 2018 to multiple crimes, including campaign finance violations and paying Stormy Daniels hush money as well as lying to Congress. He was sentenced to three years in a federal prison.
That list is just scraping the surface. All the best people, right? Maybe if you worked in the Mafia, and then a lot of this absolute stupidity would just get you killed.
Now, we have international terrorists that have endorsed Trump, but what about closer to home? What luminaries does he have endorsing him here? Let's take a look.
– Vladimir Putin, President of Russia
– Rodrigo Duterte, President of the Philippines
– Jair Bolsonaro, President of Brazil
– 6ix9ine, rapper, songwriter and convicted felon
– Kirstie Alley, actress and strong member of the Scientology Cult
– Roseanne Barr, actress & comedian
– Scott Baio, actor
– Jesse James, former TV personality
– Brandi Love, adult film actress
– Kid Rock, singer
– James Woods, actor
– Chuck Woolery, former game show host
– Glenn Beck, radio host
– Dinesh D'Souza, conspiracy theorist
– Kimberly Guilfoyle, television news personality (who was fired from her Fox job for sexual harassment of a staffer)
– Alex Jones, conspiracy theorist
– Tomi Lahren, um, which blonde bimbo is she?
– Rush and David Limbaugh, radio host and his brother
– Charlie Kirk, whose wife told him a WAP was indicative of an STI
– Jerry Falwell, JR., who was recently ousted from Liberty University for having a less-than-publicly-Christian sexual relationship with his wife & the pool boy
– Franklin Graham
The list goes on, but you can see the best people here, right? Only the best people for Trump, right?
Yet there are still people that are "undecided" about this election. They are not sure that Biden is for them, that he was not their first pick and they do not see a whole lot of difference between Biden and Trump.
I would think that having a terrorist organization endorse one and not the other would help them to make up their minds.
Apparently, not so much.
And, just like his racism/misogyny/xenophobia/numerous affairs/accusations of sexual assault/speaking openly about sexually assaulting women/lying to the American people/killing people at his superspreader events/not paying taxes are not enough to keep him from being supported by a number of Americans in this election, neither will being endorsed by an actual terrorist organization.
Because Americans can be astoundingly ridiculous.
As a reminder:
It has been 40 days since the story broke in The Atlantic about Trump calling those that serve in the military "suckers" and "losers." Not a single GOP politician has rebuked him for it.
It has been 108 days since the Russian Bounty story broke. Trump has made no comment.
Contact the Feature Writers