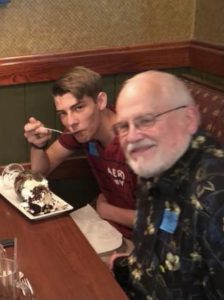 By Robin Edgell, LMSW
I know that today is Tuesday. I know that I promised a Tuesday Traitor article every Tuesday until the election. I was going to do Joni Ernst from Iowa today, but when I checked to see what her voting with Trump percentage was and saw that it was 92%, I just could not face her. So, here is my Traitor Tuesday message:
Joni Ernst is horrible. She voted to confirm Kavanaugh, did not vote for impeachment and thinks that Trump is right 92% of the time.
Vote for Theresa Greenfield!
Awesome! Now on to a great, and maybe embarrassing, story about my youngest son.
My youngest son will be 21 next month. I could go on and on about how time flies when you are raising children, about how I cannot believe he will be legal to purchase alcohol in just a few short days.
Whatever. Everyone knows that kids grow up fast. Mostly because time seems to pass faster when you are sleep deprived, which all parents perpetually are.
My youngest is a procrastinator. He learned from me, which is to say he learned from a Master in the Art of Procrastination. I, in turn, learned from a Master, my father.
That picture is of my youngest son and my father in 2018 before my son's high school graduation. They joked and laughed, and my son gave as good as he got. It was wonderful.
My father was in the Air Force for 24 years. He was all over it at work, making things happen. He was, by all accounts, a great boss. I remember speaking with a gentleman at Shaw AFB, South Carolina, 2 years after my father had retired and a continent from where my father served at his last station in California. Apparently, this airman had worked under my father years before and remembered him fondly. That was awesome, to tell the truth.
But, at home? Lord, I can remember my mother exasperatedly telling my father to please "take these things off the stairs and carry them up to your office!" I think my dad thought that his random things were put away because he had randomly put them down somewhere.
My mother felt otherwise.
As my father got older and we children moved out of the house, he realized that he could no longer blame things being out of place on us kids and started putting things away less than 24 hours after he put them down somewhere they shouldn't be. This was a major move in the right direction in my mother's eyes and keeps her exasperated "reminding" to a minimum.
I will admit to being no better. The problem was that I married someone just like myself. You can imagine the mess that our house perpetually was – two kids, two dogs, and two adults that both procrastinated when it came to putting anything away. Well, I couldn't manage all that well and my ex thought it was my "job" to keep the house up. Yeah, we were both disappointed with the results.
I apparently passed this trait onto my youngest. Not the not putting things away part, because he is much more anal than I am about that kind of thing. No, the procrastination part.
My son is a sophomore in college. He is currently taking a class that makes him write papers. He does not like writing papers and, let's be honest, writing papers isn't his strong suit. Mostly because he does not like writing them, so he doesn't want to put any effort into them.
Anyway, he called the other day and asked me, for 40 minutes, if I would write a paper for him. It was funny, and we were laughing the whole time, but it was 40 minutes of him asking me to write his paper and me telling him to whine to "1-800-WriteYourOwnDamnPaper" or to email "I'mAWhinyBitch.com" with his complaints. We had a good laugh about it.
Not two hours after we hung up, he texted me and told me that it took him a total of 40 minutes to write the paper that he spent an additional 40 minutes asking me to write for him.
Just yesterday, he asked me to proofread a paper for him. It is supposed to be 4-5 pages long. After I had removed the extra space after the paragraph, took out lines he had typed twice, and fixed his formatting, it was 3.5 pages long. He needs another .5 pages. Today, I received the following text message from him:
Son: "I am currently trying to highlight all periods to make them size 14 and seeing if that helps."
Twenty minutes later I received this text message from him:
Son: "It doesn't help a whole lot."
3.5 pages of highlighting periods and enlarging their font size had to have taken at least 30 minutes. 30 minutes he could have used to write half a page. But he does not want to write half a page, so he procrastinates by increasing the font size of the periods in the paper.
Like father, like daughter. Like mother, like son.
He makes me so proud.
As a reminder:
It has been 41 days since the story broke in The Atlantic about Trump calling those that serve in the military "suckers" and "losers." Not a single GOP politician has rebuked him for it.
It has been 109 days since the Russian Bounty story broke. Trump has made no comment.
Contact the Feature Writers