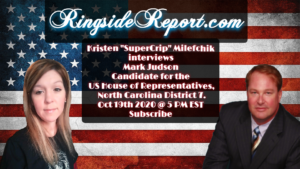 RSR Press Release
Mark Judson is a rare breed of Democratic congressional candidate. He's been an accountant for over 20 years and is a U.S. Army veteran, who spends his spare time dabbling in stand up comedy, improv, and Martial Arts, earning a Brown Belt in Kempo and a Red Belt in Tang Soo Do.
Don't miss this interview with Mark, where Kristen will discuss his journey running to represent NC-7, the lessons he's learned, and what his vision for the future of NC and the country is tomorrow night, October 19th.
The interview will be recorded at 5:00 pm EST and uploaded to Kristen's YouTube channel later that evening. Subscribe now to receive alerts for this and all upcoming episodes to the Kristen "SuperCrip" Milefchik Ringside Report Show!