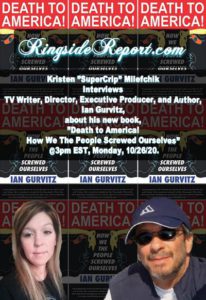 RSR Press Release
On October 26th, Kristen "SuperCrip" Milefchik interviews Ian Gurvitz, to discuss his book, "Death to America! How We The People Screwed Ourselves" The video will be published on YouTube, the following day, October 27th.
In addition to writing four previously published books, Ian is a TV Writer, Director, and Executive Producer, having produced over 300 episodes of shows such as Wings, Becker, The Wonder Years, Get a Life, and Frasier.
As always, Kristen brings you exclusive and intimate discussion relevant to the social and political issues of the day. Don't miss this interview and make sure to subscribe to Kristen's channel so you don't miss this or any other exciting episode in the future!