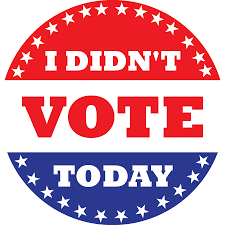 By Robin Edgell, LMSW
We have all heard, and possibly participated in, the excoriation of the 100 million voters that did not vote in 2016. We all know that we ended up with the Orange Poopyhead because these folks did not feel the need to get off their asses to vote.
Also because of that racist institution, the Electoral College. But inanimate objects cannot be traitors, and this is my column, so let me continue.
In 2016, only 43 percent of all eligible voters voted. 43 percent. Who the hell knows why they did not turn out in the numbers that honored those that had fought for their right to vote, numbers that honored those that had lost their lives fighting to keep this country free and a place where their vote would count.
Who knows – but I have a theory.
In 2016, things were going well for most everyone in this country. The economy was stable and doing better than anyone could have imagined after the nightmare of 2008. Gay marriage was made legal in 2015, President Obama was the trusted Captain of our ship and Vice President Joe Biden was his trusty second-in-command. They were kind, photogenic, and wonderful people.
No way did we think that Trump, a reality star, a con man, an accused rapist, and serial philanderer had a chance. The polls backed that up. We – voters, pollsters, talking heads – did not think he had a chance.
We, all of us, were complacent. We got complacent. We did not think we needed to be on guard against a fascist regime that would wreak such damage to our country, our treaties, our standing in the world.
So, we did not vote. More than 40 percent of the eligible voters did not bother to vote. This is my theory, and one that I am sure is not backed up by science, but I think it played a part.
We came out in force in 2018, turning out in the highest numbers ever recorded for a midterm election, with fifty-three percent of the eligible voters casting a vote. 2018 also saw the highest jump in voter turnout for the 18-29 year old demographic, a 79 percent jump from the 2014 midterms to the 2018 midterms. Across the board, men and women, BIPOC (Black, Indigenous & People of Color) and white, educated and uneducated, came out in larger numbers in 2018.
However, we still were left with the Orange Shitgibbon for two more years. Because no one could be bothered in 2016.
According to the AP, as of October 25th, Democrats had cast 51% of all early ballots and Republicans had cast 31%. The totals for early balloting in 2020 are much higher than at this same time in 2016. This year looks like we will break all records with a turnout of maybe 63%, the highest ever for a Presidential election.
Where are the remaining thirty-seven percent of eligible voters? Well, some may be sick. Some may be serving in the military in places where it may be hard to get a ballot. But these are small percentages. Where are the voters?
According to studies, tens of millions of people did not vote in 2016 because they did not like the candidates, or they did not support the campaign issues. Running a close second to that excuse was that they felt that their vote would not make a difference.
Fair reasons for not voting, but still the act of a traitor.
Let me make it clear: if you do not use your Constitutional right to vote, you are betraying all that the United States was founded upon. If you are BIPOC or female, you are betraying all those that came before you and fought for your right to vote.
Voting is a right and a privilege in this country. It is the one time, every two to four years, that you get to make your voice heard about the issues that you care about. It is the moment that have a hand in choosing who will lead your City/County/State/Country for the next term. (Yes, the Electoral College is shit – please see statement above)
Don't believe that your vote matters? Ask the Lincoln County District Attorney in 2010, where the primary race was decided by only 3 votes. Ask the winner of the Stockton, CA, Unified School Trustee Area No. 3 in 2008, Jose Morales. He beat Anthony Silva 2302 votes to 2301 votes. Ask Thomas Jefferson, who was elected to the Presidency in 1800 by one vote in the House of Representatives after a tie in the Electoral College. Ask Samuel Tilden who won the presidential popular vote but came up one electoral vote shy and lost to Rutherford B. Hayes in 1876.
Ask every male between the ages of 18 and 25 who must sign up for selective service for two-and-a-half years rather than one year. That passed in 1941 by one vote, 203 to 202.
Your vote counts.
No, you may not like the candidates. Maybe you do not care. But a person who does not vote is someone who supports the current administration. The current administration has proven to me, through its documented lies and inaction that it does not stand for me or mine. That through their actions and withdrawal of protections it does not stand for me or any of my identities: Woman, Mother, Veteran, Bisexual, Social Worker, Activist. A person who does not vote stands with this administration and turns their back on what this country could be.
Your opportunity to be an upstanding patriot, a strong American, comes between now and next Tuesday. The choice is yours. Choose wisely.
As a reminder:
It has been 55 days since the story broke in The Atlantic about Trump calling those who serve in the military "suckers" and "losers." Not a single GOP politician has rebuked him for it.
It has been 123 days since the Russian Bounty story broke. Trump has made no comment.
Contact the Feature Writers