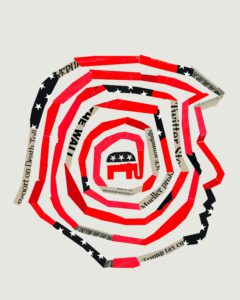 By Robin Edgell, LMSW
Today's the day! It's finally here. Election day. This has been the longest election season in my memory. I mean, election seasons have steadily gotten longer, but this one has seemed to last since 2020BC. This entire year has lasted forever. I'm just glad the day is here.
I am working as a poll worker today, starting at 5am. It is a very early day, and a very long one. Our polls do not close until 7 pm tonight, or until the last voter has voted. During the primaries in August, I did not get home until close to 10pm. I must show up for work on Wednesday at 8am like usual. I know, for a fact, that I am going to be dragging my Biden supporting ass to work on Wednesday.
My poll leader told me that she was ready for any jerks that may show up which is reassuring on the one hand and worrisome on the other. I am seriously hoping that we will have zero issues.
We all know that we probably will not know the results of the election tonight. So many have voted by mail-in or drop-off this season that all the votes will not be counted tonight. Also, nothing is settled until the Electoral College (Joe, can we get rid of that?) votes on December 13, 2020. Yes, we will probably have a good idea, but that is when it will be official. And I know that a lot of us are worried about what will happen after tonight, but let's focus on today and our last Traitor Tuesday.
Our last Traitor for the election season is a big one: The GOP.
The Grand Old Party. The Party of Lincoln.
The assholes that landed us with Trump.
Understand this – Trump was not the start of the decline of the GOP. He was the end of the decline of the GOP. The party has been building to this for 40 years, ever since they installed Ronald Reagan. Their bolstering of the Christian Right/Religious Right movement, that led us to the Tea Party, that led to absolute obstructionism and failure to carry out their duties during the Obama Presidency. The GOP has been heading down this road for years.
Now, to be sure, the Democratic Party bears responsibility in this rise of the whacked out GOP we are seeing now. The Dems have failed to check this rise of power and the absolute disregard that the GOP has shown for tradition, rules, and laws. They have had shown that they have no spine to do what is necessary. And, honestly, that has never been better illustrated than when Sen Dianne Feinstein (D-CA) hugged Sen Lindsey Graham (R-SC) after the confirmation hearings of Amy Coney Barrett stating, "This has been one of the best set of hearings that I've participated in. IT leaves one with a lot of hopes, a lot of questions and even some ideas perhaps of good bipartisan legislation we can put together."
Seriously?
Yes, the Dems hold some responsibility. But the GOP has managed, over the last 40 years, to consistently wreck our economy (leaving it for a Dem President to clean up their mess), they have consistently brokered tax deals that have benefitted only the wealthy, decimating the middle- and working-class and allowing for the plundering of Social Security, Medicare/Medicaid, and retirement funds.
Over the last four years, the GOP has only gotten more brazenly bold in their plundering. And why shouldn't they? With criminals in the White House and on the staff of the Criminal in Chief, along with their co-conspirators in the Senate and the Judiciary, why shouldn't they have stolen this country from the rest of us?
So, today, you must ask yourself who do you want in charge? A whining, petulant man-child who has ties to the Mafia, has ripped off small businesses for decades, has stolen from the IRS, has conducted any number of affairs, treats his children horribly and his other family worse (his own sister thinks he's an idiot), associated for years with a known pedophile, has so many charges of sexual assault against him that I've lost count, spoke openly about sexually assaulting women, is a xenophobe and acted on those beliefs to the detriment of thousands of children, and is an all around ass who is supported by every GOP politician out there.
Or, you can vote for decency, for the future, for kindness, for respect of the law, the Constitution, the American people.
Either way, be careful out there. Wear a mask, socially distance and be polite to your poll workers. Cast your vote and make your voice heard!
After this election is over, us Resisters will work on the next part of the plan for America. Tonight will decide whether we're paddling upstream in quieter waters or in the rapids.

Contact the Feature Writers