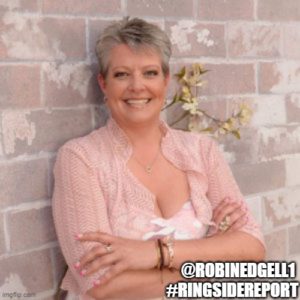 By Robin Edgell, LMSW
I worked the polls yesterday. Tucson has a lot of polling locations, 249 across Pima County. The poll I worked yesterday was not my polling location. In fact, I do not even know where my polling location is because I always vote by mail. However, I do know that the polling location I worked is 2 blocks from the next precinct polling location. Close and easily accessible in Tucson is the name of the game for voting.
Pima County has more registered Democrats (256,582) than Republicans (186,057). When I worked the primary in August, we had 78 people show up at the polling location, most of them were Republican. We can tell because of the ballot we have to hand out during the primaries indicated Republican. Today, most of the folks that came in were also Republican. Some were obvious, like the older woman wearing a MAGA hat and the younger gentleman wearing a "Trump 2020" face mask (do y'all see the irony, too, or is it because I'm so exhausted?). Others, not so much, but the tell-tale signs were there: an aversion to wearing a mask correctly, older, poorer. But this is what we expected, right? Most Republicans were going to come in to vote because Trump was so against mail-in ballots. I am confident that my county will go to Biden. (PS – while I was writing this, Fox called AZ for Biden. Then they withdrew it because Trump through a temper tantrum)
Working the polls is exhausting. You report to work at 5am and do not finish until everything is completed and accounted for. Today, I left the location at 8:30pm. You cannot leave the building while the polls are open. I am very tired and stressing about the polls. I know I shouldn't stress, but I can't help it.
Anyhoo, we had 178 folks come through to vote today. That is a lot for our little polling place. I had a good time and it was a lot of fun. We had 15 first time voters today, which is always a lot of fun. We ask if they are and, as they drop in their ballots, we send up a cheer of "FIRST TIME VOTER!" and we all cheer. It's cheesy and fun and makes the voters smile.
I had one gentleman come in this morning that obviously had a disability. He could not communicate well and we thought he had a hearing issue. Our polling captain escorted him out. He came back and I approached him to offer help. He handed me a card stating that he had had a stroke and had aphasia, which is an issue making it hard to understand words and language. I ended up walking him through the process of voting, including filling out his ballot. Now, this is how you know that I take my oath seriously: this man voted a straight GOP ticket. So much so that he refused to vote in races where there was only one candidate if that candidate was Democrat.
I do not understand that compulsion to vote against your best interests. We had four more voters come in that needed assistance with filling out their ballots. Each and every one of them voted straight GOP. Each and every one was disabled, elderly, and poor. It boggles my mind. But then, WV & KY went for Trump, Mitch McConnell was apparently re-elected tonight, as was Lindsey Graham. See? Mind boggling.
A lot of young faces today. I would say there was a good chunk of folks that were in the 18-25 year age range, a lot more than what we saw during the primaries. That was not accounting for all the young'uns that voted by mail. I am so hopeful for this country. The last time that the youth were mobilized like this in recent history was in the 1960's. Then, they ended a war and changed the path of the country. I have hope that the youth of today can do the same thing…or better.
We had two of our first-time voters vote on their birthday, today. That was really awesome.
I hate to disappoint, but we only had one person get upset and be escorted out. A woman came in upset about having to vote a provisional ballot because she was too lazy to return her early ballot. That's the law, sweetheart. Bring your early ballot and drop it off, vote provisional or go home. Three choices. Your failure to turn in your early ballot does not mean that we will break the law for you to vote just because you say "I refuse a provisional ballot" because Facebook told you to. GTFOH. She was escorted out. She swore she was going to call everyone and complain. She was invited to do so. It is ridiculous because provisional ballots in Pima County are treated as early voting ballots and you can track the ballots, too. Ridiculous Facebook fueled idiocy.
Oh! We had one dude that called in a complaint because the deputy polling chief was asking if any of us were Republicans because we need opposing parties to sign seals and transport them. This asshole yelled at us as he was walking out the door about "not talking politics" and called in a complaint. Dick.
For the most part, it was a good day. No long lines, AKA voter oppression, no real issues, no fights, no yelling (for the most part). We finished up and got everything sealed up and ready to go.
The day is long as a poll worker. We do not live in a space where voting is hard or, for the most part, unfair. I enjoy the work, even with as long of a day as it is. I will volunteer to do this again in 2022 with the midterms.
I hope that all of you think about doing the same thing. Or starting a group to get people to the polls. Or do some other community engagement in your community around voting/the election.
The process only works when we are involved. Get involved. And, for the next few days remember to breathe as the mail in ballots are counted. If you need, you could pop over to NJ or AZ and get yourselves some legal weed!
Happy Election Day, y'all!
Contact the Feature Writers