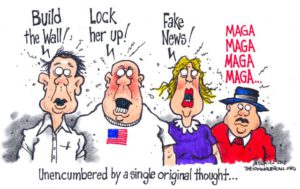 By Robin Edgell, LMSW
It's done. We did it. We removed the Shiteating Orange Gibbon from the White House. Of course, he hasn't said he concedes, because he never would. Of course, he went golfing both Saturday and Sunday. Ending his Presidency where he spent most of it. It's par for the course where Trump is concerned.
(Solid Dad joke. You can snort, it's fine. No judgement here.)
A few times on Saturday, and more often on Sunday, I heard the "Liberals have to work with us," and "We need time to process our loss."
Uh huh.
Here's what I have to say to that:
Politics is a relationship. Everyone in politics should be working for the good of all Americans. That means that, sometimes, you're going to have to compromise with the other side. Because, honestly, shouldn't all politicians want to do what is right for ALL of their constituents? Shouldn't they want to do what is best for everyone they are responsible for representing?
The Dem side of the House and the Senate has tried for years to be compromising, trying to meet folks in the middle. But, what happened when President Obama was elected? Your leader, Mitch McConnell stated that his only goal was to make sure that President Obama was a one term President. Then he proceeded to block any and all judicial nominees that President Obama put forward, refused to work with anyone on the Dem side of the aisle and used his horrid shenanigans to block an amazing judge from becoming a Supreme Court Justice.
That was twelve years ago. And you can bet your damn bippy I remember what that fucking bruised up little turtle has done since then.
You want us to work with you? Yeah, we can do that. We, the Proud Resisters, were not resisting solely because we hated Donald Trump and all of his minions with a burning passion that makes Hell look like a vacation in the tropics.
No, we didn't Resist for ourselves. We Resisted because we saw that the Trump Administration was burning America to the ground and trying to install a fascist regime. There is a reason that the American people partied in the streets like it was fucking Arab Spring: we had deposed an autocratic leader who has actively been trying to destroy democracy and has pissed on the Constitution from day one of his Administration.
We resisted because we had the backbone to stand up to a demagogue and tell him "Not on our fucking watch, Buddy." Unlike EVERY SINGLE REPUBLICAN in Congress. Unlike every single Republican Governor. Unlike every single MAGAt who worshipped him with a fervency we hadn't seen since Jonestown and Charlie Manson.
When all of you told all of us, repeatedly, that Trump was our President and that we had better accept it, we didn't tell you we needed a minute to process our loss. Even though we knew what was coming, none of us imagined it would get this bad.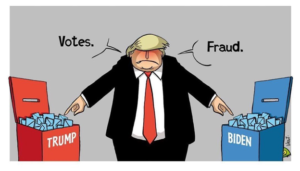 When all of you told all of us, repeatedly, that we were snowflakes when we objected to something downright disgusting/vile/horrible Trump or Giuliani or Barr or [insert name here] had done. Even though we knew what was happening was wrong, none of us imagined it would become so horribly wrong.
And still we tried to go high. But y'all just kept going lower and lower and lower. And now, at your lowest point, you are looking to us to bail your pathetic asses out. You want us to suck it up and treat you with the respect and dignity you refused all of us for the past four years.
Let me tell you straight – I need a few days to process this win. To rub your fucking classless, racist, xenophobic, conman supporting noses in the win of a lifetime. To make you realize that we saved your fucking asses, AGAIN, and to remind you that your life has nowhere to go but up from here because WE, THE PEOPLE with a half a fucking brain and compassion and empathy and love for all of our brothers and sisters voted for a decent man who will be an AMERICAN President, for a Vice President who will fight for all of us.
We, Snowflakes all, did that for you assholes. So, we'll come around to working with you. Eventually.
But you'll need to apologize first.
We're waiting…….
Contact the Feature Writers