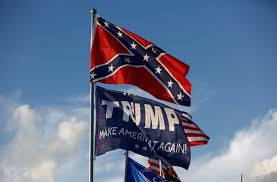 By Robin Edgell, LMSW
As many of you know, there are a lot of MAGAts out there with a shit-ton of Trump flags. Trump flags from 2016. Trump flags from 2020. Some that say "Make America Great Again" and others that say "Make America Great Again Again" or "Keep America Great Again".
Yeah, none of those make sense to me, either.
But, if you have these amazing flags (all made in China, BTW), let me put on my crafting hat and give you some ideas about what to do with them:
– Build a super cool fort where only other MAGAts that know the super-secret password can come in and y'all can cry tears of grief together.
– (The super-secret password is "pussy," but you can only say it without a) giggling, or b) without throwing a punch to get in.)
– Fashion a toga to go to MAGAt singles nights where you can find yourself a good woman to make your dinner and change your diaper do your laundry while you bring home the turkey bacon because those damn libs are taking all your pay in taxes
– Make an amazing tank top that you can then rip off at a bonfire with a beer in one hand and a fried Oreo in the other. Chicks dig that.
– You can always continue to fly it on the back of your dually to identify yourself to everyone around you that you're proud of your stupidity
– Take it to a Trump Rally (yes, those are still a thing) and wear it like a Superman cape because you think Trump is gonna win the vote by some miracle because you heard Ms. Paula say so
– Use it as a binky to cuddle with while you watch Fox News and hear about all the amazing things that President Biden is doing for you and your old ma
– Make a tug toy for your tick hound
– Use it to line your garden to keep the weeds out
– Use it to cover the side of your landscaping business for possible news conferences
– Hold a ceremony in the woods in your hoods to burn it and offer it Jesus
– Cut it into strips and use it for eco-friendly toilet paper
– Cut it into fourths to give to all your baby mamas to use for reusable diapers
I'm sure that there are more uses for your old Trump flag. Maybe you have some ideas? Share them with us!
Contact the Feature Writers