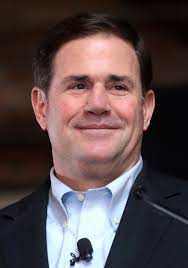 By Robin Edgell, LMSW
For those of you that do not follow me personally on Twitter, you may not know that I am involved in an effort to recall our "esteemed" governor, Doug Ducey, for his utter failure to handle the Coronavirus using science as a guide. It is a cause near and dear to my transplanted Arizona life.
I also work as a case manager for a non-profit in town. My clients are some of the most marginalized and stigmatized residents in Tucson. They have mental health issues, physical health issues, and most of them are just barely making it by tapping into the resources we can connect them with. This week I have renewed three emergency shelter authorizations, done four rental assistance packets, and will be delivering food to those that are home bound, ill, or have no transportation, so that they have something to eat.
Our Governor, like so many other Republican governors and the GOP establishment at large, has mishandled this pandemic. In Arizona, the handling is especially egregious. Our folks that are on unemployment are making about $250 a week and only some are getting food stamps. Our food stamps here in Arizona are normally $15 a month (no, that is not a typo). The governor has seen fit to increase that to $198 a month, which is so kind of him. But we still have the second lowest benefits of any state in the Union.
I do not know about y'all, but I regularly eat $150 a week in food.
No one who is currently receiving help wants to need the help. I have spoken with clients that express shame that they are having to take advantage of the food pantry and the Community Food Bank to be able to go to bed without a hollow belly. They want to work and support themselves, and the governor has made that impossible.
I had a client tell me that they were ashamed that they were taking the food, that they were sure that they were taking it from someone who needed it more. I had to convince him that we had enough for him and the other folks that were asking for help and that he did need it badly enough. He had been going hungry because he was so ashamed to ask for help.
What a sad state of affairs our leaders have led us to.
We are heading toward another shutdown which we desperately need to control the virus. But it is going to have serious economic impact on those that are barely holding on and can't do their jobs from home: grocery workers, servers, bartenders, etc. The folks that hold these jobs are often living penny to penny and cannot afford any time off. Their lives are balanced on a fine blade between survival and complete destruction of their lives.
Knowing all of this, experiencing this for most of the year, I was shocked and beyond pissed to discover that the State of Arizona is sitting on a $411 million surplus in it's budget, in addition to a $970 million "rainy day fund."
Whisky Tango Foxtrox???
Why is that money just sitting there? Why hasn't the state government authorized a release of those funds to those that need it? Why hasn't this money been made to non-profits that could make sure it gets to those that need it the most? What constitutes a rainy day if not this? I mean, is Doug Ducey keeping all this money because he enjoys swimming in it like Scrooge McDuck? Why hasn't he released these funds to help Arizonans weather this crisis?
The GOP controlled government, from the President, to the Senate (I'm looking at you McConnell), to the state governors (Ducey, Noem, Reeves, etc), to the local assholes who think that a mask mandate is screwing with your life, have failed each of us. In Arizona it hits closer to home for me because I live here and because of the work I do. This cannot go on. We continue to not have a mask mandate in place because tRump is an idiot and everyone around him enables his idiocy.
Trump golfs while the world burns.
Doug Ducey celebrates his anniversary by going out of town while Arizonans die and are tossed into the street.
I am 47 years old. I have never, in my entire life, seen such a failure of leadership as what I am living through right now.
I hope I never do again.
To support the effort to recall Gov Doug Ducey, please visit AccountableArizona.org. There you can donate money, volunteer, or find a signing location near you. Our volunteer team appreciates your support!
Contact the Feature Writers