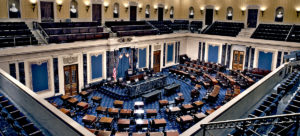 By Kristen "SuperCrip" Milefchik
While it's been almost two weeks since the presidential election was called and Joe Biden and Kamala Harris were announced President and Vice President Elect, it doesn't feel like that constitutionally protected victory is as bulletproof as it should be. The reason for that has a lot to do with Republicans in the U.S. Senate, and some Republican local officials who have decided to get behind the orange shit-magnet's unprecedented tantrum in refusing to concede. While it's supremely unfortunate that people who were elected to uphold democracy are choosing to put it in a stranglehold for the sake of preserving their own power, I think it's a really good time to address the lack of knowledge pertinent to being a civically responsible voter in this country.
I used to think the presidency was one of the least powerful positions within government, simply because it's typically very difficult for a sitting president to manufacture their will in legislation and judicial oversight without the support of Congress and the Supreme Court. Never, until the orange shit-slinging monkey, could I have imagined the influence of a president's rhetoric on the country's social norms and behavior though. Never before, had I personally witnessed someone with this recognized, world-wide platform use it to sew discord, division, distrust of journalism, and cult-like complicity of his followers. I also had never seen someone appoint people so unqualified, yet so fanatically loyal to head all of the executive departments of government, and use executive orders like office memos in asserting personal will over matters the president has no business even meddling in.
Fortunately, Joe Biden has enough respect for democracy to bring balance back to the executive branch of government once he's sworn in in January of 2021. He will (thank you, Sweet Baby Jesus) appoint experienced and knowledgeable people with a respect for American democracy to his cabinet to head the various departments, like the Department of Justice, Education, Energy, Homeland Security, etc. I don't think anyone had any idea how much the power of the sitting President to appoint these various cabinet positions could affect the day-to-day impact on Americans until the toddler-in-chief gathered up the most unqualified, corrupt, racist loyalists imaginable for them – and if they weren't corrupt or loyal enough, he fired and replaced them with someone who was. So obviously, this feature of the Biden presidency alone will repair a lot of damage. Yet, there's two other branches of government that will have a monumental impact on the Biden administration's ability to right the wrongs of the past four years, and frighteningly, an extremely small percentage of the population understands this.
I'm not being an elitist to say this. Indeed, Tommy Tuberville, a recently elected GOP member of Congress, did not even know what the three branches of U.S. government are – those being the executive, legislative, and judicial branches. If our newly elected officials can't even name the three branches, can we realistically expect voters to understand the negative impact of having a Republican majority Senate on the Biden administration to get shit done and start cleaning up the dumpster fire of a mess the previous administration will have left it? Of course, we can't. A study by the Annenberg Public Policy Center of the University of Pennsylvania found that only 26 percent of Americans can do any better than Tuberville in naming the three branches of government – and that's just naming them, not necessarily understanding their functions in passing and enforcing legislation. The reason why this keeps me up at night is because too many Americans believe that Biden will be solely responsible for "building back better" once he is installed, and do not understand that if we do not flip the Senate blue, his hands will be, largely, tied behind his back.
As it stands now, the Senate is still red, that is, the majority of Senate seats are filled by Republicans. Therefore, even though the House of Representatives are typically the first to vote on a bill, or potential new laws or policies, and the House is majority blue, or Democratic, the Senate, who is majority red, or Republican, can stop any legislation in its tracks from going on to become enforceable by law. This touches on everything from healthcare, to police reform, to labor, to environmental policy, to education, all of which the Biden administration is expected to make significant positive changes to. If we don't flip the Senate blue, however, the Biden administration can only take their plans so far and many of them will never see implementation. This is how a Republican ruled House screwed the Obama administration, and unbeknownst to many Americans who don't understand how our government functions, stopped Obamacare from being all that he envisioned for Americans. Several Republicans made it abundantly clear that they put ensuring Obama's failure over any policy change that could essentially help Americans pull out of the economic disaster left for him by the previous Bush administration. "We're going to do everything — and I mean everything we can do — to kill it, stop it, slow it down, whatever we can," John Boehner, the then Republican Speaker of the House said of Obama's agenda. Better known, Mitch McConnel, then the Senate Minority Leader (not Majority, like he is now) stated, "The single most important thing we want to achieve is for President Obama to be a one-term president." So they only agreed to pass Obamacare because Obama had to drop important provisions of the law as he originally wrote it, such as a public insurance (like Medicare is) option.
This is what it means to put party over country. The GOP (Republicans) have never cared about the well-being of the people of the United States. They only care about two things – their party's control and money. There's a reason why Trump's tax cuts primarily benefited the wealthiest Americans – Republicans love corporate favors and benefitting their ultra-rich CEOs is a way to get rich off politics. You'd never know that talking to a Trump supporter, of course. Fox News, One America News (OAN) have somehow managed to convince these ill-informed cult members that he's the savior of blue collar laborers. Nothing could be further from the truth.
Yet, the orange monstrosity is no longer the threat. It's the Mitch McConnell, Republican led Senate that could block every major success of the next four years, and could even leave Americans disheartened enough to vote in the next Republican corporatist tool to run for presidency in 2024. We CANNOT let this happen. Even though the Senate is currently red, we still have the opportunity to flip it blue for Joe and Kamala.
For one, you may have noticed that Mitch McTurtle is looking increasingly unwell lately. The 78 yr. old has been seen with bad bruising, dark purplish-black, on his hand and upper lip. There's a lot of speculation around what this is from, among them, that he could be on a very high dosage of blood thinners, which is probably not a good sign. Additionally, Chuck Grassley, 87 yrs old, recently tested positive for COVID-19. Although it's not the way I would prefer it to happen, either one of these Republican Senators kicking the bucket would free up a seat in the Senate for a potential Democratic replacement. Death of any Republican Senator is never ideal, however, because it cancels out the opportunity for future investigation into their corrupt practices, including their likely contrived re-election.
Speaking of election results stinking of foul play, Lindsey Graham, N.C. Republican Senator is in hot water right now. Not only were millions shocked that he won reelection against highly popular Democrat, Jamie Harrison, the arguably BIGGEST hypocrite of the GOP (and that's saying a lot) has now taken it upon himself to call up and pressure Secretaries of States, whose states Biden won, to question the validity of their election outcomes. Georgia's Secretary of State, Raffensperger, a Republican himself, was brave enough to come forward about the unethical behavior and call out how preposterous, as well as corrupt, it was. Graham now faces a complaint filed with the Senate Ethics Committee into it. If they agree that his actions were morally compromised, that could threaten his seat as well. Unfortunately, the Senate is unlikely to take action against one of their own majority, with the knowledge that if they lose the majority, they lose power of having the final say on legislation.
The most likely way for Democrats to assume control of the Senate is by electing Reverend Warnock and Jon Ossoff in the Georgia Senate runoff elections that are due to take place in January. These special elections are happening because neither candidate in these two races exceeded 50 percent of the votes for the November 3rd election. The Republicans they are trying to unseat are Senators Kelly Loeffler and David Perdue. Again, the financial dealings of these two are shady and should be questioned by those who still believe that the GOP is the party of the American working class. Both of these Senators were privy to inside information about the COVID-19 pandemic from a special briefing before the general public was made aware of the potential dangers. They both began "heavy trading" in the stock market the very same day as the briefing including (according to dscc.org):
– (Loeffler and Perdue) reported stock purchases in a company that "makes COVID-19 protective garments"
– (Loeffler) dumping stock in an online travel booking company right before Trump announced the ban on flights from Europe to the U.S. and online travel reservations "collapsed" due to the pandemic.
– (Perdue) "sold shares of Caesar[s] Entertainment, the casino company whose properties were shuttered as the virus spread" while investing in Netflix as millions of Americans are stuck at home.
Do these conveniently timed and profitable buying and selling of stocks seem too coincidental to not have been based on having inside information about COVID-19 due to their political positions? That is because they are. This "insider trading," is also illegal under the 2012 Stock Act. Besides being illegal, it's especially disturbing that these elected officials would choose to profit off of such privileged information when the average American is suffering tremendously due to the impact of the virus on our economy. This is typical Republican behavior, however. Exploit the poor to get ever richer and more powerful.
I could continue for pages about the benefits of electing Warnock and Ossoff over Loeffler and Perdue, but that's not really the intent of this article. If you're reading this, chances are you already knew much of what I've outlined so far and you don't need any convincing. The voters in Georgia are who we need to reach.
Obviously, there's only so much we can do if we're not a registered Georgia voter, but what we can do is support the efforts of organizations like No Dem Left Behind (NDLB) or the Democratic Senatorial Campaign Committee (DSCC) that are doing the on the ground work to educate and register voters, and help mobilize the vote in Georgia before the election deadline of January 5th, 2021. Absentee ballots can begin being mailed by election officials on 11/18/20 and will be accepted until election day on 1/5/21. Early in-person voting begins on December 14th and also runs until January 5th.
Grassroot efforts, door knocking, and in-person canvassing have never been more essential than they are in Georgia, right now. Some people simply do not know what is riding on this election and Republicans are relying on lack of voter knowledge and a lack of voter turnout to ensure their continued dominance in the Senate and over American lives.
Don't let them get their way.
Donate to No Dem Left Behind's efforts.
Sign up to help the the Democratic Senatorial Campaign Committee at https://www.dscc.org/take-action/ or make a financial contribution at https://secure.dscc.org/page/contribute?source=DPW-TopLink
Contact the management team