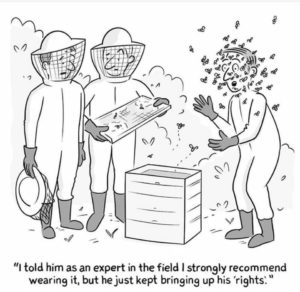 By Robin Edgell, LMSW
This weekend I was gathering signatures for the petition to recall our governor, Doug Ducey. I have talked about why I am doing this on my off days here in this article on Ringside Report. But this past weekend, I had a truly amazing encounter: an anti-masker in the wild.
They looked like normal people. I had set up outside of a dog park and was enjoying the nice weather, watching the pups play with each other. These two folks, a man and woman and obviously a couple, walked up (maskless) and asked if they could sign.
"Are you registered to vote in Pima County?" I asked.
"I am," the woman responded.
"I'm not registered to vote anywhere, for reasons," the gentleman answered.
He did not elaborate, but seemed to be up on current affairs, so I figured that there may be a reason outside of his hands that kept him from registering. I did not push.
The woman signed and thanked me for doing this. Then she said, "I don't know why you want to recall him, but I think he should be recalled for making us wear a mask. It's my body, my choice and the government should not overreach into what I do with my body."
WHOOP WHOOP! RED FLAG RED FLAG! DO NOT ENGAGE! my gut screamed at me.
My brain on the other hand…..
"Well, masks are proven to keep us safe. It keeps me from infecting other people if I'm asymptomatic and it keeps you from inhaling the virus," I say, in my best "you're acting like a jackass and I'm trying to avoid a confrontation" customer service voice.
"But people are dying even with masks and they don't work. The CDC says they don't work, and they are never wrong."
I barely hold off on rolling my eyes at this comment while simultaneously cursing the current Administration and their toadies in my head.
"That may very well be," I respond. "But the World Health Organization says…."
She cuts me off. "They're nothing but liberal activists that are supported by Clinton and Obama."
Ummmm…..
"Well, thank you for signing. I appreciate your time. Have a great Thanksgiving!" I say as I turn my back on them and take a step back to my table.
They left talking about how I was a liberal idiot, I am sure.
How do you even talk to folks like that? There is a lot of talk lately about how we need to have discussions with the opposition, how we need to bring them into the fold and work on "healing the nation."
How the fuck is that supposed to happen when people believe the Earth is flat, that masks are not useful, and that Hillary Clinton is part of some bizarre international cabal that kidnaps children and eats them? (No, I did not make that last one up. QAnon really believes that. Remember Pizzagate?)
I am all for having an open and engaging debate about the issues. I am all for having discussions about how to move this country forward and start to heal the wounds that have been sliced into the heart of our democracy over the past four years.
But those discussions must be grounded in fact. I cannot have a conversation with someone that uses a pro-choice argument to justify their own stupidity in not wearing a mask. More than that, I refuse to waste my precious time doing that.
As Auntie Maxine said, I am reclaiming my time. I have dealt with the idiocy of this Administration for years, fighting and debating and advocating. I am fucking done. If you cannot come to the table believing in basic science, then you are unredeemable. I am totally ok with the world moving on without you and your idiocy. You cannot have a seat at the table if you are going to bring your unfounded, baseless, insane ideas with you and insist that it is "your right" to be heard and validated.
Well, fuck you and your "rights." You are acting like a child throwing a fit because you were told to eat at the kiddie table.
When you are ready to grow up, we can talk. Until then?
Be seen and not heard.
Contact the Feature Writers