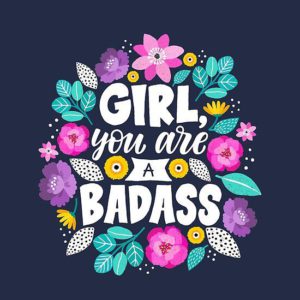 By Robin Edgell, LMSW
I was told last week by a co-worker that I was intimidating. I was confused by this comment, because I do not go into a situation trying to be intimidating. I asked a couple of friends why someone would call me intimidating, what is it about me that makes me seem to be intimidating. Because I was sincerely confused.
After talking to my friends, I discovered some of the things about me that are intimidating. Here is a short, in no way comprehensive, list:
– The way I walk
– The way I talk
– The way I present myself
– The way I have confidence in a space
– The way I deal with clients and coworkers
A woman who knows her mind, understands her limitations and where she can push the envelope, who moves through the world successfully without a partner by her side and is pursuing a career that she enjoys and excels at is intimidating to some folks.
I have worked diligently to become the woman I am now. I was married to a man who, for 16 years, tore me down through mental and emotional abuse. I have taken the past 8 years to rebuild myself. I have finished my Masters degree, gotten my Social Work license, moved to an entirely new state and built a life for myself in a place where I knew three people before I moved here and one of them has moved since. I am pursuing my happiness and my own life without a partner by my side. I know me, I know what I can do, what I am capable of. I know that it is usually myself that holds me back.
This does not mean that I do not have challenges. I have mental health challenges that are, sometimes, insurmountable for a time. I have had severe financial issues since I moved to Arizona. I have had challenges. But I move through them the best I can and move on. This is not the first time I have moved to a place where I knew mostly no one. I have restarted my life because of the military more times than most and done so mostly successfully.
I know, through hard life lessons and trial and error, that the hardest part of life is understanding yourself. Truly making the time to get to know myself has been the biggest challenge of my life.
These are the things that, apparently, make me intimidating.
Well, be fucking intimidated. If you are intimidated by me, the issue is with you, not me.
I find it interesting that a man said this to me. To describe a man as "intimidating" is a compliment. Those things that I listed that people find intimidating about me? They would be used to describe a CEO in glowing terms. Have been used to glowingly describe men in positions of power for, well, ever.
For a woman, society uses this word to make us wonder what it is about us that makes folks uncomfortable. It makes us question ourselves and ask what we can do to make everyone around us feel comfortable with our presence.
"Intimidating"
"Angry"
"Feisty"
"Sassy"
"Peppy"
These are all words that society uses to tell a woman to stay in her fucking lane and stop trying to be something that society does not approve of. I will bet you a week's pay that Kamala Harris, Hillary Clinton, RBG, Stacey Abrams, Maxine Waters, AOC, and other powerful, strong, amazing woman have been called these things before.
Because there is nothing that scares the patriarchy more than a woman who doesn't need a goddamned man to navigate the world. More than doesn't need, doesn't want.
Women are stronger than we know. We have an inner strength that allows us to bear the weight of the world on our shoulders and change the way that the world moves. We have proven this time and time again, most recently in the Georgia results in the election.
As Ginger Rogers once famously said, "What's the big deal? I do everything (Fred Astaire) does, and I do it backwards and in heels." Women are capable of so much more than society has decided we can do.
Well, fuck societal expectations. Take your intimidating and shove it up your ass.
If you can't handle me, that is your problem. Not mine.
If you're intimidated by strong, capable, confident women, that is your problem. Not ours.
As a woman, I know my place in this world. I know every woman's place in this world.
That place is wherever the fuck we want to be.
Contact the Feature Writers