Purchase Tough Man: The Greg Haugen Story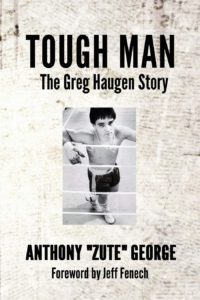 Available now is a new boxing book, Tough Man: The Greg Haugen Story. It is written by Anthony "Zute" George. The book contains testimony from Greg Haugen, as he talks about his big wins as well as the disappointments and obstacles, he faced ever since he was a young man in Auburn, Washington. Hall of Fame boxing champion Jeff Fenech wrote the foreword for the book.
In Tough Man, "Zute" analyzes the world in sports, pop culture, and world news during the times of Greg's career. We also hear testimony from many of Greg's opponents and people who were part of his career. Chris Calvin, Freddie Roach, Jeff Bumpus, Edwin Curet, Jimmy Paul, Pernell Whitaker, Vinny Paz, and Tony "The Tiger" Lopez is a sample of who you will hear him.
Hall of Famers Don King, Kathy Duva, Al Bernstein, and Joe Cortez also contribute to the book. As a special bonus, Tough Man benefits from the analysis of well-respected boxing historian Lee Groves. Bob Canobbio and CompuBox were also generous enough to grant us permission to use their stats as part of the storytelling.
Greg Haugen was a great champion and boxer. This book outlines his career and skills from the point of view of the man himself, as well as the comprehensive voice of the boxing world.
Purchase your copy from Amazon.
Purchase your copy from Barnes & Noble.