Disney's Suing Ron DeSantis' Board For Violating State Constitution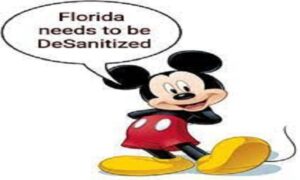 By Nikki Slusher
Florida's biggest bully has entered the next level of his feud with Mickey Mouse. The Walt Disney Company heard Republican Gov. Ron DeSantis' calls for a truce this week. Their response was more than enough to indicate what their thoughts on the matter are.
After the Republican governor of Florida suggested that he wished Disney would drop their lawsuit against him and "move on" like he did, the mouse responded loudly a day later by filing a second lawsuit. This time the multi-billion dollar corporation filed a counterclaim against the DeSantis appointed board of the Central Florida Transit Oversight District (CFTOD). Disney claims the Board is in violation of the Florida Constitution, Breach of Contract, and more.
Shannen Michaelsen, writer for WDW News Today, reported that "Disney asks the judge to declare Senate Bill 1604: Land Use and Development Regulations unconstitutional, or order that the District cannot enforce the bill." They claim that the portions of the contract related to development and restrictive covenants that the board tried to say were null-and-voided were upheld in the 2023 District Charter enacted by the Florida Legislature; it states the previous contracts made with the RCID are valid, therefore cannot be voided by CFTOD.
Another strong argument Disney makes is that CFTOD is almost the same as the Reedy Creek Improvement District (RCID). Disney's original suit is against Governor DeSantis and the CFTOD, where they claimed it's his way of taking control over the special tax district that encompasses their land.
DeSantis vs. Disney was ignited after the Governor's push for his "Don't Say Gay" policy initiatives. From there it escalated to constant back-and-forth between DeSantis and WDW with the former using the term "woke" against Florida's largest corporate taxpayer and employer. Unfortunately, it's become one of the only words he knows.
It's evident that Disney has no plans of backing down, and they're ready to keep this going as long as they want. This is exactly why in Florida we say "Don't f*ck with the Mouse." Stellar job from a guy that boasts about being great for businesses.
Click Here to Order Boxing Interviews Of A Lifetime By "Bad" Brad Berkwitt