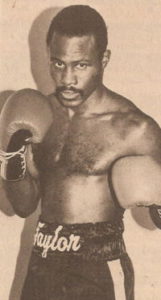 By Donald "Braveheart" Stewart
He was a featherweight who was a sterling amateur, came over to the UK to take on one of our legends and although he failed to take away a world title from a ring, he certainly lit may rings up. Bernard "BT Express" Taylor, 45-4-2, 23 KO's, was an exceptional amateur boxer whose exploits in the professional ranks never quite matched his achievements in the non paid element of his profession. Nevertheless, he got close three times and displayed some superior skills that saw him highly decorated as an amateur.
His amateur record was allegedly just short of 500 bouts, 480 of which he won. It's not just impressive, it is remarkable. It is quite clear that Taylor was an extraordinary amateur, who could have had an Olympic Gold medal, had he gone but the history books shall show that he simply didn't have the firepower to reach the top of the professional ranks.