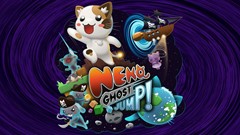 Save your kidnapped bride-to-be from nefarious Space Dog Pirates! Shed your corporeal form to fight enemies and solve unique platforming puzzles with Neko Ghost, Jump's unique 2D and 3D perspective-switching mechanics.
It's finally time to get your paws on the demo for Burgos Games upcoming title, Neko Ghost, Jump!, playable in both 2D & 3D! The current demo on Steam lets you play through the game's beginning levels and concludes with a chance to challenge the game's first boss.
The full game is set to launch for PC on Steam and Epic Games Store in Summer 2021, more details to follow in an upcoming announcement.