Loading ...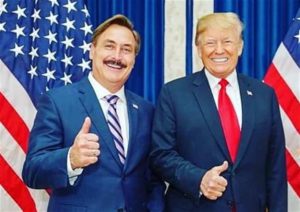 By "Bad" Brad Berkwitt
I worked in Intelligence for the Navy retiring after doing 20 years and 28 days honorably. When I retired in 2006, I went into government contracting for the next six years working in Intel too.  Many things during that time, I am not privileged to talk about, but what I will say is this. I learned patterns in people from their mannerisms, to their vernacular and other traits. I have always found Mike Lindell the CEO of My Pillow very strange.  From his overly dyed hair and mustache to his cross he makes sure you see on all his commercials.  In recent years, he has backed Trump with lines of utter BS.
Well, Ringside Report readers, low and behold, Lindell was a crack head who claims he has been clean since 2009. This Jesus grifter stood in front of the world yesterday with Donald J. Trump introducing him.  What went down is as follows: "I wrote something off the cuff, if I can read this," Lindell said at the White House. "God gave us grace on Nov. 8, 2016 (day Trump beat Clinton to become the 45th President of the United States), to change the course we were on. God had been taken out of our schools and lives.