November 22nd, 2021

Bad Brad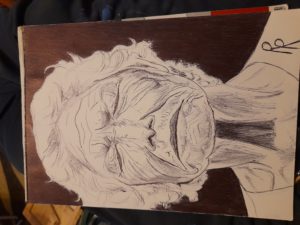 By Radical Rhymes
Whether I'm painting or writing I usually have something on in the background. It might be music, but generally it's a film/movie or TV series. As a kid growing up my sister had the telly on 24 hours a day. She was immobile for a big chunk of her life, and I think it was both a distraction and a means of control.
Now, I find silence unsettling, so I follow the same patterns. However, I never truly watch what's on. Most of the time I'm absorbed in what I'm doing and have little clue what is happening onscreen – at least not in any detail.
Having said this, sometimes a show grabs my attention and I find myself enthralled or appalled and that makes me watch more closely. I stumbled across just such a series this past couple of weeks. A feature of this – once I'm invested – is that I have to see it through no matter what.