Ringside Report Remembers Former World Title Challenger Roger Stafford (1954-2016)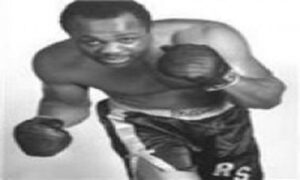 By Donald "Braveheart" Stewart
Philadelphia is a tough place. There are clichés in boxing which are clichés because they are true. Philadelphia is a tough place is one of them. It breeds something – resilience? More than that.
Toughness – something way more than that. Something to be admired – that is near enough.
Why? Because the admiration is tinged with noting the reality of the background of some of the best fighters that America produces but there is a tinge of sadness that to get to their pinnacle they have had to suffer. Not just the trials and tribulations of a sport that weaves from tragedy to scandal with ease, but the way in which the suffering as a child makes a man or woman of their time. And for some, that suffering is saved in a gym, but not always.
We lost this Philly fighter, Roger Stafford 27-6-1 10 KOs, at only 62 years of age after a short fight with the one opponent we are still trying to conquer – cancer.
Born in 1954, he was a wrestling champion in High School before graduating and entering the Marine Corps. It was while in the service that he took up boxing, having had a taste of it, he went on to become the Marine's lightweight champion. Unlike many Philly fighters, there is no mention of broken homes, incarceration or gang culture, but there is of a tough man with some skills.
On the 7th of May 1977, he made his professional debut in Saint Louis at the Kiel Auditorium with a knockout win against Newton McSwain – also a debutant that day. Like so many of his time, his rise to a world championship was not without failures and losses. In 1978 his first loss came in White Plans against Al Fletcher. A split decision loss in a fight a few days before Christmas, seemed to harden the young man and possibly made him ready for his television debut.
As a smooth welterweight he was to get a call up for ESPN's Thursday night fights and a welterweight tournament. Now as a Scot, we never got these Thursday night fight nights, but it hardly seems like rocket science. For Stafford it was an incredible chance to showcase his skills. His decent hand speed, endurance and having an effective defense meant he was right for the channel.
But it was not to begin with a win. It all began with a draw – against Bernard Peterson on the 16th of May 1980 at the Chester YMCA. It was good enough to get a repeat and worse was to follow as Stafford lost to Peterson in August live on ESPN in Atlantic City.
Things looked bleak. He was out of the tournament and people seemed to believe he was more of a secondary gatekeeper kind of fighter than an A-lister. Then Peterson was out, and they needed someone real quick. In the opposite corner was a fellow Philly man in Johnny Cooper. Cooper, a tough hard puncher has knocked out 6 of his previous 7 opponents and Stafford, back in Atlantic City, scores a points win to upset the crowds oping for another big knockout win for Cooper.
But to get noticed he needed more than TV exposure; he needed a "name". 29th January 1981, in Las Vegas, Caesar's palace, he faces the number 17 ranked WBC welterweight Kenny Croom. Croom was another who had impressive knockout statistics, but Stafford boxed beautifully and won a points victory that was wide and unarguable.
Crooms was no longer being mentioned as a possible opponent for WBA champion Pipino Cuevas. Stafford, now ranked number 16 by the WBC, was on his way towards world honors.
Then in June 1981 Stafford faced another Philly boy and welterweight, the undefeated Kevin Howard. 4th of June 1981, on an ESPN Thursday Night Fight, at The Playboy Hotel in Atlantic City, for the ESPN Welterweight Championship, Stafford won by majority decision.
Not for the first time, it was so good it demanded a repeat – 30th July 1981 – and back home in Philadelphia both home boys did it again with another majority decision result – and again for Stafford.
Instead, on the 7th of November 1981, in Las Vegas he was to face Pipino Cuevas and in what was the upset of the year for the Ring magazine, beat the soon to be 24-year-old fighter who had already racked up 36 professional fights, including a fight with Thomas Hearns. Reports from the gym prior to the fight with Stafford suggested that his defeat to Hearns had affected him but he looked "murderous". But he shared a ring with Stafford who was according to at least one boxing forum, one hell of a fighter. Cuevas unleashed on the Philly man but that impressive resilience, they breed in Philly saw him through to a points win.
It was an impressive win which he had predicted years before was what he wanted against Pipino when he had befuddled Al Bernstein in a ringside interview by telling him that Pipino was exactly who he wanted after an ESPN card. Bernstein's face told his story of believing that Stafford was either not being serious or was clearly suffering a concussion. Well, Al, he got what he wanted, and he did good with it!
Pipino was already lined up for a fight with Sugar Ray Leonard and this should have put paid to it but the WBC rankings after the fight kept him at number one. Stafford moved up from number 10, but nowhere near the mandatory spot, Pipino still held.
In the professional ring, he was serving with such distinction that he became ranked as the number 1 welterweight contender and found himself negotiating a fight with Sugar Ray Leonard. But it was not to be as Leonard had a detached retina. Instead, Stafford had to wait until 1983 when he went in against a prime Donald Curry, unbeaten in 16, in Marsala for the WBA welterweight title. Stafford was stopped by Curry – it was his only world title fight.
His final professional fight came on the 6th of March 1985, when he came across the pond to the UK and took on Lloyd Honeyghan in the Royal Albert Hall. Honeyghan stopped him in the 9th of a scheduled 10.
It was a career of highs and lows but a career that nonetheless made the Philly cliché more real because he was a tough man, unfortunately taken too soon at the age of 62 on August 24, 2016.
RIP…
Click Here to Order Boxing Interviews Of A Lifetime By "Bad" Brad Berkwitt