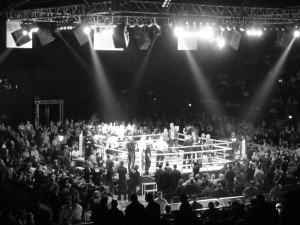 By Vinny "Glory Days" Lucci
Good to be in front of keyboard again and back on the boxing beat after short holiday hiatus. 2017 saw some good matches come to fruition with mixed results but most of the prestigious matches of the year left behind more questions than answers in their wake. If you're a true fan and paying attention no need to recap the year but rather brace the readership for first quarter of calendar year.
When I use the word "brace" it surely isn't meant as a term of endearment like describing a roller coaster to a child, but rather a reminder that inept judges and referees altered the landscape of matches that fans and media clamored for. The good news is after more than three decades there finally is a wave in the air crescendoing amongst both fans and fighters to re-instate the old school fifteen round limit which would enable boxers nine extra minutes to prove their superiority or pull away from a clumsy misguided draw. More on this hot topic in future articles. For now the alphabets that are always last to get wind of anything beneficial to the sport will play the wait and see game to see who breaks the ice first in trying to elevate our beloved sport to its former glory.
Onward: Next week IBF welterweight champion Errol Spence, JR. Vs Lamont Peterson on January 20, hosted at Barclay's of Brooklyn New York and presented by Showtime. Spence, JR. currently is touted as "the man" in a hotly contested division will be making his first title defense with the belt he won from Kell Brook last May. Peterson has the proper resume and pedigree to make this a good fight enabling Errol to get the rust off. Ringside Report handicapped this event on December 15.
The following week January 27, Lucas Matthysse takes on Tewa Kiram for the WBA welterweight title. Event to be promoted by Golden Boy Promotions and hosted at Forum in Inglewood California. Bout presented on HBO. Matthysse has fought through a gauntlet of great fighters in Jr. Welterweight division is preparing to make legit noise among 147 pounders against a younger undefeated foe who boasts a ledger of 38-0, 28 KO's. The interesting aspect of this fight is there isn't a single recognizable name on that resume.
On February 10 the extraordinary talents of Mikey Garcia will be on display against one Sergey Lipinets for his IBF super lightweight title (140 lbs.) Garcia has been diligently building a foundation of a hall of fame career and will be matched against an undefeated yet unheralded foe with modest 13-0, 10 KO's career mark. Event promoted by TGB Promotions and venue hosted at Barclay's Brooklyn New York. Showtime will broadcast title match.
February 17 Mandalay Bay Events Center in Paradise Nevada will host Danny Garcia against Brandon Rios, yes "that" Brandon Rios. After losing his WBC welterweight title to Keith Thurman in March, Danny has been missing in action and possibly picked the wrong landmine to tread upon. Rios has done nothing to earn this high profile fight and figures to be matched well above his head putting Garcia in a no win situation. If he can't punch Brandon's ticket in five or six rounds, he takes a huge step back in 147 pound supremacy. Should it go the distance, Rios may have West Coast crowd on his side making for unpopular decision. Event promoted by Premier Boxing Champion presented on Showtime. Should Rios pull off the upset his services will be in high demand from Errol Spence, JR. and Keith Thurman to cash in on payday before the likes a Shawn Porter beats them to it. Interestingly, Garcia claims it's the first opponent he was ever given the chance to hand pick and not just placed before him to sign.
Same day Chris Eubanks, JR. will fight George Groves in a unification match of sorts pitting his lightly regarded IBO title against Groves WBA super middleweight belt (168 lbs.) Bout to be held in Manchester Arena in Lancashire UK and promoted by Sauerland Promotions, shown on ITV PPV. A solid win here by either fighter would highly boost their credibility.
February 24 scrappy southpaw sensation Sor Rungvisai of Thailand makes his second WBC super-flyweight (115 lbs.) defense against Juan Francisco Estrada at the Forum in Inglewood California. Event televised by HBO, with promotion by Zanfer Promotions. Sor has reached his absolute prime with back to back victories over Roman Gonzalez by 12 round decision and 4 round KO respectively. Rungvisai fights like a one man army and is a new headliner not to be missed.
March kicks off on a high note on the 3rd, with Deontay Wilder defending his WBC heavyweight title for the seventh time against Luis Ortiz at Barclays of Brooklyn. The bout was originally scheduled for November 4 of last year but VADA found Ortiz blood work dirty of two banned substances which the boxer claimed were for high blood pressure and match was scraped with Ortiz receiving a one year suspension. The WBC has cleared the Showtime presentation to go forward and maintaining Ortiz's #3 ranking. At this juncture in time Wilder couldn't be any more confident after Ortiz replacement, Bermane Stiverne was counted out in the first round. Wilder lifted Stervane's title three years ago by unanimous decision. Ortiz is supposed to be the real deal challenger to expose horrible amateurish flaws in Wilders game and attempt to unveil his questionable chin as well. Luis is the better all-around fighter with superior balance but if he can't nullify Wilders reach and hand speed the point may be mute. Mark this one on your calendar as a must see action fight.
Same night HBO does network battle with cable rival presenting fan favorite Sergey Kovalev defending his newly won WBO light heavyweight title against Igor Mikhalkin. Bout hosted on the hallowed grounds of Madison Square Garden in NYC and promoted by Main Events. Kovalev who was unable to secure a rubber match with Andre Ward after two disputable losses coming on heels of Ward's retirement, will look to recollect his prized title belts and hold off a foray into cruiserweight division for near future.
Finally for now, also on March 3, Kell Brook comes back from his brave battle losing to Errol Spence, JR. last May when he sustained his second eye socket fracture in back to back bouts. (The first being to Gennady Golovkin in 2016.) Brook will move up to Jr. Middleweight and verse Siarhei Rabchanka in Sheffield Arena in UK. Bout to be presented on Sky network and promoted by Matchroom Promotions. If Brook's skull has finally mended and is ready for combat with titanium fittings he is an awesome specimen to behold in the ring. This venture should provide his corner with the answers they seek if Kell can return to former glory and once again compete against the elite.
It's never too late to raise a glass and toast the New Year among fans, peers and the sport itself. Here's to the fighting gents who keep us riveted to stadium seats, arenas, ballrooms and in front of our flat screens.
Stay tuned…
Contact the Feature Writers