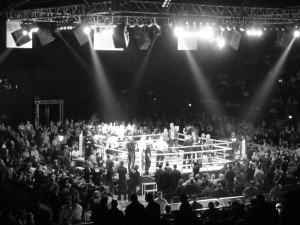 By Bradley "The Bulldog" Johnson
This Saturday night April 21st, we have a star-studded event in the Barclays center in Brooklyn, New York airing on Showtime. We have an intriguing main event in the welterweight division with Adrien Broner and Jesse Vargas. On the undercard Jermall Charlo has to get past Hugo Centeno in his second fight at middleweight, as a fight that should set him up for a big money fight in that exciting division. Gervonta "Tank" Davis will be fighting Jesus Cuellar at lightweight and former Olympian Rau'Shee Warren will fight Juan Madina at super flyweight. We also have Heather Hardy making her return to boxing from the Bellator to matched up with Paola Torres.
Heather Hardy, 20-0, 4 KO's returns from an MMA victor at Bellator 194 in February to a boxing match in her home of Brooklyn, New York. Heather is undefeated in the boxing world as she hopes to continue that streak against Paola Torres, 12-2-2, 5 KO's. Heather Hardy, is ranked #3 in the world as a featherweight
Rau'Shee Warren, 15-2, 4 KO's was a highly touted amateur and former U.S. Olympian. The 31 years old super flyweight is once again in the hunt for a world title. He is the former IBO bantamweight champion. Warren was not able to defend the title successfully thought, he lost the belt to Zhanat Zhakiyanov, 26-1, 18 KO's in February of 2017. Rau'Shee is in a very hot super flyweight division with the likes of Srisaket Sor Rungvisai, Naoya "Monster" Inoue, Khalid Yafai, and Jerwin Ancajas.
Gervonta Davis, 19-0, 18 KO's will be facing off with tough Argentinian Jesus Marcelo Andres Cuellar, 28-2, 21 KO's. 32-year-old Cuellar has been inactive and hasn't won a fight since late 2015. This is a fight where tank should shine and leave a positive impression on the Barclays center crowd. Gervonta not only needs to win but needs to do so in impressive fashion as promoter Floyd Mayweather, JR. is already writing checks that I don't think Gervonta can cash. Mayweather, JR. announced on showtime that not only does he want to fight in the cage, but that Davis would be looking to get a fight with Lomachenko providing he wins on Saturday. I personally think that Davis may be peaking at the lightweight division and will have trouble with anyone in the top 5 of that division.
Jermall Charlo, 26-0, 20 KO's is heavily favored in a fight Hugo Centeno Jr, 26-1, 14 KO's. I suppose you can call this Jermall' s introductory to the middleweight division. His first fight at 160 lbs. was against a one-legged Jorge Heiland which was hard to watch and even harder to call Charlo a powerhouse as a middleweight with a tko over an all but disabled opponent. With that being said, many think Charlo could be the face of the middleweight division in the future and this should be a preview. As long as Jermall does what he is supposed to do on Saturday night his next fight should be against a top middleweight, possible Danny Jacobs.
Adrien Broner, 33-3, 24 KO's is heading this card and should be involved in the most competitive fight of the night. This is a crossroads fight, a toss-up, and a must win for Broner. He will be headed to Brooklyn to fight the self-proclaimed "King of New York" 6ix 9ine. This is about the perception of street respect and the last chance for his rap career. I understand there also may be a side bet of $300,000.
Adrien" Too Many Problems" Broner, will also be fighting Jessie Vargas, 28-2, 10 KO's. This will be another tough fight for Broner, that will take place at 144 lbs. catch weight. Vargas's only losses were to Timothy Bradley, and Manny Pacquiao. Broner claims that he has finally had a true training camp strictly dedicated to boxing and even includes his own nutritionist. Broner is now under new trainer Kevin Cunningham who is not going to deal with Adrien's antics. Cunningham said Broner would have to follow his rules or he would not train him. Broner says this is the structure that he needed. We will see if it enough to redeem his career a get past the tough and motivated Jessie Vargas.
Contact the Feature Writers