A Look Back At Frank & Geri Rosenthal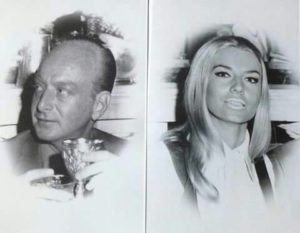 By Larry Henry
There doesn't seem to be much video available showing the real-life woman portrayed by Sharon Stone in the 1995 hit movie "Casino."
But one video on YouTube includes rare footage of Geri Rosenthal dancing at pop singer Paul Anka's $3-million Las Vegas restaurant and disco, Jubilation. To view the video, click here.
The 10,000-square-foot Jubilation was near the Las Vegas Strip at 75 E. Harmon Ave. across from what now is Planet Hollywood. These days, the property is part of the Marriott Vacation Club Grand Chateau.
In a 2015 "Video Vault" on Channel 3, Las Vegas television reporter Tom Hawley takes a look back at the Jubilation. You can view his story by clicking here.
As Hawley's piece indicates, Jubilation was the place to be in Las Vegas during the disco era. In the midst of that craze, Geri Rosenthal's husband, underworld figure Frank "Lefty" Rosenthal (Robert De Niro in the movie), filmed the episode of his local variety show that now is on YouTube.
In the episode, Frank Rosenthal interviews his wife moments before she dances with Jeff Kutash, a casino showroom choreographer who was a guest on Rosenthal's television show that night in 1979.
At the time, Frank Rosenthal was the overseer of four casinos in Las Vegas for Midwestern mob bosses, most notably the now-demolished Stardust, managing the skim, or the theft, of untaxed gambling revenue.
His local program, "The Frank Rosenthal Show," had begun two years earlier, appearing irregularly on Channel 13 at 11 p.m. on Saturdays.
This episode, which features both Rosenthals dancing at the end of the broadcast, was shot at 3:30 a.m. inside the crowded Jubilation. The co-host was professional dancer and Las Vegas resident Pam Payton.
Much of the episode capitalizes on the disco-dance fervor of that period. Just that week, the April 2, 1979, edition of Newsweek magazine had come out, featuring singer Donna Summer on the cover with the headline "Disco Takes Over." On camera, Rosenthal holds up a copy of that issue of the magazine.
After discussing disco's popularity, Frank Rosenthal and Kutash wander over in an obviously staged bit to interview Geri Rosenthal, where she is seated at a table with Las Vegas entertainers Siegfried and Roy.
At the table, Geri Rosenthal remains in her seat for a moment while her husband, who is holding a microphone, asks if she is a former dancer.
"Yes, I think you could say that," she replies. What she doesn't say is that she had been a showgirl years earlier at the Tropicana hotel-casino.
Frank Rosenthal then questions his wife about her height. She says is five-feet-nine-and-a-half-inches tall. A moment later, at Kutash's invitation, she stands up, towering over the choreographer.
Kutash, a disco enthusiast, encourages Geri Rosenthal to dance with him, asking, in disco lingo, "When's the last time you had a good freak or a good rock or a good hustle?"
She answers, "The best things I ever had were always with my husband."
"I won't argue with that," Kutash says before ushering her away from the table to dance with others to the disco hit "Boogie Oogie Oogie."
Given what the world now knows about the Rosenthals, that pre-dance exchange between Geri Rosenthal and Jeff Kutash about "a good freak or a good rock or a good hustle" takes on ironic significance.
As it turns out, Geri Rosenthal was involved in a love affair at some point during this period with Anthony Spilotro, the Chicago mob's street enforcer in Las Vegas. That affair, and its tragic consequences, became the basis of journalist Nicholas Pileggi's 1995 nonfiction book, "Casino," and the fictionalized big-screen version the same year. In the movie, Joe Pesci plays the Anthony Spilotro character.
For the Rosenthals, extramarital affairs and alcohol-fueled fights were a part of life.
On April 5, 1979, only three days after the publication date on the Newsweek disco cover that Frank Rosenthal displays for the camera, Geri Rosenthal wrote to her daughter that he came home drunk the previous night, April 4, and choked her into unconsciousness. Geri Rosenthal ended up with a cracked rib, two black eyes and bruises all over her body, she told her daughter in the letter. Presumably the beating took place only days after the show was filmed.
Soon, that tumultuous part of Las Vegas' history would end without any glamorous high notes, to be immortalized later by the book and movie.
In 1986, Spilotro and his brother were beaten to death in the basement of a home near Chicago's O'Hare International Airport and buried south of there in an Indiana cornfield, one on top of the other in their underwear. They were killed for bringing too much attention to the mob's lucrative but illegal operations in Nevada.
As for the Rosenthals, they split up several years before the Spilotro brothers were murdered and, separately, faced bleak moments of their own before dying on different coasts.
In 1982, Frank Rosenthal was injured when his car exploded in the parking lot of a Tony Roma's restaurant on East Sahara Avenue near the Las Vegas Strip. The incident has never been solved, though some in law enforcement suspect Spilotro was responsible. Rosenthal left Las Vegas not long after the bombing, ultimately moving to Florida, where he died of a heart attack in 2008 at age 79.
About a month after the car bombing, on Nov. 6, 1982 — and only three years after the Jubilation disco-dance episode now on YouTube — Geri Rosenthal, with bruises on her legs and liquor, drugs and tranquilizers in her system, stumbled into the lobby of the Beverly Sunset Motel, 8775 Sunset Blvd., at 4:35 a.m. and collapsed. She died three days later at Cedars-Sinai hospital in Los Angeles. She was 46 years old.
Larry Henry's YouTube channel includes videos he shot of mob sites in Las Vegas, the apartment building in Santa Monica, California, where Whitey Bulger was arrested, and the remote Arkansas airport where Barry Seal transported drugs into the U.S for the Medellin Cartel. Subscribe HERE.
[si-contact-form form='2′]