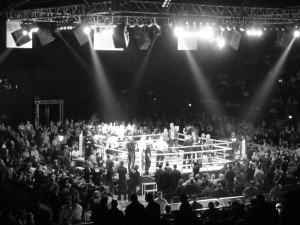 By Faisal "Fayz" Masood
If you didn't already think the Ukrainian Vasyl Lomachenko was pound for pound the world's best boxer, then on May 12th 2018 when 'Hi-Tech' faced off against the much bigger Jorge Linares, the reigning WBA Lightweight champion who was riding a 13 fight winning streak spread out over six years, Lomachenko removed most of the doubt from the mind of his critics with a sterling performance to become a three weight world champion after only 12 fights – smashing another record in the process to become the fastest three weight champion in history.
Every once in awhile, there comes along a fighter who changes the game of boxing. Muhammad Ali was the first heavyweight who could really move, with hand and foot speed that rivalled boxers from many weight divisions below him, a prime Ali could move like a middleweight and punch as quick as one too. Ali's style of boxing as well as his personality out of the ring and in the build up to fights created a fountain of copycat fighters and characters which can still be seen in the sport today. In fact, Ali himself styled his boxing on a man who came before him and is most widely regarded as the greatest boxer in history – Sugar Ray Robinson.
Next on the conveyor belt was Mike Tyson. Tyson's blistering style of boxing set the world alight, short, stocky, mean, wearing plain black and fighting as if his life depended on it, Tyson looked like he wanted to tear your head off – and eat your children too…The aura around Tyson was enough that countless boxers wanted to be like Mike Tyson, people wanted to look like him and fight like him, still in every gym you visit, there will always be one person who wants to fight like Mike Tyson, bobbing and weaving, throwing hooks and uppercuts.
Only recently, we saw the Floyd Mayweather, JR. effect. It wasn't that Mayweather's defence was anything new, the shoulder roll, philly shell, Michigan defence or whatever else you want to call it has been around for decades and used by numerous champions of the past – Pernell Whitaker, his coach and trainer, the former middleweight George Benton, James Toney, Nicolino Locche are just few of the names who have carved a career with their impressive defence, but Floyd took it to another level by remaining undefeated and creating a 'Money' persona that made him the highest earning boxer in history. All of a sudden everyone wanted to learn how to do the shoulder roll and no doubt, in another five or 10 years we will see many more boxers entering the professional ranks with the shoulder roll at the heart of their defense.
Then there is Vasyl Lomachenko – Loma's style is so impressive and mesmerising that he has been described in many complimentary ways, the Matrix, the Picasso of boxing, Hi-Tech, all signifying just how far ahead of the game he currently is. The footwork is so impressive that already the only boxers with good enough footwork you could mention alongside his ballet like skills are greats of the sport such as Willie Pep, Muhammad Ali and Pernell Whitaker. Of course, not everyone has to move like these 'dancers' to be considered as having great footwork, Joe Louis and Jose Napoles are two examples of boxers who didn't have the flamboyant moves of a Loma, Ali or Pep yet were equally effective with precise and efficient movements. Lomachenko's footwork though is more eye catching and will no doubt lend itself to many children growing up wanting to imitate him and that is no bad thing. With his nimble feet and other worldly training habits, Hi-Tech could yet change the way many boxers view and approach their training.
What is equally impressive as his skills though is his ambition. Lomachenko has been a refreshing return to the old school days, where boxers fought because they were prize fighters, not businessmen, when boxers fought to create a legacy, not to pad their records or avoid fighting the best. Perhaps it is fair to say that Loma is up against the clock, at 30yrs of age he has little time to waste and must be seen as chasing greatness before father time catches up with him but still, credit to him, after a near perfect amateur career he could have taken the easy route and coasted for awhile as a professional but Loma has chosen the hard route, fighting world champions, more experienced professionals, never taking an 'easy' fight, going up in weight to fight bigger men, if he stays the current course there is no doubt Lomachenko will write his own legacy and it will be one that many up and coming fighters would do well to copy.
It is arguable to say that based on skills alone, no one will beat Lomachenko, rather like Roman Gonzalez who eventually met his match and went up one weight class too many, Gonzalez was another masterful boxer with perfect footwork but chasing greatness and another world title at a heavier weight class, which was eventually his downfall as he was made to look human in his defeats at the hands of Srisaket Sor Rungvisai. There are few boxers in the world who can compare to Lomachenko in the realms of skill, Terence Crawford is another, Guillermo Rigondeaux may have failed against the bigger Lomachenko but he is still absurdly skilled as a boxer – but if and when Loma does lose again, it won't be because he faced a more skilled fighter, it will be because he faced a much bigger fighter. For the rest of us mere mortals, let's just enjoy the ride of a throwback fighter from the old times and see just how far up the boxing ladder of history Vasyl Lomachenko can go…
Check out Fayz's available books for download on Amazon. He also runs his own Personal Training site and blog over at Fayz Fitness.
Strength and Conditioning for Boxing – Workout Hits to get you Fighting Fit
The Boxing Cheat Sheet – Your Ultimate Guide to Ring Survival