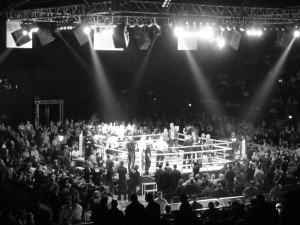 By Rich "Lite It Up" Lopez
Earlier this year I did an article on three fighters today I think are overrated. I think overall most fans agreed with my picks but of course some disagreed. This time we are going to take a different direction and I'm going to list three fighters I think are underrated in boxing.
1: Donnie Nietes 40-1-4, 23 KO's
Besides Manny Pacquiao, Nietes is also one of the best Filipino fighters out there today. He has already won titles in three different weight classes. He first won the vacant WBO World Minimumweight title in 2007. He made four title defenses of the title and then moved up to the Light Flyweight division. Nietes then won the WBO World Light Flyweight title in 2011. Nietes made an astonishing nine title defenses of that title which spanned for 5 years. Nietes was the Lineal Champion by Ring Magazine and held that title for two years (2014-2016). Last year Nietes moved up to the Flyweight division and won the vacant IBF World title in his 3rd weight division.
Finally, Nietes was noticed on a major network and he stopped Juan Carlos Reveco on HBO's Superfly 2 card earlier this year. Now Nietes will be going for a title in a 4th weight class in the Super Flyweight division on the upcoming Superfly 3 card on HBO in September. So here's the deal, Nietes has been boxing professionally for 15 years and has been a World Champion for almost 11 years. Nietes has fought solid competition in the smaller weight classes and his only blemish on his record was early in in his career back in 2004. Nietes has great boxing abilities and is one of the best counter-punchers today. Sure he has been recognized as a top fighter and now Ring Magazine has recognized him as a top pound for pound fighter. My question is: What took so long to recognize Nietes as one of the best fighters today?
2: Danny Garcia 34-1, 20 KO's
Garcia started his professional career in 2007 and has now boxed professionally for 11 years. So far Garcia has fought good competition in his career for about eight years now. He has beaten 11 former champions and has not turn down a tough challenge. He has defeated fighters such as: Erik Morales (twice), Amir Khan, Kendall Holt, Nate Campbell, Zab Judah, Lucas Matthysse, Lamont Peterson, Robert Guerrero, Brandon Rios, and Paul Malignaggi. Garcia has won titles in two different weight classes. He held the WBC World Super Lightweight title and the WBC World Welterweight title. Sure some critics might say he fought fighters past their prime like Erik Morales and Zab Judah or mismatches like Rod Salka or Samuel Vargas. However when the odds were against him, like in his fights against Amir Khan and Lucas Matthysse, he rose to the occasion and found a way to win those fights. Also for two years (2013-2015), he was the Lineal Champion at Junior Welterweight according to Ring Magazine.
Now he is one of the top Welterweight fighters and his only loss was a close decision on points to Keith Thurman. In September, he will fight another top Welterweight fighter, Shawn Porter. The fight should be spectacular and not an easy fight. Even though fighters like Keith Thurman, Terrence Crawford and Errol Spence, JR. are the talk in the Welterweight division, not much has been said about Danny Garcia. I believe Garcia should be recognized more and that can change if he beats Shawn Porter.
3: Juan Francisco Estrada 36-3, 25 KO's
Estrada who is from Sonora, Mexico, is one of the most overlooked fighters in the smaller weight divisions and one of the top fighters from Mexico. Estrada has been boxing professionally for 10 years and has already fought some of the best fighters. Estrada has been compared to a smaller version of Juan Manuel Marquez due to his good counter-punching and combinations. Estrada was the first fighter to give Roman "Chocolatito" Gonzalez his toughest fight in a close competitive fight back in 2012. Estrada would lose that fight on points and this was back when Gonzalez was one of the best fighters in the lower weight divisions. From there going forward, Estrada would win the WBO and WBA Super Flyweight titles against Brian Viloria in 2013 on points. At that time, Viloria was in his prime and still a dangerous opponent. Estrada made five defenses of the title and beat top fighters such as: Milan Melindo, Giovani Segura, and Hernan Marquez.
Last year, Estrada moved up in the Super Flyweight division and defeated the durable Carlos Cuadras. This secured him with a fight with Srisaket Sor Rungvisai who is one of the current top pound for pound fighters due to this two victories over Chocolatito Gonzalez. In the fight against Rungvisai, Estrada proved why he is one of the best fighters as he gave a close competitive fight against the hard punching Thai fighter. Estrada lost a close decision, but in all honesty the fight could have gone either way. A rematch looms between those two fighters in the near future. Estrada will be also fighting in the Superfly 3 card next month against Felipe Orucuta. If Gonzalez, Rungvisai, Nietes, and Inoue are today's best fighters in the smaller weight divisions, then you have to include Estrada in that mix as well.
Contact the Feature Writers