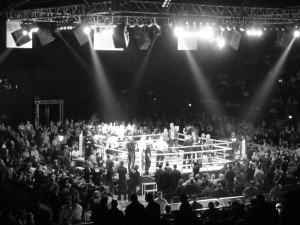 By Tyler "The Miracle Man" White
After the recent news that I was all-clear of "The Big C", I was invited back by Sky Sports to sit at ringside for the Amir Khan Vs Samuel Vargas show.
As a big fan of Sky Sports and Matchroom Promotions, I was excited to be back ringside once again with an excellent view of the fights and the goings on of the event!
Despite the initially sparse number of fans in the crowd, as the evening went on and the online coverage started to air, the stadium began to fill up and the bouts began to intensify.
Throughout the night there were some great performances and there were some brilliant domestic scraps, with some notable wars…
One of these wars was between Scott Fitzgerald and Craig Morris, which ended in a vicious knockout, after being a very close and physical contest. Fitzegerald now looks set to face former Olympian, Anthony Fowler in the near future.
The show also saw fan-favorite, Lewis Ritson, dispatch of his tough and awkward Nicaraguan opponent within a few rounds, setting him up nicely for his European title shot in a months' time.
Amongst all the fights however, there was a real upset and a real shocker…
That shocker, was when Sam Eggington was halted in a vicious fashion, by his African opponent Hassan Mwakinyo.
The Tanzanian native caught Eggington in the second round and visibly hurt him.
The big punching African seemed to catch Eggington with one shot that rocked him right through to his boots, effecting Egginton's ability to defend and/or fight back.
From my seat at ringside, it almost appeared that the British fighter attempted to walk through Mwakinyo's follow up shots, instead of looking to cover up and defend them and he paid the price as he was swiftly taken apart.
With the crowd slightly shocked, subdued and disappointed, it was up to two British Middleweights to get the atmosphere back again and that is exactly what they did…
After going to war earlier on in the ring this year, Jason Welborn and Tommy Langford were set to rematch for the British title that Langford had lost in their previous meeting.
What ensued was yet another 12 rounds of mayhem, toe-to-toe, back and forth action which saw Welborn retain his title after another valiant effort by the former Champion – Tommy Langford.
After that fight of the year contender, it was time for "King" Khan to take the stage again, after his emphatic first round KO victory in April of this year, over Phil Lo Greco.
The atmosphere was incredible and it was clear that Khan was going to try and put on a performance for all of his fans in attendance.
Khan's hand speed was both dazzling and mesmerizing to see in person, with his combinations firing like a machine gun. I was in awe.
Khan came a little bit unstuck shortly after his fast start, as he was floored by the unintimidated Vargas. Khan, however, was saved by the bell and had a full minute to regain his composure.
After being there, live and in person, seeing an Amir Khan fight, I can see why he has so many fans. I can also see why he's always in such exciting fights!
His incredible hand speed and lack of chin/defense makes him so unpredictable and a fight can be turned on its head in an instant.
As you will most likely know, Khan went on to win the fight on points, but was caught a few times and on each occasion my heart jumped up into my throat…
Eddie Hearn and Matchroom Promotions yet again put on another fantastic show, with some great domestic dust ups, upsets, surprises and wars between well matched fighters.
It was another enjoyable ringside experience and one that I will always remember, as the day I saw one of the best British title fights, as well as the day I was dazzled by Amir Khan's hand speed!
Contact the Feature Writers