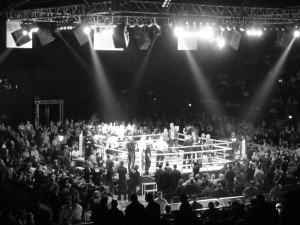 By Tyler "The Miracle Man" White
Mental health is something that's being spoken about more and more now, which is a great step forward for people, as the stigma around mental health issues are slowly dissolving and fading away.
That's only happening however, because people are willing to talk about it far more openly and thanks to both the internet and social media, people with a lot of popularity and exposure are opening up about their own struggles.
A few weeks back, I wrote about Tyson Fury and how he has come through; out of the other side of his battle with his own mental health and well-being.
The former lineal Heavyweight World Champion battled depression, as well as both alcohol and substance abuse, whilst simultaneously contemplating suicide.
In another interview, just the other week, a fighter by the name of Anthony Sims, JR. had a massive impact on people in the sport of boxing and has inadvertently had an effect on others who perhaps do not pay much attention to the fight game…
In his interview with Kugan Cassius – of IFL TV – Sims, JR. spoke about how he had to deal with his own mental struggles after two tragic suicides, very, very close to home.
The first, was his father, who committed suicide whilst Sims was only a 6 year old boy.
His fathers death crushed him and had such a deep rooted psychological effect that Anthony Sims, JR. was unable to speak and communicate with other people in the way that you and I take for granted.
Sims was beaten up at school as a result of his inability to speak and communicate, however, the silver lining from this was that Anthony Sims, JR. took up boxing.
As well as losing his father to suicide as a young child, Sims recently lost someone – of whom he identified as his brother – to the same fate.
In his recent interview with IFL TV, Sims, JR. talks about how much suicide effects everyone else around that person and how much of an everlasting and damaging effect it can have upon others effected by it.
The undefeated fighter also discusses how it's OK to open up about your feelings and in doing so, he practices what he preaches, talking about his own mental demons and showing a very raw and emotional side to him that many people do not associate with fighters.
Fighters are not savages. Fighters are regular men and women, guys and gals just like you and me…
We all face challenges in life and we will most likely all suffer from some sort of mental health related issue throughout our years here on earth, but athletes and well-recognised characters like Sims, JR. and Tyson Fury help us; ordinary folk, to realise that it's OK to talk about it.
In this day and age, mental health is a taboo subject that is quickly becoming outed and with "influencers" like this baring all to the cameras, there may be a lot more understanding and a lot less pain in the World!
Boxing does it's part, once again, in tackling issues larger than itself.
Check out Tyler "The Miracle Man" White who is part of a new podcast called "British Boxing Talk" on Apple Podcasts and Spotify.
Contact the Feature Writers