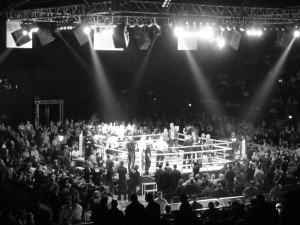 By Brian "The Beret" Young
Welcome back fight fans for part six. Today we will build the ultimate Middleweight using the same criteria as we used for all the others: Left hook (or right if a southpaw), Straight right (or left, again if a southpaw), Jab, Footwork, Hand speed, Defense, Chin, Heart and finally "intangibles", which could be anything from dealing with adversity like cuts or knockdowns, grit, fouls Etc.
Remember, there are some rules. And in the words of George Carlin "my rules, I make them up!" they are as follows:
1- Only ONE attribute can be used per fighter (otherwise the Lightweight article would be very short, it would just read "Lightweight- Roberto Duran")
2- A fighter can only be used in ONE weight class, if for instance Floyd Mayweather, JR. is used in Lightweight he cannot be used again in Welterweight as well.
3- A fighter has to have been part of the weight class he is used in; you can't give your featherweight Earnie Shavers power!!
So let's get started. There are no right answers and this is meant to start a debate and I encourage you to write in with your take, what you like, what you would change. Now let's go!!
1- Left Hook: MIKE MCCALLUM- "The Bodysnatcher" was an exceptional amateur from Jamaica who came to America in 1981 and became a three weight world champion in the pro ranks. McCallum was another total package boxer, an amazing chin, determination like no other and a left hook that gave him a nickname that would put fear in the hearts of most he faced. And the left hook he knocked Donald Curry out with will forever be in highlight reels of perfect punches.
2- Straight Right: CARLOS MONZON- Argentina has produced many great fighters. Men like Hugo Corro, Carlos Baldomir, Oscar Bonavena, Sergio Martinez, Nicolino Locche. But the greatest fighter to emerge from there was the great Carlos "Escopeta (Shotgun)" Monzon. In 100 fights Monzon defeated some of the biggest names in the sports history. Emile Griffith, Jose Napoles, Nino Benvenuti to name just a few. His right hand may not have been pretty but it was accurate and fierce. Thrown almost like a cross and as fast as hell like a jab, many a great man was confused and hurt by this remarkable punch. Monzon's life outside the ring was turbulent to say the least, but in the ring he was a master craftsman with a devastating right hand.
3- Jab: MARVELOUS MARVIN HAGLER- When I started the list for middleweights the one question I asked myself was "Where do I put Hagler?" Arguably one of the greatest middleweights of all time he possessed so many amazing attributes having to pick one was difficult. After much internal debate I had to go with the Jab. Marvelous was a natural orthodox fighter who converted to southpaw creating a right jab using his power hand. And it wasn't just powerful, it was sharp and snapping and accurate. At only 5'9 he was relatively short for a middleweight but that didn't stop him from using his often shorter reach to dictate a fight and land his jab at will against bigger men. His 62 wins by knockout in 67 fighters were almost all set up by the best jab, to my mind, in Middleweight history.
4- Footwork: FREDDIE STEELE- The natural athlete played basketball, soccer, golf and was a swimmer. But it was boxing that turned the "Tacoma Assassin" into a world champion. Steele at his best is a human highlight reel showing good power and was tough as nails. What really stood out is his footwork. He wasn't just fast, but he was agile and sturdy. He could box going forward or backwards and could always use his feet to put his opponent where he wanted them. Losing only 5 fights in a 142 fight career, Steele was an example of how a fighter should move in the ring and still maintain his power.
5- Hand Speed: ROY JONES JR.- Bert Sugar use to tell me "Ray Robinson could knock out a guy going backwards". And now I tell people "Roy Jones once knocked a guy down with his hands behind his back". Seriously, Roy Jones had both hands behind his back against Glen Kelly and when Kelly moved in Jones unleashed a "blink and you miss it" punch that put Kelly down for the count. The remarkable thing about that is it was A SLOWED DOWN Roy Jones Jr. Years past his best, Jones was still able to make people beg to see slow motion replays. In his prime Jones could throw what seemed to be 20+ punch combinations before an opponent knew what hit him. Many times Jim Lampley lost his voice yelling over Roy Jones, JR.'s exciting moments.
6- Defense: JAMES TONEY- "Lights Out" is one of those once in a lifetime fighters. A middleweight who went all the way up to Heavyweight and Knocked out one of the best heavyweights of our generation, Evander Holyfield. He was a power puncher, a trash talker, a badass who said he could do anything and then backed it up. But more than anything, he was a defensive genius. He could roll with punches better than anyone and he could move. Boy could he move. Even competing as a Heavyweight, more than 40 pounds north of his best weight, he could slip and slide and confuse his opponents. If he was trapped or cornered he could use his body movements to make his opponents hit nothing but air.
7- Chin: JAKE LAMOTTA- This is the one no brainer on this list. Everyone who has seen Raging Bull (and even many who never saw it) quote the line "Ray, you couldn't knock me down". Some people say Lamotta never actually said that to Robinson but what does it matter, it was true! In six fights Robinson never knocked Lamotta down. In fact, in 106 fights Lamotta was only off his feet once, and that was in the 103rd fight of his career when he was out of shape and way past his prime. In that fight he got up, was cornered and battered for the remainder of the round, and took it all standing!
8- Heart: HARRY GREB- Harry Greb may very well be the true greatest P4P fighter of all time. Fighting from welterweight to heavyweight (never putting on the weight of a heavyweight) he fought the best the world. Over 298 fights he lost only 17, usually against much bigger men. Two of those losses were to Gene Tunney. Yes, the Heavyweight Champion that beat Jack Dempsey for the Title. But there were five fights with Tunney. Greb won the first, battering Tunney to take his Light heavyweight title. In the rematch, Greb lost what most observers say was a bad decision. Over the last three fights, Greb was 0-1-0 with two no decisions. And as for heart, well after his career was finally over it was discovered that "The Pittsburgh Windmill" fought most of his life totally blind in one eye, memorizing eye charts to fool doctors during physicals.
9- Intangibles: BERNARD HOPKINS- Few men in boxing history have had the ring IQ of "the Executioner". Beginning his life on the hard streets of Philadelphia, Hopkins found himself in prison by the age of 17, sentenced to 18 years. While in prison Hopkins found a passion for boxing and for rehabilitating himself. When he was released five years into his sentence he knew he was a different man and would never go back to his old ways. He dedicated his life to boxing, never being more than a few pounds away from his fighting weight. No partying, no drinking, just a true dedication to mind and body. And in the ring he was a master of so many things but he makes this list for not only dedication, speed, power intimidation but to also being the cleverest "dirty" boxer of all time. If a fight was nasty Hopkins knew exactly when and where to implement his "not quite in the rules" moves, always aware of where the referee was and what he could and couldn't see. That, my friends, is ring genius.
So there are my picks for Middleweight. I want to know what you think. Feel free to drop me a message thru this site below and give me your take. And don't forget to send me questions for my planned Q&A column. And stay tuned for the next installments the Light Heavyweights.
Contact the Feature Writers