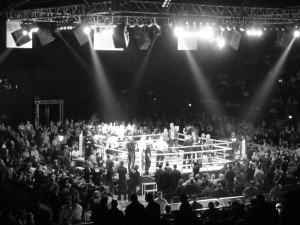 By Brian "The Beret" Young
Welcome back fight fans for the last part of this series. And this is the one you have been waiting for. Today we will build the ultimate Heavyweight using the same criteria as we used for all the others: Left hook (or right if a southpaw), Straight right (or left, again if a southpaw), Jab, Footwork, Hand speed, Defense, Chin, Heart and finally "intangibles", which could be anything from dealing with adversity like cuts or knockdowns, grit, fouls Etc.
Remember, there are some rules. And in the words of George Carlin "my rules, I make them up!" they are as follows:
1- Only 1 attribute can be used per fighter (otherwise the Lightweight article would be very short, it would just read "Lightweight- Roberto Duran")
2- A fighter can only be used in ONE weight class, if for instance Floyd Mayweather is used in Lightweight he cannot be used again in Welterweight as well.
3- A fighter has to have been part of the weight class he is used in; you can't give your featherweight Ernie Shavers power!!
So let's get started. There are no right answers and this is meant to start a debate and I encourage you to write in with your take, what you like, what you would change. Now let's go!!
1- Left Hook: JOE FRAZIER- As is there was ever a doubt about this one. "Smokin' Joe" had a picture perfect hook and the reason may have been because when he was young he severely injured his left arm running from a pig on the family farm. The Frazier family could not afford medical treatment so his arm had to "heal" on its own. As a result, he was never able to fully straighten that arm. Joe was a three time golden gloves Heavyweight champ and an Olympic gold medalist in 1964 (even though he broke his left thumb in the semi-finals and hid the injury). As a pro, Joe was usually the smaller man when he fought but his devastating left hook was the most feared weapon in the Heavyweight division. If you want to see THE PERFECT left hook, check out his knockdown of Ali in their first fight!
2- Straight Right: MAX BAER- Now I know this pick may cause come arguments, but allow me to defend it. Max had 59 KO's in his 68 wins despite being out of prime shape for many of his fights. Max liked to have good time and wouldn't always let training interfere, yet he was still able to starch just about anyone he was able to land his right hand on. This included Max Schmeling and Primo Carnera (who he knocked down 11 times). Sadly, his right hand may have been responsible for not one but two ring deaths. Frankie Campbell died following his fight with Baer, and two years later Ernie Schaaf died 5 months after fighting Max. Schaaf actually died after absorbing a left jab in his very next fight against Primo Carnera. Experts said it was the damage he suffered against Baer that led to his demise. With these on his conscious, Baer never threw that right hand with mean intentions anymore, yet was still able to knockout 25 opponents after he started easing up.
3- Jab: LARRY HOLMES- I guess this was another no-brainer. If you were to make a "how to throw a job" training video you may as well just show a Larry Holmes highlight reel. It was fast, sharp, long and devastating. Holmes could control the action with a jab, and was able to work off feints so well because of the damage his jab could cause. It was as equal a weapon as a range finder and because it was so perfect Holmes was able to have a fairly successful second career later in life. Younger, faster and arguably in better shape fighters were still baffled and defeated by a jab!!
4- Footwork: JERSEY JOE WALCOTT- Jersey Joe is often over-looked because he and Ezzard Charles were sandwiched between Joe Louis and Rocky Marciano. It took him five attempts but he did eventually win the championship defeating Charles who had twice bested him. At age 37 he became the oldest man to win the heavyweight title, until George Foreman did it at the age of 45. Joe had decent power, and good hand speed, but what made him a serious contender for years and eventually champion was his footwork. He could slide in and out, side to side, and move like a dancer. And the reason for that was, it WAS a dance. Walcott would choreograph his footwork and practice like a dancer in front of a mirror for hours on end. And he kept that amazing movement all the way to the end of his career at age 39.
5- Hand Speed: MIKE TYSON- When a young man named Mike Tyson burst on the scene, boxing crossed over to the mainstream like it had with Sugar Ray Leonard before him. With Leonard, it was that smile and grace that won the fans over. With Tyson, is was pure, raw, animalistic intensity. This young man paced in his corner before the bell like a tiger about to be let loose. When it did ring this tornado came out bobbing and weaving and would knock much bigger men senseless in what seemed like seconds, and at times it was! No fight fan forgets the look of fear in his opponent's eyes before a fight, or the savage knockouts that made him so popular he was the subject of everything from DJ Jazzy Jeff and The Fresh Prince songs to video games (best game ever!!). But most forget how fast his hands were. Young Tyson would throw combinations at the speed of a lightweight. He would overwhelm his foes with hooks, crosses and uppercuts that seemed to never stop coming. Often, when the knockout came there were still a few punches thrown into the air where a man was once standing due to them being thrown so fast even he couldn't stop them.
6- Defense: JOE LOUIS- To many, Joe Louis was the greatest Heavyweight of all time; and there is an argument to be made. He had it all, power, speed, heart, smarts and the best defense of any other man of his era. The Brown Bomber always seemed to be able to know what his opponent was going to do before he would do it, and could adapt to any style. He could slug with sluggers and make them miss, or out "slick" the movers. At 6'2" he was a tall fighter who could use his height to his advantage but could also fight out of a crouch, almost leaning forward with his arms outstretched to keep smaller fighters at bay. Let's face it, you don't defend the Heavyweight title 25 times without being a master craftsman. And Louis may have been the ultimate master.
7- Chin: MUHAMMAD ALI– The other name usually mentioned in the "Best Heavyweight of all time" is the one and only Muhammed Ali. Ali changed the sport, changed society and changed the world. There were so many special things about Ali, speed, power, mouth and beauty. Ali also had one of the greatest chins in history. Ali would take the best shots of some of the biggest punchers of all time, Joe Frazier, Sonny Liston, Earnie Shavers, George Forman, Larry Holmes, yet Ali was NEVER counted out. Sadly, that granite chin may have contributed to the Parkinson disease that took his life. But that chin gave generations the pride and belief in themselves. It made us believe that no matter what the world can dish out, we can take it. Thank you, Ali
8- Heart: ROCKY MARCIANO- What can you say about a man who retired as Heavyweight Champion with a record of 49-0 with 43 knockouts? Also, he accomplished that at only 5 feet 11 inches and around 185 pounds. Marciano was smaller than many of the Light heavyweights of his time yet would go toe to toe with any man put in front of him. I know he didn't have the best competition, and his biggest wins were over Light Heavy's who moved up (but were still bigger than Rocky). Marciano had a killer instinct and refused to quit. He even fought in his rematch with Ezzard Charles with a nose that was split up the middle by a Charles punch. Marciano wouldn't stop and went on to KO Charles in the 8th round.
9- Intangibles: JACK DEMPSEY- There are some men that become folk heroes, symbols of their time. Immortalized and larger than life. Jack Dempsey was just such a man. Nobody (outside of Babe Ruth) reflects the 1920's in America more than "The Manassa Mauler". Dempsey was as rough and tough as they come. He lived as a hobo riding the rails and fighting in saloons to make money. He would walk in, and like John L. Sullivan, would challenge any man willing to fight. And he was a skinny teenager, but boy could he punch. His rise to the title was anything but easy. Starting as a 145 pounder he had to fight under a few different names before becoming Jack Dempsey. By the time he got a title shot he was still only around 180 pounds, but he knocked out most of the bigger men he faced. He was as ferocious as Tyson and as determined as Marciano. Nothing would stop him, not even a knockout loss to Fireman Jim Flynn. When he did get his shot it was against the 6 foot 6 inch 245-pound Jess Willard, but this didn't stop the 6 foot 1 inch 187 pound Dempsey from destroying Willard, including 7 knockdowns in the first round alone. Jack Dempsey was what a dream boxer would be, and the best thing about that is he was real.
Well there you have it, let's hear what you think, feel free to drop me a message thru the site if you agree, disagree or have any questions of suggestions for future pieces.
Contact the Feature Writers