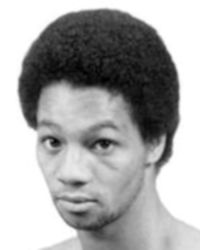 By Donald "Braveheart" Stewart
With a history that includes a fight against an Ali Mohamad, another fight in Kalamazoo and 28 professional fights before tasting defeat Dwight "Dynamite" Davison, 44-8, 33 KO's had what could have been claimed to be quite a topsy turvy career. Now that he has recently passed, it gives us the chance to look back and marvel.
Davison was a lean looking man, who was originally at school a wrestler but thankfully for us he made the switch to where his true abilities really leaned.
His debut came in 1977 when he faced Warren Coasten in Detroit. He then went onto have a 19 year career that only once ventured outside of the States, but when he did it was not to be a successful trip!
Before that he was on target for a world title attempt when in April 1981 in Las Vegas, Robbie Epps, not a name that was considered to be dangerous, beat Davison in a 10 round points win that threw things into disarray. Davison dusted himself down and then took on Wilford Scypion in August of the same year. Scypion was the real deal and when Davison floored him in the first, before taking the decision, the WBC sat up and reinstated him as their number 1 contender. The road to a title was set.
American fighters can truly be a forgotten foreign country to those of us in the UK, means it might take a time before they come to our attention – not that we are always paying attention. With Davison, we got to know and hear about him with his first loss which he suffered against Britain's very own Tony Sibson. Following his win, Sibson went on to take on Marvin Hagler. Had Davison managed to beat Sibson that night…
It is always interesting to see that boxers can see both the riches and the alternatives in a square ring so often. Sibson had already managed to beat our very own British favorite in Alan Minter and Sibson was a handful – though not according to the scorecards – when he faced Hagler; perhaps Marvelous would have preferred to have faced some dynamite instead.
What Davison did manage to achieve was never to be stopped or knocked out, beat fighters the caliber of Willie Monroe, former Olympian Sugar Ray Seales, Lindell Holmes and Curtis Parker in his 44 triumphs.
He continued after the Sibson defeat relatively frequently up until 1989. With one, two or even three fights per year, he was certainly active. Of the 15 fights, he lost 4. By 1989, he had managed to get to the NABF middleweight title but it was the fourth of his losses over that period and he went into a shell.
He came out in 1991 and went on a short spree of four fights over five years – he lost as many as he won. His final fight was for the IBO super middleweight title in 1996 when he was beaten on points by Eddie White. Given his inactivity, it seemed a surprising ending to his career, but who would turn down a world title chance?
Certainly his career was in the shadow of a golden era of the middle and super middleweight division at the time and he won't get the recognition he deserves because when we think of that time, the names that spring to mind are not dynamite by nickname but certainly by reputation.
His legacy, well let me turn to our own editor, Mr "Bad" Brad Berkwitt who wrote of Davison in an earlier review of his career, "He was a fine fighter in his own right and would certainly be a handful for any of the top Middleweights of today." Of his time but of any time we are thinking of him now that he has passed and gone onto the ring in the sky.
Contact the Feature Writers