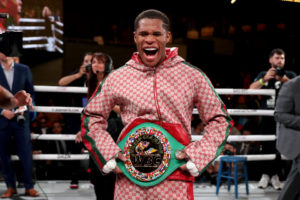 By Anthony "Zute" George
Make no mistake about it, Devin Haney's recent comments about his declaration of always coming out victorious against a fighter of Caucasian complexion would have made the rounds on social media even if there was plenty of boxing action to discuss. But since there is no boxing to discuss, other than how Harry Greb would have chased any millennial out of the ring-which is just silly- Devin's comments have indeed provided boxing fans with the red meat they have been craving. Metaphorically speaking, of course, as I am a proud vegan.
Personally, I am calling nonsense on all the fake outrage. At least I think that it is fake, and I am here to explain why.
Was Haney's comments his best moment? No. Should he have said it? Probably not.
But this idea that we now all have the keys to the kingdom to define this kid's character for all-time is more offensive than the words Devin Haney spoke.
To convince me otherwise, please provide for me your paper trail of outrage against other comments drenched in racism. Against the racial injustices impaled by the United States of America since, well since the beginning.
Because that is what your issue is about Haney's comments, right? How dare he make such a racially insensitive comment! Please, get over it.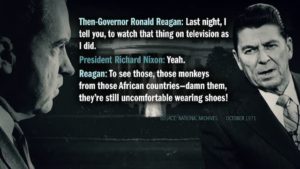 The same way I had to get over the racial statements of Ronald Reagan. I am willing to bet that a good majority of people who are so outraged over Devin's comments think that The Gipper is a great American Hero. Well, your great hero once said this "To see those, those monkeys from those African countries—damn them, they're still uncomfortable wearing shoes!"
Nice, isn't it?
Hopefully, this comment bothers you as much as Haney's did. For that to be genuine, you must condemn Double R the same way you did to Devin. Otherwise, give the kid a break. There is a lot more evidence of Ronald Regan being a disgusting racist, but what would be the point of piling on.
What would be the point, right?
Stick to boxing, you say?
Okay. Let us take a look at the classic heavyweight fight between Larry Holmes and Gerry Cooney. A match that was made and built all on the backs of different races.
But I would like to focus on comments made by Dennis Rappaport in-between rounds of that fight. He urged Gerry that America needed him to win. Why? Why did America need Gerry Cooney to win? A victory would have made Gerry Cooney the only truly recognized heavyweight champion of the world at the time. But it would not have moved mountains for America. It is not like a Cooney victory would have cured cancer, or secured peace in the Middle East. What was wrong with Larry Holmes being the heavyweight champion? What was the big difference between the two men? Let me see….hmmmm….
Now, I do not know Mr. Rappaport personally, but I do know people who know him, and from what I hear, he is not someone you would describe as a racist. But his comment that somehow America needed a white heavyweight champion offends me. But I do not see the need to bury Dennis Rappaport on social media and define him all-time as a jerk. Maybe he is, maybe he is not. Whatever Dennis is, he is based on the shoes he walked in, in life, not one bad comment that he made.
By the way, for that classic fight, Gerry Cooney had a phone in his dressing room that was intended for President Ronald Reagan to call The Great White Hope had Gerry won. There was no such phone in the dressing room of Larry Holmes.
If you want to make it about race, let us indeed do that.
And when is boxing not about race?
The history of boxing is saturated which such matchups, Irish against Italian, Italian against Jewish, Mexican against Puerto Rican, and indeed black fighter against white fighter. Sure, we can focus on that fine line between race and ethnicity, but that would be missing the point.
The point is that these kinds of fights sell. And patrons of boxing typically root for 'their side' with great passion. Those on the business end of boxing indeed count on that dynamic.
Well, with this dynamic, there are bound to be insatiable fans who not only root for their fighter to win but who also spew some derogatory insults towards the opponent that can be interpreted as racist. Every ethnic fighter has some type of stereotypical insult attached to them, 'white boy' is mild compared to most of the others. At least I believe so.
If you think fans do not use these words when watching 'their side' with such passion, you would be wrong. Does that make these fans racists? Should we let that moment define them and their character?
If not, please give Devin Haney a break.
With that said, I was offended by Devin Haney's comments, but not in the same way.
Why in the world was Devin Haney talking about a fight with Vasyl Lomachenko anyway? Vasyl is supposed to be fighting Teofimo Lopez. Why waste your time discussing a fight that is not happening?
Will we ever reach the day where the topic of discussion is about fights that are indeed signed, sealed, and about to be delivered? The only thing worse than discussing fantasy fights is discussing fantasy fights between active fighters who are not scheduled to fight!
Chew on that for a little while.
Contact the management team